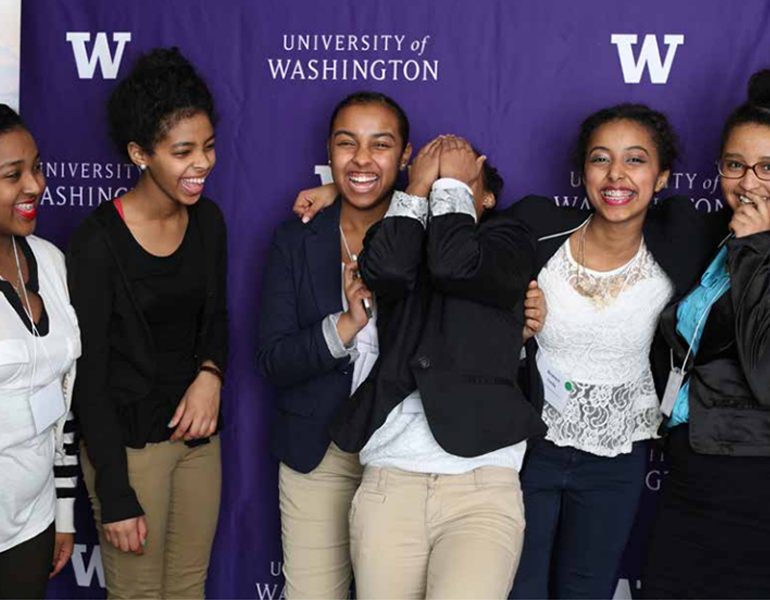 It's 10 p.m. on a Thursday night.  Outside the UW Women's Center, all is quiet. But inside the building, high school girls crowd around a computer and cheer each other on as they do something memorable: submit their college applications.
The application party is an annual tradition for Making Connections (MC), a Women's Center program that helps low-income, first-generation, underrepresented girls graduate from high school on time and enroll in college. In recent years, 100 percent of the students who participated in the program—about 100 girls at any given time—have gone on to college, with 60 percent choosing the UW.
The Women's Center launched the Making Connections program after discovering that programs existed for stellar students and at-risk students, but not for students in the middle of the pack. "We don't have a minimum GPA for participants," says MC program manager Senait Habte, "but we are targeting that middle-level child." Support for the program includes leadership gifts from Mikey Herring and Jim Phelps, Berthe and Stanley Habib, the Fordham Street Foundation, The Boeing Company, The Glaser Foundation, Safeco Insurance Company, and Wells Fargo & Company.
MC participants receive comprehensive services that include tutoring, a personal mentor, college tours, and assistance with college and financial aid applications. Field trips to local companies introduce the girls to science, technology, engineering, and mathematics careers. "We want them to see that this is something they could do," says Habte. "We want to plant the seed."
The girls' mentors range from college undergraduates to graduate students to professionals—and include many former MC students. "The mentors talk about how they got to where they are now," says Women's Center director Sutapa Basu. "It's good for the girls to hear from a mentor that they had some trouble areas in high school too, and what they had to do to get past that."
The spirit of camaraderie that develops among the girls, and all the support from peers, staff, tutors, and mentors, has made the Making Connections program among the most successful of its type in the country.
"Most programs have a 60 percent success rate," says Basu, reflecting on MC's 100 percent rate for college admission. "Our program is so comprehensive. We go the extra step."