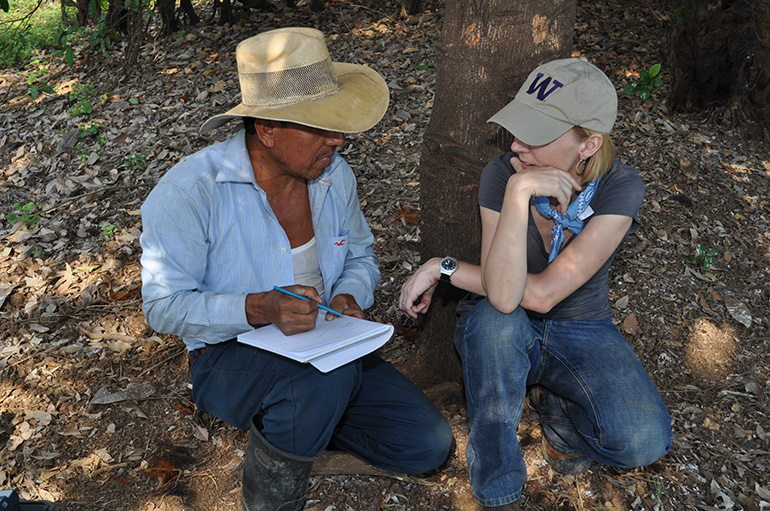 During El Salvador's brutal civil war, more than 7 5,000 civilians were killed, mostly at the hands of the government and its paramilitary adjuncts.  Two decades later, no government officials have been convicted for ordering these crimes and no systematic inquiry has been made into the fate of the disappeared. Angelina Godoy, Director of the UW Center for Human Rights (UWCHR), is hoping to change that through Unfinished Sentences: History, Memory, and Justice in El Salvador, a project made possible through support from the Puffin Foundation and other sources.
Godoy launched the project in 2011 after friends at a Salvadoran human rights organization—the Instituto de Derechos Humanos de la Universidad Centroamericana—invited her to join their efforts. She soon saw an opportunity to involve students in a meaningful way.
"There's no better way to learn about human rights than by immersing oneself in concrete cases and learn by doing rather than reading about it in a textbook," says Godoy, Helen H. Jackson Endowed Chair in Human Rights and professor of international studies and law, societies, and justice. "Through this project, students are not just learning what happened in El Salvador, but actually offering their services to victims and their families and supporting their push for justice."
Students have traveled to El Salvador to speak with individuals and communities about what justice might look like to them, but most UWCHR work happens closer to home. Team members request U.S. government declassified documents pertaining to El Salvador and search them for information of use to Salvadoran victims and human rights attorneys.  To date, UWCHR has filed more than 200 requests for declassified documents through the Freedom of Information Act (FOIA).
"There is a huge need for research, so that has been our role," says Godoy. "We have explored every possible avenue to get information." In October 2015, UWCHR sued the U.S. Central Intelligence Agency (CIA) for withholding documents requested through FOIA; although the litigation is still pending, the CIA recently released 85 declassified documents to UWCHR in this case.
Poring over those documents will keep UWCHR's research team busy for a very long time. It's decidedly unglamorous work, but they do it willingly in hopes of uncovering valuable information.
"Sometimes people ask me, 'Why should we care about this? It's decades old. It's in the past,'" says Godoy. "But when you sit down with somebody who lost their loved one, it doesn't matter that years have passed. They still feel that pain. The issues are still very real and present."
With generous support from the Helen H. Jackson Chair, Godoy and the UWCHR are working tirelessly, here and abroad, to help further global human rights.