On a hillside in Suquamish, Washington, Nicole Kuhn and her two teenage sons watched brightly colored canoes make their way toward the beach below on a sunny July afternoon.
Kuhn was searching for a canoe with a colorful red and green salmon painted on its exterior. When she spotted the canoe, she teared up. Among the paddlers — called pullers — were her two older children, Ethan and Naomi, participating in their first Tribal Canoe Journey.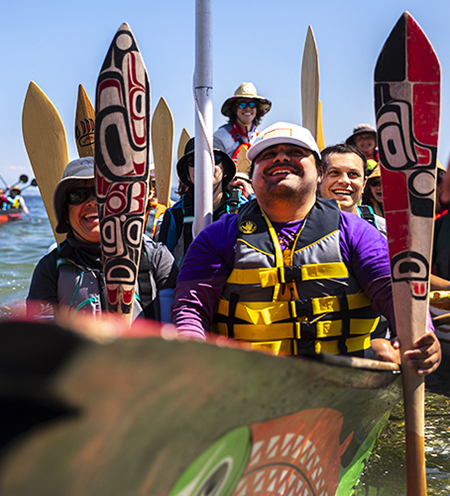 "We are Haida," says Kuhn, a UW doctoral student. "Canoe culture is integral to who we are. I've been wanting to be part of a canoe family for years, and I've wanted to bring my kids into this for so long."
Tribal Canoe Journey is an annual event that brings together tribal and First Nations communities to celebrate their shared heritage. Large canoes navigate the waters of the Pacific Northwest over days or weeks (depending on their starting point) before reaching the host tribe for a full week of protocol and celebration. This year the Muckleshoot Tribe hosted, with about 100 canoes arriving at the final destination — Alki Beach in West Seattle. Suquamish was one of the stops along the way.
Kuhn had watched canoe journey landings at Alki during previous summers, wishing she could participate. But she didn't see a way. Her Haida relatives lived up north in British Columbia, Canada, and she was in Seattle raising four children.
To Kuhn's surprise, the University of Washington provided the answer.
Kuhn and her children are part of the new Shell House Canoe Family, č̓away̓altxʷ ʔiišəd, made up of UW students, alumni, faculty, staff, elders, and other community members. The group spent the past year planning its first canoe journey. They carved paddles, trained as pullers, learned songs and protocols, and coordinated complex logistics for each landing site. For many, it was their first time participating. For most, it won't be their last.
Inspired by a Canoe
The story of the Shell House Canoe Family begins with a canoe. Not just any canoe — the Willapa Spirit Honor Canoe, once the honor canoe of Emmet Oliver (MEd, 1947), the guiding force behind the first Tribal Canoe Journey, the 1989 Paddle to Seattle. Artwork on the Willapa Spirit is by Emmet's son Marvin Oliver, UW professor emeritus of American Indian studies, who passed away in 2019.
The Oliver family gifted the canoe to Emmet's daughter Marylin Oliver-Bard (Quinault/Isleta-Pueblo) in 2018, and it has been housed at the University of Washington's ASUW Shell House ever since. Oliver-Bard gifted the Willapa Spirit to the University in a formal ceremony during this year's Tribal Canoe Journey.
Oliver-Bard hoped that having the Willapa Spirit at the UW would lead to a canoe family at the University. The UW's Center for American Indian and Indigenous Studies (CAIIS) helped that dream become a reality. CAIIS has dedicated substantial funding, staff support, and programming to realizing a University of Washington canoe family, while also welcoming other UW units into the process.
The College of Arts & Sciences is a strong supporter of CAIIS, providing more than a third of the Center's UW funding. "The College is proud to support CAIIS's work to build community and connect students, faculty, and staff to Indigenous knowledges and peoples across the Pacific Northwest," says Dianne Harris, dean of the College of Arts & Sciences. The College's Department of American Indian Studies (AIS) secured additional funding for the canoe family through a Mellon Foundation grant and offered a course about Tribal Canoe Journeys. Paddle carving workshops were held at the Burke Museum, also part of the College. The UW's wǝɫǝbʔaltxʷ – Intellectual House contributed funds for the journey as well.
After the Willapa Spirit Honor Canoe was brought to the University, CAIIS Native knowledge-in-residence coordinator Philip Red Eagle (Dakota/Salish) started meeting with interested UW students, faculty, staff, and alumni to explore the idea of a canoe family at the University. As a leader in shaping Tribal Canoe Journey since the 1990s, he had decades of experience to draw from.
"My vision was to integrate a canoe family into the University system so that it would continue, with culture as a strong element of the curriculum," says Red Eagle. "I wanted to involve as many people as possible — older people, more experienced people — so the students would have access to stories and advice."
I wanted to involve as many people as possible — older people, more experienced people — so the students would have access to stories and advice.
An early recruit was Kariel Galbraith (Tlingit), an English and AIS major in the College of Arts & Sciences, born and raised in Sitka, Alaska. Also interested were Kuhn (BS, Informatics, 2019; MS, Information Science, 2022), a doctoral student in the UW Information School, and her son Ethan (Haida) (BS, Informatics, 2022).
"A lot of the early canoe family meetings were mostly Phil storytelling about his experiences with canoe journey, crazy stories that come with going on journeys for decades," Galbraith recalls. "You don't realize how much you learn from stories until you're presented with information later and you realize you already knew it from hearing stories from someone who was there."
A Complex Endeavor
Creating a canoe family was one thing. Preparing for Tribal Canoe Journey was quite another. For starters, the UW had a canoe but no appropriate paddles. To address that, Red Eagle offered paddle carving workshops at the Burke Museum, using traditional carving methods. Each paddle took more than 80 hours to complete.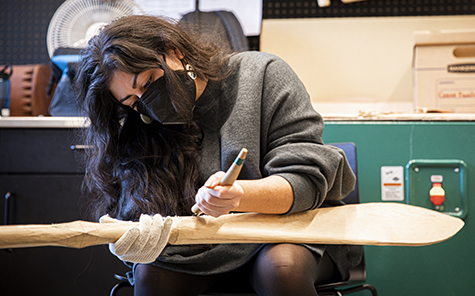 "I wanted the students to experience a Native process," Red Eagle says. "The students had to draw their design on the piece of wood, called a paddle blank, and try to find a paddle in that piece of wood, using hand tools."
If that sounds straightforward, Galbraith can assure you it's not. "Yellow cedar dries up as you keep working on it, so if you're not consistently carving on it, it gets harder and harder and more difficult to work with," she says. When Galbraith's shoulder flared up from an old injury, others stepped in to help finish her paddle. "It's been a really great collaborative effort to make sure everyone has a paddle when and if they need it for the journey," she says.
With paddles completed, the pullers began training. They would be propelling the canoe from Tulalip to Suquamish to West Seattle, so becoming comfortable with the canoe and the paddles — and each other — was essential. (Relief pullers in a support boat were always available to swap places during the journey when needed.)
Behind the scenes, the canoe family's ground support team worked on trip logistics. They reserved campsites, purchased supplies, and planned meals, noting dietary restrictions. During the journey, they set up tents, disassembled the camp each morning, packed up cars, checked ferry schedules, and transported everything to the next destination, all while keeping track of who was doing what each day.
"I'm a mom, so that was totally in my wheelhouse," Kuhn says of her role as ground support. "Set up camp, clean up camp, and get people to places? Yeah, that sounds about right," she laughs.
A Canoe Journey Course
The stress of planning the journey ratcheted up as summer drew closer. A spring quarter course offered by the Department of American Indian Studies helped ease students' fears. "Introduction to Tribal Canoe Journeys" was taught by Nigel Lawrence (Suquamish), who at age 14 was a puller for the second-ever canoe journey, a month-long 600-mile paddle to Bella Bella, British Columbia.
"Right away, I saw the impact it had in my life," says Lawrence (MEd, UW Tacoma, 2023). "Canoe journeys are drug- and alcohol-free events, like powwows. That's stressed over and over. That was really important to me."
There are so many things about understanding and relearning who we are that have come about because of canoe journeys.
Tribal Canoe Journey has been central to Lawrence's life ever since. In the past three decades, he's missed only six journeys. He's been skipper of the youth canoe for the Suquamish Tribe since 2001, and since 2010  has been part of Healing of the Canoe, a culturally grounded life-skills curriculum that uses the canoe journey as a metaphor for life.
In his UW course, Lawrence shared his own canoe journey experiences but also explored the impact of Tribal Canoe Journey more broadly.
"As canoe journeys got bigger and bigger, we started learning our language so we could ask permission to come ashore in our language or welcome guests in our language," Lawrence says. "We made cedar bark or wool woven regalia for the ceremonies. There are so many things about understanding and relearning who we are that have come about because of canoe journeys. That was a central theme of the class."
Guest speakers included Oliver-Bard, Red Eagle, and UW Regent Leonard Forsman, chairman of the Suquamish tribe. Lawrence also invited his mother, storyteller Barbara Lawrence, and Robin Little Wing Sigo, who created the Healing of the Canoe curriculum, among other guests.
For Galbraith, hearing from Native leaders with years of experience was heartening. "Having them offer guidance and ideas really helped in terms of easing stress and pressure," Galbraith says, noting that Red Eagle was particularly encouraging. "Something he'd say pretty regularly was, 'It'll happen. Things will work out. They just work out.' I took that to heart. If there's anyone who knows you're going to make it on a journey, that would probably be Phil Red Eagle."
Intertribal Considerations
Red Eagle did more than offer words of encouragement. During the canoe journey, his Carvers Camp Canoe Family took the UW's Shell House Canoe Family under its wing. The two groups camped together, canoed together, and shared a support boat, which helped tremendously. Yet the Shell House Canoe Family faced challenges beyond the physical journey, most notably how to navigate protocol — the celebration at the end of the journey.
At protocol, each canoe family performs traditional songs and dances for several hours, often wearing the regalia of their tribe. But the UW's Shellhouse Canoe Family is intertribal, with representation from diverse communities, each with their own traditions. That complicates decisions about what to sing, what to wear, and what dances to share.
"It raises questions about how to keep yourself responsible to your own community and to this new community that you have," says Galbraith. "For example, what does it mean to be given permission to sing songs that are not in your Native language?"
Even requesting permission to sing those songs is complex. Often, songs are owned by a community or family or clan. "We've all been invited as canoe family members to bring a song from our community," says Kuhn, "but there are songs that I could sing as a Haida with other Haidas that I couldn't necessarily have another group sing with me. I don't have permission."
John Smith (Skokomish) generously gifted the song Qway'at, which the UW canoe family sang when Oliver-Bard gifted the Willapa Spirit to the UW. AIS professor Tami Hohn (Puyallup) shared a Language Power song, which the canoe family performed at protocol. Hohn co-wrote the song — in Lushootseed, the language of the Coast Salish people — with Nancy Jo Bob (Lummi). Hohn also spoke to the gathered crowd at protocol about the history and vision for the UW's Shell House Canoe Family.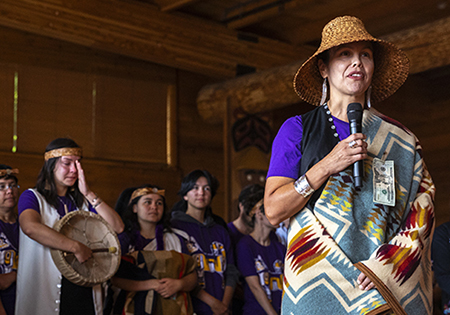 "Tami's speech had the room in tears," says Galbraith. "She spoke about intergenerational teachings and how, even just by singing the Language Power song, we're helping to keep the Lushootseed language alive."
There were other opportunities for members of the UW canoe family to celebrate their tribal identities. At each landing, canoes ask permission to come ashore in their Native language(s). And during protocol, individuals introduce themselves in the language of their people, which inspired some students to begin studying their Native language.
Kuhn, who has studied Haida for several years, had a chance to share her language during a special celebration in Suquamish, Washington, when Marylin Oliver-Bard officially gifted the Oliver family canoe to the University. Kuhn stood as one of the witnesses for the gifting and spoke as part of the ceremony — in Haida.
"As a Native person, learning our own languages again can be intimidating but also very powerful," Kuhn says. "Having my kids witness me speaking Haida in public, and then to reflect on that moment with them, was very special for me."
Continuing the Tradition
A day after the Willapa Spirit arrived at Alki, UW pullers returned it to the UW Shell House, its permanent home. Galbraith, who provided ground support throughout the journey, traveled in the canoe during its last leg. Ethan Kuhn was also in the canoe as it left West Seattle where he grew up and arrived at the UW where he studied for years.
"It was really beautiful, connecting these dots in our lives in so many ways," says Nicole Kuhn, who watched with her other children as the canoe arrived at the ASUW Shell House. Her daughter Naomi, not currently a UW student, was able to participate as a relative of the canoe family. Being welcomed into the UW's Native community in this way, she is now eager to transfer to the University of Washington.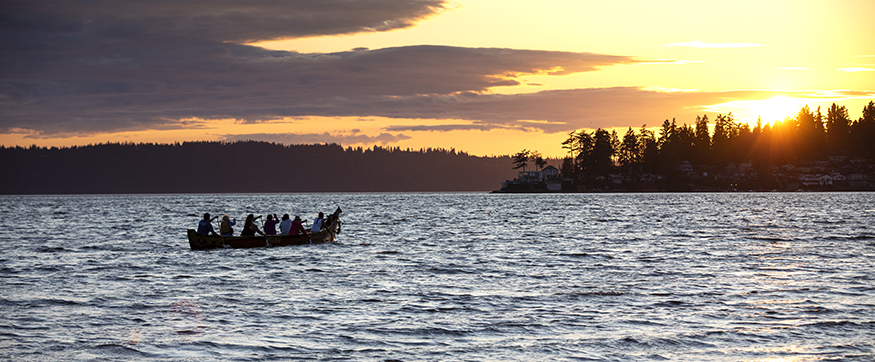 Other participants are already thinking about lessons learned for the next canoe journey. With alumni encouraged to continue and pass along their knowledge, the Shellhouse Canoe Family will only grow stronger in future years.
"I'm so thankful that the canoe family is open to alums," says Kuhn. "I hope that I'm always part of it. The experience feels so meaningful to us as Native students. That it's connected to the University — that's been really powerful."
The Center for American Indian and Indigenous Studies, which made the canoe journey a reality, offers programs to support the recruitment, retention, and success of Native and Indigenous students, staff, and faculty through partnerships across campus and beyond. Funding for CAIIS comes from the Mellon Foundation and the University of Washington, with the College of Arts & Sciences providing about one-third of the UW funding.