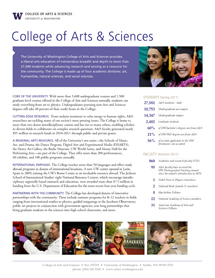 The College of Arts and Sciences provides a liberal arts education of tremendous breadth and depth while advancing research and serving as a resource for the community. The College has four academic divisions: art, humanities, natural sciences, and social sciences.
Students. With 9,400 undergraduate majors, 9,500 undergraduate pre-majors, and 2,700 graduate students, Arts and Sciences is the largest College at the University, producing more than half of all UW bachelor's degrees on the Seattle campus. Our students have been honored repeatedly as Rhodes Scholars, Gates Cambridge Scholars, and Goldwater Scholars. Undergraduates pursuing non-Arts and Sciences degrees still take about 40 percent of their credit hours in the College.
Faculty. The College's 1,186 (FTE) academic and research faculty have been awarded a Nobel Prize, National Book Awards, MacArthur Fellowships, and other top honors for their accomplishments. They serve as presidential advisers, arts innovators, and principal investigators on major international research projects.
Cutting-edge Research. From malaria treatment to solar energy to human rights, A&S researchers are tackling many of our society's most pressing issues. A&S faculty generate about $107 million annually in research funds through public and private grants. Graduate students and postdoctoral students—and an increasing number of undergraduates—work closely with faculty on research.
Interdisciplinary Emphasis. The College is home to more than two dozen interdisciplinary centers and has ties to many others, encouraging collaboration in fields ranging from the humanities to demography to labor studies to early childhood learning. Through interdisciplinary minors such as Arctic studies and Diversity, students benefit from the breadth of the College's offerings.
A Regional Arts Resource. All of the University's arts units are part of the College: the Schools of Music, Art, and Drama, the Dance Program, Digital Arts and Experimental Media (DXARTS), the Henry Art Gallery, the Burke Museum, and Meany Center for the Performing Arts. They offer more than 280 performances, 60 exhibits, and 100 public programs annually.
Global Thinking. The College teaches more than 50 languages and offers study abroad programs in dozens of international locations, including at UW centers in León, Spain and Rome, Italy. The Jackson School of International Studies' eight National Resource Centers were awarded more than $7.5 million in funding from the U.S. Department of Education for the most recent four-year funding cycle.
Partnering with the Community. The College has developed dozens of innovative partnerships with the community. These include summer programs for K-12 teachers in fields ranging from international studies to physics; guided stargazings at the Jacobsen Observatory; special Meany Center performances for K-12 classes; collaborations with community organizations through project-based courses, and more.