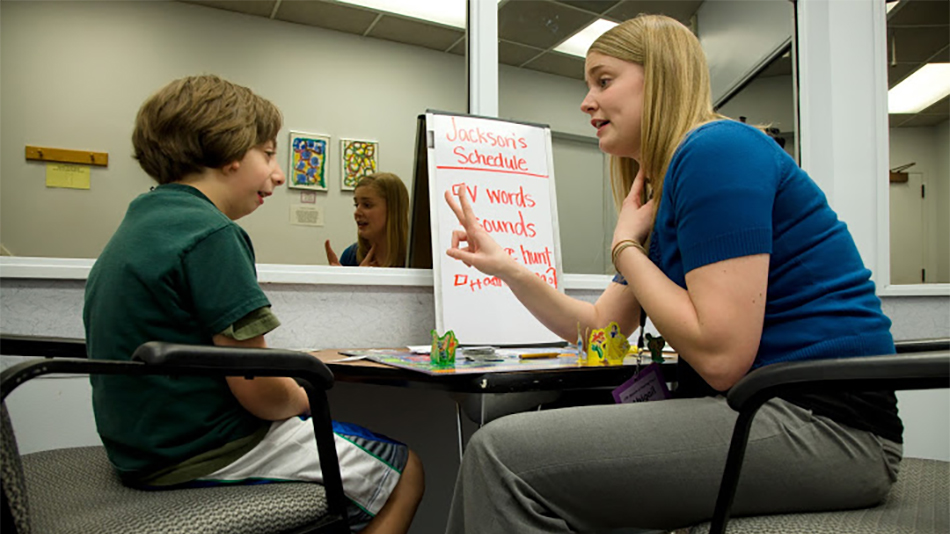 The field of speech and hearing sciences involves the study of all aspects of normal and impaired human communication. The Department of Speech and Hearing Sciences is committed to understanding the basic processes and mechanisms involved in normal processes of speech, language, hearing, swallowing, and their disorders, and to improving the quality of life for individuals affected by communication and swallowing disorders across the lifespan.
VISIT DEPARTMENT WEBSITE
HIGHLIGHTS
The Department of Speech and Hearing Sciences' graduate program was ranked number ten in Speech-Language Pathology in the most recent rankings of U.S. News and World Report (2021).
The Chronicle of Higher Education ranks UW Speech and Hearing Sciences number two in the country on their Faculty Productivity Index.
EDUCATION
The Department of Speech and Hearing Sciences offers a Bachelor of Science in Speech and Hearing Sciences, a Master of Science in Speech-Language Pathology, a Master of Science in Medical Speech-Language Pathology, and a Doctor of Philosophy. The Master of Science degree programs are accredited by the Council on Academic Accreditation in Audiology and Speech-Language Pathology (CAA).
Doctoral students have also competed successfully for Ruth L. Kirschstein National Research Service Awards from NIH, and scholarships from the National Science Foundation, the American Academy of Audiology, and the American Speech-Language-Hearing Association.
Students
Autumn 2021
129 Undergraduate (BS) majors and post baccalaureate students
85 Master of Science (MS) students
17 Doctor of Philosophy (PhD) students
Degrees Awarded
July 2020 - June 2021
61 BS degrees
42 MS degrees
4 PhD degrees
13 AuD degrees
Student Honors
2020 - 2021
1 ANCDS Fellow
1 ARCS Award
2 WSHLA Graduate Scholarships
1 GO-MAP Graduate Tuition Award
1 GO-MAP Wayland Scholarship
1 Junior National NSSLHA Undergraduate Scholarship
1 Husky 100 Award
1 Leadership in Neurodevelopmental & Related Disabilities (LEND) Scholar
6 Medical SLP Scholarships
1 Palmer Award
2 Scottish Rite John D. Blankenship Awards
2 SLP Public School Awards
3 UW Top Scholar Awards
4 CASE Scholar Fellowships
2 Opal Hicks Graduate Scholarships
FACULTY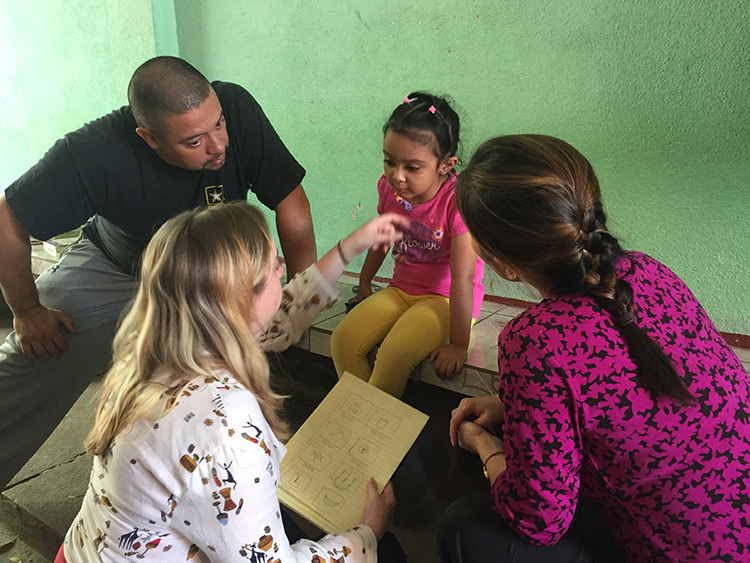 2021 - 2022
6 Professors
1 Associate Professor
6 Associate Teaching Professors
4 Assistant Professors
3 Assistant Teaching Professors
6 Lecturers, full time
5 Lecturers, part time
1 Research Professor
1 Research Associate Professor
1 Research Assistant Professor
9 Affiliate Appointments
2 Clinical Instructors
19 Emeritus Faculty
13 Clinical Associates
Faculty honors include:
American Academy of Arts and Sciences Fellows
American Institute of Physics Gold Medal
Acoustical Society of America (ASA): President; Fellows; Silver Medal
American Speech-Language-Hearing Association (ASHA): Presidents; Board of Directors; Fellows; Honors of the Association
American Speech and Hearing Foundation (ASHFoundation): Presidents; New Investigator Award; New Century Scholar Research Award
IPSEN Foundation's Jean-Louis Signoret Neuropsychology Prize
University of Washington: Distinguished Teaching Award; David B. Thorud​ Leadership Award; William P. & Ruth Gerberding Professor; Marsha Landolt Graduate Mentor Award
Washington Speech-Language-Hearing Association (WSLHA): Presidents; Board of Directors; Clinical Achievement Awards; Honors of the Association
INTERDISCIPLINARY RESEARCH
The Department of Speech and Hearing Sciences has many ties with other disciplines at the UW and beyond. A few examples:
Several SPHSC faculty have clinical appointments and laboratory space in the UW's Center for Human Development and Disability (CHDD); SPHSC graduate students in speech-language pathology and audiology fulfill part of their curriculum requirements during clinical rotations at the CHDD.
The UW Autism Center, directed by an SPHSC faculty member, is an interdisciplinary clinic, research, and training facility with faculty from three UW Schools and Colleges.
SPHSC and the College of Education collaborate on research into social communication in the Experimental Education Unit (EEU)—a model demonstration school that provides integrated classrooms for nearly 200 infants, toddlers, and young children with disabilities and their typically developing peers.
Twelve SPHSC faculty members are affiliate professors and two are on the board of advisors at the Virginia Merrill Bloedel Hearing Research Center. The Bloedel Center, in the UW School of Medicine, is the largest hearing research group in the U.S.
The Institute for Learning and Brain Sciences (I-LABS), co-directed by an SPHSC faculty member, is an interdisciplinary research center that draws research faculty from SPHSC and other departments across five UW schools and colleges.
Areas of Research Include: 
Adult Audiology
Aphasia Rehabilitation & Language Processing
Auditory Development in Infants & Children
Auditory Assessment & Electrophysiology
Auditory Attention & Neuroscience
Augmentative & Alternative
Communication
Cochlear Implant Psychophysics & Physiology
Cognitive-Communication Disorders
Cognitive Neuroimaging
Etiologies & Interventions for Autism Spectrum Disorders
Language Development & Disorders in Children
Motor Speech Disorders in Adults
Sensorimotor Control in Speech & Stuttering
Social Communication
Speech Development, Perception & Production
Voice Disorders in Adults & Children
OUTREACH
Department faculty and students take part in a number of local, state, national, and international outreach activities that include:
Providing undergraduate peer mentorship to UW students with Autism Spectrum Disorder (ASD). Student mentors provide customized coaching and facilitate problem solving for social challenges as young adults with ASD navigate the Seattle campus and collegiate system.
Working with preschools and elementary schools in western Washington to screen children for hearing loss, as well as speech and language delays and disorders.
Developing, with the Washington Corrections Center for Women, "The Partnership for Healthy Parenting" program for Washington state incarcerated women who are mothers with newborn children to facilitate early communication development and parenting skills.
Directing the "Healthy Hearing" program through the Special Olympics Washington Health Athlete Initiative, screening athletes annually for permanent medically significant hearing loss.
Providing community-based support groups for individuals with developmental and acquired neurologic communication disorders and their families and caregivers. Through our on-campus clinic and in the community, we focus on helping individuals and families navigate life through educational sessions, access to local experts in the community, transitional life skills development, and opportunities to share with others with similar life experiences.
Offering a Hearing Aid Assistance Program (HAAP) to those in our community who are otherwise unable to obtain services and hearing amplification due to financial limitations, which also provides a clinical learning environment for our AuD students. Our clinic also serves as the state-wide hearing aid bank to recycle and reuse donated hearing aids.
Implementing a Communication for Life (CFL) program for young adults with developmental disabilities, with weekly classes focused on communication skills critical for the transition from high school to adulthood. The program focuses on several functional themes: vocation, health, safety and self-advocacy, social life, and leisure.
Organizing annual fundraising events to support our Uncompensated Care program within the UW Speech and Hearing Clinic, which supports the needs of individuals and families in our community and provides clinical learning resources.
Collaborating annually with the philanthropic organizations "Hearts in Motion" and "Healing the Children" to bring much needed adult and pediatric speech, language, swallowing, and audiology services to underserved areas in Central America.
CONTACT
Department of Speech and Hearing Sciences
1417 NE 42nd Street
University of Washington
Seattle, WA 98195
(206) 685-7400
email: ​sphscadv@uw.edu
website: depts.washington.edu/sphsc
last update: February 2022