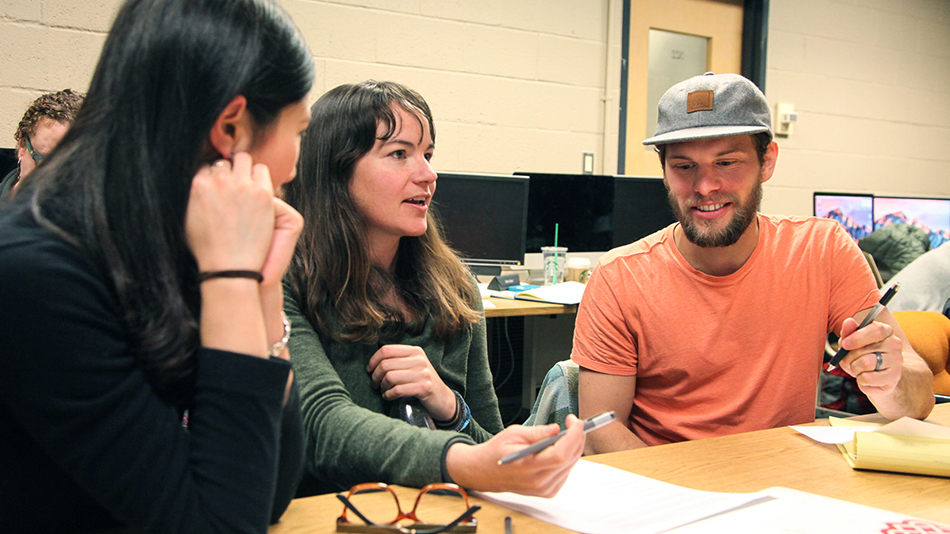 The Department of Communication is committed to rigorous, relevant scholarship that speaks to public challenges and promotes social progress. We foster and teach equitable and ethical communicative practices in an intellectually diverse, innovative, and interdisciplinary environment. As an interdisciplinary, multifaceted department, we bring together scholars from a variety of backgrounds to offer a wide array of approaches to communication research and pedagogy.
Established in 2002 through the merger of the former Department of Speech Communication and the School of Communications, the UW Communication Department is rooted in humanistic, critical, and social science traditions. It includes academic emphases on communication technology and society; rhetoric; journalism studies; communication and difference; political communication; interpersonal communication; and organizing and structures.
VISIT DEPARTMENT WEBSITE
EDUCATION
Undergraduate study in communication at the University of Washington has four foundations: communication literacy, communication inquiry, theory and concepts, and community engagement. We teach our students to think critically, respect diversity, and communicate effectively. We work actively to enroll a diverse set of students in our courses and in the major. 
Our courses cover important traditions in communication alongside contemporary practices. The Journalism and Public Interest Communication (JPIC) program trains students in the production of engaging, rigorously reported storytelling to help communities of all kinds discern truth from misinformation, disinformation, and propaganda. Innovative teaching abounds, such as delivering speeches in the middle of Red Square on the UW's Seattle campus, partnering with community organizations on projects of civic engagement, and integrating new media technologies into course content and assignments. Our undergraduates learn to think globally by studying with our faculty in Italy and Spain, gain experience through our State Government Communication program, 1:1 mentoring, internships, our honors program, and through doing independent and directed research.
The Department's graduate programs include a combined Master of Arts and Ph.D. in Communication, and a Communication Leadership master's program with emphases in Digital Media, Communities and Networks, and Communication Leadership. The M.A. and Ph.D. in Communication prepare students to conduct original, innovative research on how communication manifests in a wide range of social domains. Communication Leadership is a graduate program that offers a cutting-edge curriculum and pioneering professional faculty to train purposeful storytellers, inclusive community-builders, and effective, ethical advocates for people and ideas.
Students
Autumn 2023
509 Undergraduate majors
39 Master of Arts/PhD students
245 Communication Leadership students
Degrees Awarded
Autumn 2022-Summer 2023
420 Bachelor of Arts degrees
7 Master of Arts/PhD degrees
111 Communication Leadership degrees
Recent Major Student Awards
$161,000 in undergraduate scholarships
Outstanding Dissertation Award, National Communication Association
Emerging Scholar Award, National Communication Association
National Science Foundation Dissertation Award
Berkman Center Fellowship
Ford and Sloan Foundation Grant
Mozilla Open Science Fellowship
UW Presidential Dissertation Fellowship
UW Graduate School Distinguished Thesis Award
UW Graduate School Distinguished Dissertation Award
UW Business Plan Competition Champion
UW Elizabeth Kerr Macfarlane Humanities Scholarship
Bonderman Fellowships
Husky 100
Society of Professional Journalists Awards
FACULTY
Autumn 2023
9 Professors
3 Associate Professors
4 Assistant Professors
1 Teaching Professor
3 Associate Teaching Professors
2 Assistant Teaching Professors
6 Part-time Lecturers
2 Artists in Residence
16 Emeritus Faculty
75 Affiliate Faculty
Faculty Awards & Honors
Communication faculty are recognized nationally and internationally. Their honors include:
8 UW Distinguished Teaching Awards
Past President, International Communication Association
Past President, World Association for Public Opinion Research
Vice President, American Association for Public Opinion Research
Pulitzer, Grantham, and Polk Awards for Outstanding Journalism
Editor, Public Opinion Quarterly
Editor, Oxford Bibliographies in Communication
Co-Editor, Acting With Technology series at MIT Press
Leslie A. Baxter Early Career Award, National Communication Association (NCA)
Marsha L. Landolt Distinguished Graduate Mentor Award
Warren J. Mitofsky Award for Excellence in Public Opinion Research, The Roper Center for Public Opinion Research
Washington State Professor of the Year, Carnegie Foundation
Public Relations Society of America PR Professional of the Year
Outstanding Professor Award, National Speakers Association
2 Hillier Krieghbaum Under-40 Awards for Outstanding Career Accomplishments, by the Association for Education in Journalism and Mass Communication
Mark L. Knapp Award for Interpersonal Communication from the National Communication Association
Outstanding book, monograph, and article awards from ICA, NCA, Society of Professional Journalists, American Forensic Association, American Political Science Association, Association for Education in Journalism and Mass Communication, and Society for the Scientific Study of Religion
General Research Symbiont Award
AEJMC's Basket Mosse Award
AEJMC's Eleanor Blum Distinguished Service to Research Award
Clarion Award, Association for Women in Communications
Past President, Midwest Association for Public Opinion Research
Harold L. Nelson Award for Outstanding Contributions to Mass Communication Research, University of Wisconsin-Madison School of Journalism and Mass Communication 
David Swanson Award for Service to Political Communication Scholarship, International Communication Association and American Political Science Association
3 Fellows, International Communication Association
Fellow, Midwest Association for Public Opinion Research
Faculty Fellowships
The Center for Advanced Study in the Social and Behavioral Sciences
The German Marshall Memorial
Thomas J. Watson
Ford Foundation
Woodrow Wilson School of Public and International Affairs
Knight Science Journalism
Pew Internet & American Life Project
The Stanhope Centre for Communications Policy Research
The Center for Information Technology Policy
Alexander von Humboldt Foundation
Berkman Klein Center for Internet and Society, Harvard University
ACLS/Mellon Scholars & Society Fellowship
Princeton University's Center for Information Technology Policy 
The Japan Society for the Promotion of Science
RESEARCH
Communication faculty have a robust and diverse research agenda. The Department houses two research centers. The Center for Communication, Difference, and Equity is committed to building a more equitable world, in which our words, imagery, and attention are infused with understanding, respect, and justice. The Center for Journalism, Media and Democracy explores communication processes and media technologies that facilitate positive citizen involvement in politics and social life. Faculty and students in the Family Communication and Relationships Lab study the complex dynamics of family communication in a variety of contexts. The UW Center for Speech & Debate is dedicated to the promotion and education of effective and responsible speech and argument through community events, consultations, classroom visits, and one-on-one coaching. The Community Data Science Collective is an interdisciplinary research group made up of faculty and students in the Department as well as participants from elsewhere in academia and industry.
Our faculty members have received research support from numerous public and private organizations, including the National Institutes of Health, Ford Foundation, Mellon Foundation, MacArthur Foundation, Pew Charitable Trusts, Annenberg Policy Foundation, Army Research Organization, Seattle CityClub, Microsoft Research, Imago Dei Foundation, Namaste Foundation, and the National Science Foundation, among others.
ALUMNI
The Department's 17,000+ living alumni include political and civic leaders, entrepreneurs, lawyers, journalists, authors, corporate and nonprofit specialists, educators, and entertainment industry success stories. Nine alumni share 13 Pulitzer Prize wins. A small number of alumni are honored annually through the Department's Hall of Fame and Alumni of Distinction Awards. The Department integrates its alumni into its educational and outreach activities through an Alumni Board, newsletters, our Mentoring Program, classroom visits, and a year-long Career Kickstart program of professional development opportunities. We also maintain close partnerships with local, national, and global organizations whose core values align with those of the Department and the University of Washington.
CONTACT
Department of Communication
Box 353740
University of Washington
Seattle, WA 98195
(206) 543-2660
www.com.uw.edu
last update: December 2022