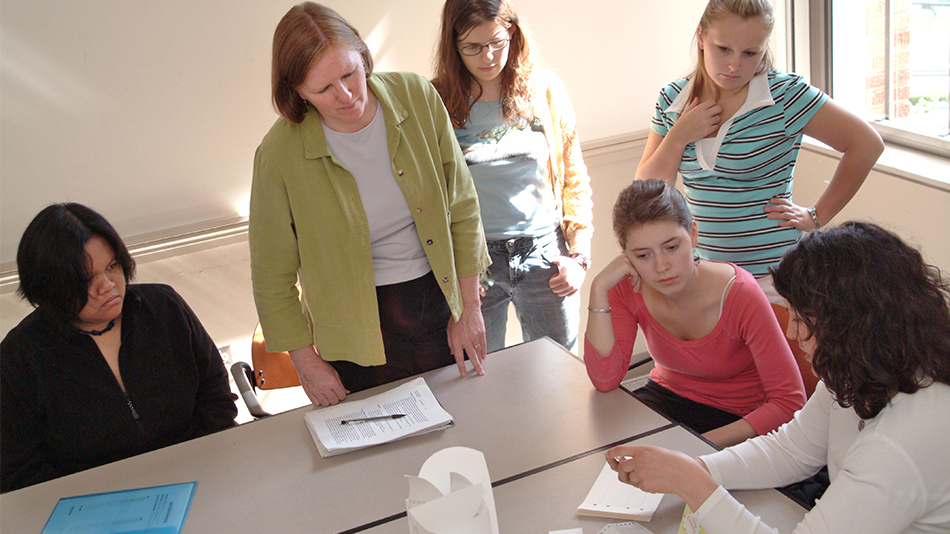 English is at the heart of the liberal arts. One of the largest departments in the UW College of Arts and Sciences, the Department of English makes major contributions to the intellectual vitality, academic excellence, and educational mission of the University. The many interests and instructional programs of the Department — including literature, rhetoric, culture, theory, criticism, history, pedagogy, and creative writing — are linked by the study of this common language.
VISIT DEPARTMENT WEBSITE
HIGHLIGHTS
The Department of English has the highest enrollment among the humanities departments at the University of Washington, serving more than 13,000 students each year, many of them non-majors fulfilling writing and general education requirements of the College and other units.
The Interdisciplinary Writing Program, which links a writing course with a content-based course in another discipline, has become a national model for effective writing instruction.
USA Today has ranked the Department's BA program as third in the U.S., and the Creative Writing Program has been ranked among the top ten in the nation by U.S. News and World Report.
Since 2008, nearly 90% of UW English PhDs hold positions in higher education in the United States and abroad.
EDUCATION
The Department offers five degree programs: the Bachelor of Arts with concentrations in literature and culture and creative writing; the Master of Arts in language and literature; the Master of Arts for Teachers (of English to Speakers of Other Languages); the Master of Fine Arts in creative writing; and the Doctor of Philosophy. It also offers an undergraduate minor in English and a writing minor.
Among special programs are internships for undergraduates, study abroad programs in London and Rome, and a departmental honors program. A number of graduate and undergraduate courses are cross-listed with Comparative Literature; Gender, Women & Sexuality Studies; American Ethnic Studies; and American Indian Studies.
Department of English alumni have translated their versatile English degrees into successful careers in business, education, law, medicine, library science, advertising, and journalism. English Department graduates excel in the non-profit sector and the Northwest's e-commerce and technology economy.
Students
​Spring 2018
412 Undergraduate majors
152 Graduate students
13,296 Total student enrollment (2017-2018)
67,202 Total student credit hours (2017-2018)
Degrees Awarded
July 2017 - June 2018
174 Bachelor of Arts degrees
9 Master of Arts degrees
10 Master of Fine Arts degrees
12 MATESOL degrees
14 PhD degrees
Major Student Awards
Since 2010
6 President's Medalists
2 Dean's Medalists
2 Husky 100 honorees
4 Bonderman Travel Fellowships
6 Mary Gates Leadership Scholarships
10 Mary Gates Research Scholarships
3 Commencement Gonfalonieri
2 Academy of American Poets Prizes
1 McNair Scholar
FACULTY
Autumn 2019
The Department of English has 54 active faculty and 33 emeritus faculty, including:
22 Professors Associate
18 Professors
3 Assistant Professors
2 Principal Lecturers
8 Senior Lecturers
1 Lecturer
33 Emeritus Faculty
Faculty Awards & Honors
3 ACLS Fellowships
8 Fulbright Fellowships
4 Guggenheim Fellowships
2 MacArthur Fellowships
6 National Endowment for the Arts Fellowships
2 National Endowment for the Humanities Fellowships
1 Rhodes Scholarship
5 UW Distinguished Teaching Awards
2 UW Graduate Faculty Mentor Awards
1 UW Sterling Munro Public Service Award
1 UW Thorud Leadership Award
2 Washington State Book Awards
1 Yale Younger Poets Prize
SCHOLARSHIP
The faculty's scholarly and creative publications are extensive, including studies of literature, literary theory, criticism, and history; cultural studies; English language and pedagogy; rhetoric and composition; and creative writing in fiction, literary nonfiction, screenwriting, poetry, and drama. Much of the Department's scholarship is engaged with UW interdisciplinary interests in textual studies, language learning, ethnic studies, and English in transnational contexts.
Areas of Scholarship
Literature of America, England, and the English-speaking World
Literary Theory, History, and Criticism
Cultural Studies
Discourse Analysis
Feminist Theory and Criticism
Gender Studies
Language History, Theory, Acquisition, and Usage
Expository Writing
Creative Writing
Textual Studies
Translation
Pedagogy
Rhetoric and Composition
Writing Across or in Disciplines
Visual and Electronic Literary and Cultural Representations
ENDOWMENTS
Andrew R. Hilen Professorship in American Literature and Culture
Grace and S. Wilson Pollock Professorship in Creative Writing
Loren B. Milliman Writer-in-Residence
Milliman Endowed Chair in the Humanities
Nancy K. Ketcham Endowed Chair
OUTREACH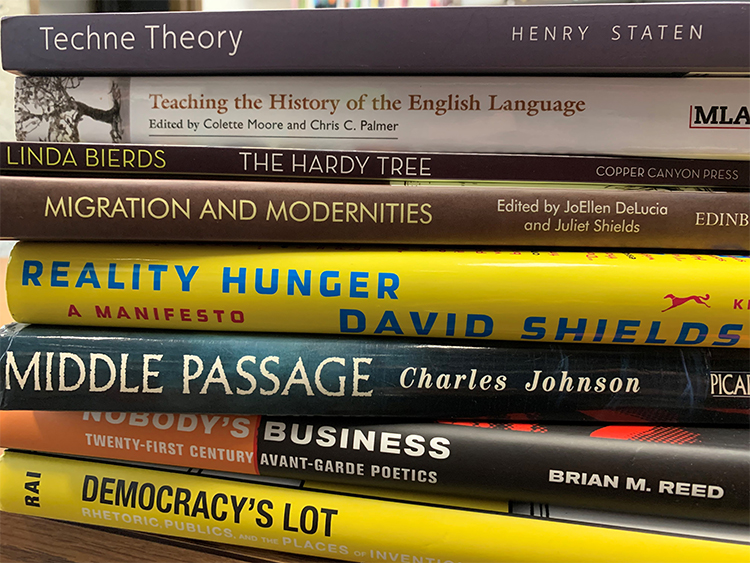 The Department sponsors numerous literary readings and lectures by faculty, students, and invited visitors. The annual Roethke Memorial Poetry Reading attracts audiences of up to 500.
Through UW in the High School and the Texts and Teachers Program, the Department participates in teaching parallel versions of courses at the University and high school levels, enrolling nearly 7,000 students across the state since 2013.
Master of Fine Arts students work as writers-in-residence at local schools, and as interns at presses and literary arts centers.
Undergraduate students volunteer with numerous community organizations and tutor in area schools, frequently through department service-learning courses. Over the last ten years, students provided nearly 75,000 hours of community service.
Sponsored journals — Seattle Review and Bricolage — publish scholarly and creative work by both local and national writers.
CONTACT
Department of English
Box 354330
University of Washington
Seattle, WA 98195
(206) 543-2690
english.washington.edu
last update: November 2019