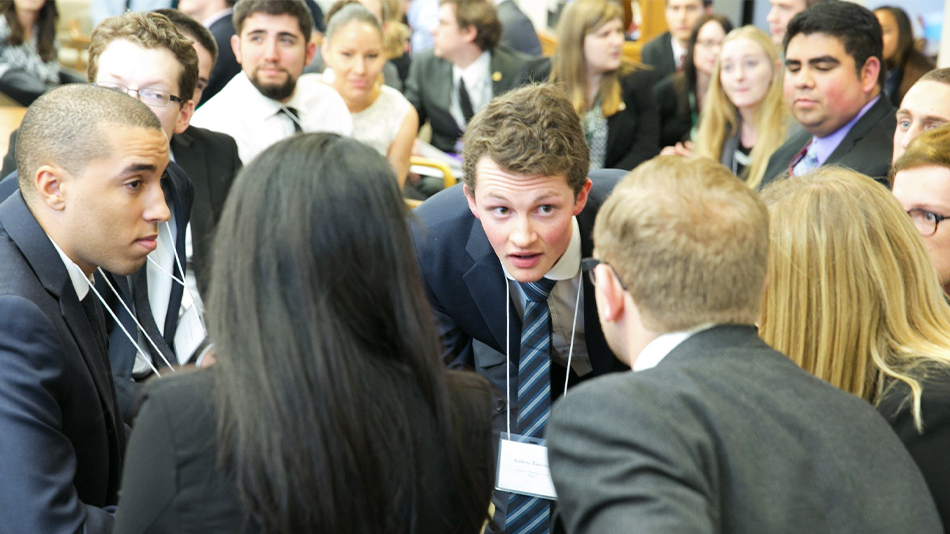 Political science focuses on the theory and practice of politics in the US and around the world. We are dedicated to studying the institutions and processes that constitute public life, to understanding the exercise of political power, and to providing education that instills citizenship.
VISIT DEPARTMENT WEBSITE
HIGHLIGHTS
Political Science is the second largest major in the social sciences and the fifth largest major in the College of Arts and Sciences.
Political science students develop important job and life skills through classes that challenge them to evaluate conflicting perspectives on political controversies. Alumni include many prominent community and business leaders.
Two well-established internship programs—in the state legislature and Washington D.C.—have provided valuable internships to many hundreds of students since 1956.
Faculty members regularly win awards for research and teaching.
EDUCATION
Students of political science learn how social science methods can help to develop a better understanding of government and politics. Undergraduates acquire knowledge of political institutions in the United States and around the world. Students learn to think critically as they evaluate conflicting claims about what government can and should do. They explore how mass political behavior influences law and policy, and study how government capacities and popular commitments to democracy vary across time and location. Courses in political science use award-winning teaching technology and help students develop sought-after analytic skills. They learn how to sort through conflicting information to develop sound ideas about complicated issues and how to communicate effectively on controversial topics. Our research centers, writing center, and honors program provide additional opportunity to strengthen research and writing skills.
Our doctoral program prepares the next generation of scholars for careers in academics and the public and private sectors. During their time at the UW, doctoral students make critical contributions to the department's undergraduate teaching mission.Many go on to careers at some of the top universities in the U.S. and abroad.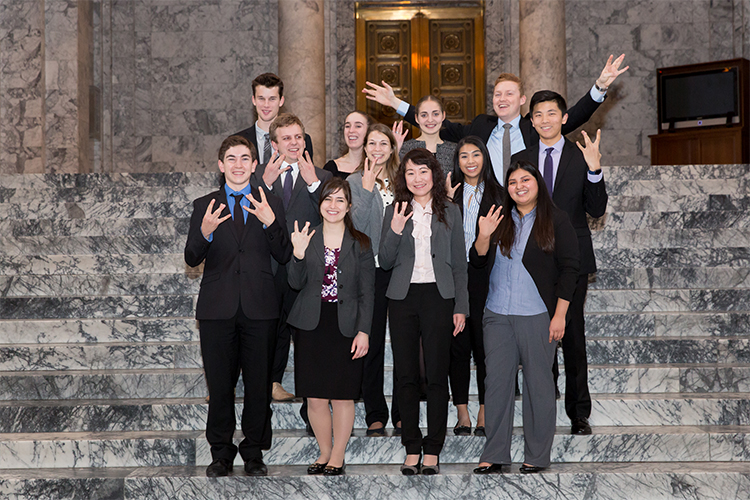 Students
Spring 2020
882 Undergraduate majors
48 Graduate students
6,313 Annual student course enrollments (Summer 2019-Spring 2020)
Degrees Awarded
July 2019-June 2020
356 Bachelor of Arts degrees
4 Master of Arts degrees
7 PhD degrees
Student Scholarships and Awards
since 2015
Rhodes Scholarship finalist
Harry S. Truman Scholarship
Mellon/ACLS Dissertation Completion Fellowship
UW President's Medalist
UW Excellence in Teaching Award
UW Graduate School Distinguished Dissertation Award
UW College of Arts and Sciences Dean's Medalist
UW College of Arts and Science Graduate Medalist
National Science Foundation Graduate Research Fellowship
Presidential Dissertation Fellowship in the Social Sciences (UW)
Chester Fritz and Boeing International Graduate Research Fellowship
U.S. Dept of Education Foreign Language and Area Studies Fellowship
FACULTY
Autumn 2020
14 Professors
8 Associate Professors
4 Assistant Professors
Department of Political Science faculty awards and honors include:
Grant Awards
National Science Foundation Grant recipients
American Council of Learned Societies
Annenberg Policy Foundation
Carnegie Foundation
Environmental Protection Administration
Ford Foundation
German Marshall Fund Fellowships
Guggenheim Fellowship
Hewlett Foundation
MacArthur Foundation
Ministerio de Educacion Y Ciencia Investigadore Extranjeros (Spain)
National Council of Social Studies
Pew Charitable Trusts
Russell Sage Foundation
Social Science Research Council
US Department of State
US Institute of Peace
US Agency for International Development
Honors/Appointments
Recent leadership positions in the American Political Science Association, International Studies Association, and Western Political Science Association
President, Law & Society Association
Numerous national awards for outstanding books, articles, papers and fieldwork
Founding Editor, Cambridge University Press Book Series on Business and Public Policy
Lifetime Achievement Award, European Union Studies Association
APSA Award for Graduate Mentoring
ASPA Award for Best Educational Website
Award of Excellence in Interactive Design, Communication Arts
University Awards
Distinguished Teaching and Excellence in Teaching Awards
James D. Clowes Award for the Advancement of Learning Communities
Marsha Landolt Award for Graduate Mentoring
RESEARCH
Faculty (often in collaboration with graduate students) conduct cutting edge, internationally recognized, research that is published in peer-reviewed books and journal articles. In American Politics, specialties include policy processes, law and politics, politics and race, political communications, and constitutional development. Comparative Politics professors have expertise in Europe, China, Africa, and Latin America. They focus on political economy, the expansion of international judicial institutions, explaining decisions by central bankers, using technology to prevent electoral fraud, and the politics of religion. Faculty members in the International Relations field study international political economy and international security, with particular expertise in voluntary environmental agreements and the role of emotion in international conflicts. Faculty expertise in Political Theory includes American political thought, human rights, and feminist political theory.
Several major interdisciplinary research centers are affiliated with Political Science, including the Center for Environmental Politics, Center for American Politics and Public Policy, Comparative Law and Society Studies Center, Center for Civic Communication and Engagement, Bridges Center for Labor Studies, Center for Human Rights, and Washington Institute for the Study of Inequality and Race.
Areas of Research
American Politics
Comparative Politics
International Relations
Political Theory
Political Economy
Political Science Methodology
Law and Society
Public Policy
Political Communication
Race and Ethnicity Politics
Environmental Politics
Politics and Religion
Labor Studies
OUTREACH
The department hosts regular speaker series that offer opportunities for the public to engage with leading academics from the University of Washington and elsewhere. Faculty participate in community events around the Puget Sound region, write opinion pieces for prominent outlets such as the Seattle Times, New York Times and Washington Post, and are frequently interviewed by major national and international media outlets such as CNN, MSNBC, C-SPAN, Bloomberg, Univision News, and BBC-TV. Faculty also engage in outreach by producing podcasts and by developing civic engagement resources for use in high schools and colleges across the U.S.
CONTACT
Department of Political Science
Box 353530
University of Washington
Seattle, WA 98195
(206) 543-2780
polisci.washington.edu
last update: December 2020