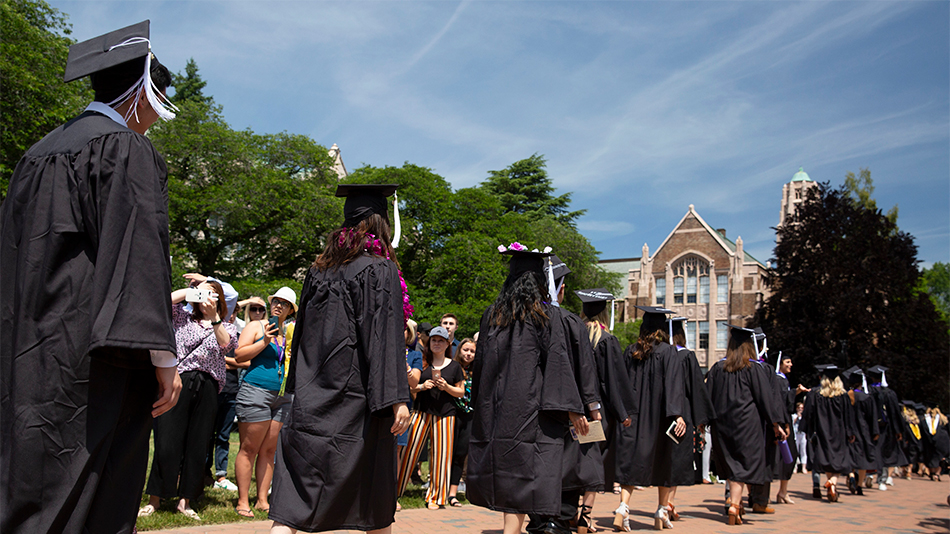 The University of Washington College of Arts and Sciences provides a liberal arts education of tremendous breadth and depth to nearly 22,000 students while advancing research and serving as a resource for the community. The College is made up of four academic divisions: art, humanities, natural sciences, and social sciences.
CORE OF THE UNIVERSITY
With more than 5,400 undergraduate courses offered in the College of Arts & Sciences annually, students can study everything from art to economics to physics. The College's extensive academic offerings benefit the entire University community; nearly one-third of all students who take an Arts & Sciences class are pursuing a non-A&S degree.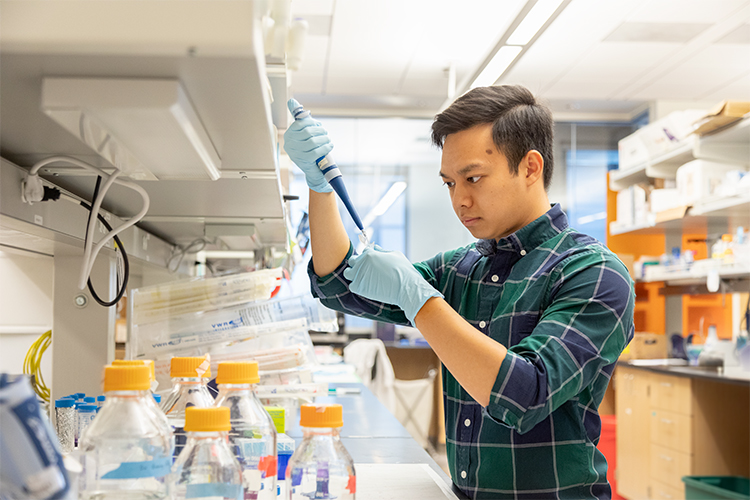 CUTTING-EDGE RESEARCH
From malaria treatment to solar energy to human rights, A&S researchers are tackling many of our society's most pressing issues. The College is home to more than 30 interdisciplinary centers and has ties to many others, enabling scholars in diverse fields to collaborate on complex research questions. A&S faculty generated about $119 million in research funds through public and private grants during the most recent fiscal year.
INTERNATIONAL EMPHASIS
The College teaches 60 languages and offers more than 100 study abroad programs in 36 countries, with dedicated centers in Rome, Italy and León, Spain. The Jackson School of International Studies provides interdisciplinary education, leading-edge research, public programs and outreach on all major world areas and critical international issues.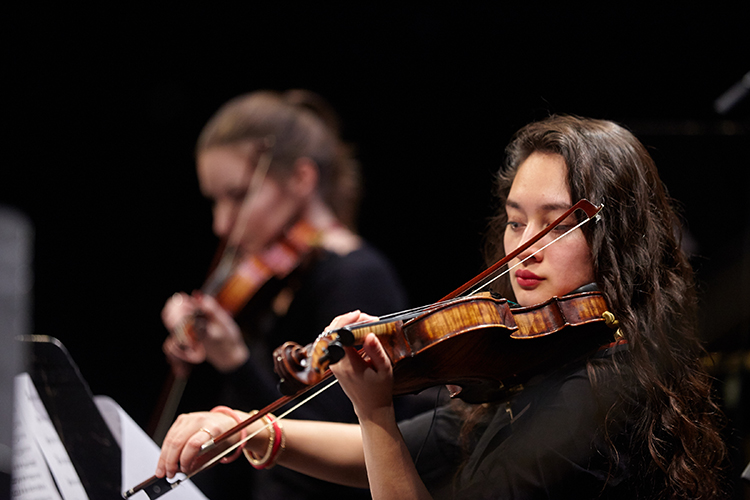 A REGIONAL ARTS RESOURCE
All of the University's arts units are part of the College, including the Schools of Music, Art, and Drama, the Department of Dance, Digital Arts and Experimental Media (DXARTS), the Henry Art Gallery, the Burke Museum, and Meany Center for the Performing Arts. They offer more than 300 performances, exhibits, and public programs annually. Detailed event and ticket information is available at ArtsUW. 
PARNERING WITH THE COMMUNITY
The College has developed dozens of innovative partnerships with the community. These include summer programs for K-12 teachers, guided stargazings at the Jacobsen Observatory, special Meany Center performances for K-12 classes, collaborations with community organizations through project-based courses, and more.
STUDENTS
(as of Autumn 2022)
21,913 A&S students
9,325 total Undergraduate pre-majors
9,795 Undergraduate majors
2,793 Graduate students
57% UW bachelor's degrees (Seattle campus) from A&S
14% UW master's degrees (Seattle campus) from A&S
28% UW PhD degrees (Seattle campus) from A&S
STUDENT ACCOMPLISHMENTS
Arts and Sciences students, among the best in the nation, have had great success competing for major scholarships—including five Rhodes Scholarships since 2000, as well as Marshall, Truman, Udall, Carnegie, Churchill, Boren, Rangel, Fashion, Luce, and other scholarships. Since 2015, 13 Arts & Sciences undergraduates have won Goldwater Scholarships and 52 have received Fulbright awards through the Fulbright US Student Program. Since 2013, UW student teams mentored by the Department of Mathematics have annually placed in the top 30 in the highly competitive William Lowell Putnam Math Competition, including three years in the top 15 and one in the top 10. 

FACULTY
(as of Autumn 2022)
925 Academic and Research Faculty (FTE)
122 A&S faculty have received UW Distinguished Teaching Awards since the award's introduction in 1970
2 National Book Awards
8 MacArthur Fellows
21 National Academy of Science members
33 American Academy of Arts and Sciences Fellows
 
COLLEGE LEADERSHIP
Dianne Harris, Dean
Gabriel Solis, Divisional Dean of Arts
Brian Reed, Divisional Dean of Humanities
Daniel Pollack, Divisional Dean of Natural Sciences
Andrea Woody, Division Dean of Social Sciences
DIVISIONS & DEPARTMENTS
ARTS DIVISION
Art
Burke Museum of Natural History and Culture Dance
Digital Arts and Experimental Media
Drama
Henry Art Gallery
Meany Center for the Performing Arts
Music
HUMANITIES DIVISION
Asian Languages and Literature
Classics
Cinema & Media Studies
Comparative History of Ideas
English
French and Italian Studies
German Studies
Linguistics
Middle Eastern Languages and Cultures
Scandinavian Studies
Slavic Languages and Literatures
Spanish and Portuguese Studies
SOCIAL SCIENCES DIVISION 
American Ethnic Studies
American Indian Studies
Anthropology
Communication
Economics
Gender, Women and Sexuality Studies
Geography
History
Integrated Social Sciences
Jackson School of International Studies
Law, Societies, and Justice
Philosophy
Political Science
Sociology
NATURAL SCIENCES DIVISION
Applied Mathematics
Astronomy
Biology
Chemistry
Mathematics
Physics
Psychology
Speech and Hearing Sciences
Statistics
CENTERS & INSTITUTES
The College is also home to more than 30 centers and institutes, including the Center for Human Rights, Center for Labor Studies, Institute for Learning and Brain Sciences, Institute for Nuclear Theory, and Simpson Center for the Humanities.
THE LASTING VALUE OF A LIBERAL ARTS EDUCATION
As society changes with dizzying speed and new technologies replace yesterday's innovations, we need leaders and problem solvers who are informed and mentally nimble, with a global awareness and an appreciation for diverse perspectives. These qualities are the hallmarks of a liberal arts education. In courses ranging from English to art history to political science, College of Arts & Sciences students develop intellectual flexibility and analytical and communication skills that prepare them to evolve with the ever-changing job market. That's why one third of all Fortune 1000 CEOs have an arts and sciences degree, and why employers believe that all students should acquire broad knowledge in the arts and sciences.
ACCOMPLISHED ALUMNI
Arts and Sciences alumni have become leaders regionally and nationally in fields ranging from art to physics. Two have received a Nobel Prize. Others have made their mark as elected officials, serving as city council members, state representatives, U.S. representatives, mayors, and governors of the state of Washington. NGOs founded by alumni have improved lives from Colombia to China. Theatres ranging from ACT to the Oregon Shakespeare Festival were created by alumni. Pulitzer Prizes have been bestowed on A&S alumni thirteen times since 1950, including five since 2001.
CONTACT
COLLEGE OF ARTS AND SCIENCES
BOX 353765
UNIVERSITY OF WASHINGTON
SEATTLE, WA 98195-3765
PHONE: (206) 543-5340
ARTSCI.WASHINGTON.EDU
Last updated April 2023