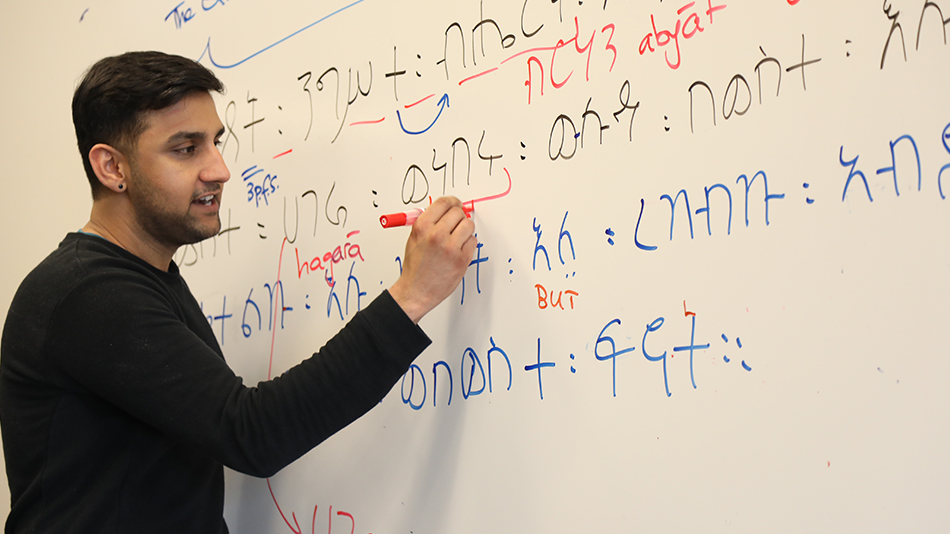 The Near East, named as "the cradle of civilization," is the birth place of major languages, religions, and philosophical movements. It is a region of layered histories and diverse cultures. The Department of Near Eastern Languages & Civilization is devoted to teaching and research of the Near and Middle East, including Central Asia, tracing contemporary manifestations, their medieval roots, and the significance of these within the history of world civilizations.
VISIT DEPARTMENT WEBSITE
EDUCATION
Established in 1969 by Professor Farhat Ziadeh as a culmination of "Oriental" studies at the University of Washington, the Department of Near Eastern Languages and Civilization (NELC) offers BA and MA degrees that investigate major linguistic, literary, and cultural aspects of the Near East and Central Asia, provides excellent training in the region's languages, and cultivates an appreciation and understanding of historical and cultural traditions among various communities in the region. The languages taught in our department —Arabic, Hebrew, Persian, Turkish (Modern and Ottoman), Geez, and Central Asian Turkic (such as Uzbek, Kazak, Kyrgyz, and Uygur)—are among the most significant languages of premodern and modern religious denominations and communities. Elementary and intermediate language courses are combined with advanced courses in poetry, literature, and modern media to provide students an immersive experience.
NELC serves a broad spectrum of undergraduates, including those with plans to acquire specific linguistic and cultural proficiency and those generally interested in the histories and cultures of the region. NELC graduates have continued on to successful careers in law, medicine, government, and education as well as pursuing advanced degrees in the humanities and social sciences.
Undergraduates can select from degree options concentrating in Languages and Civilization; Comparative Civilizations; and Hebrew Bible and Ancient Near Eastern Studies.
The Department participates in exchange programs, sending UW students for language and cultural study and research to a variety of locations—from North Africa, to the Middle East, and across Central Asia—and trains many students from institutions overseas.
Students
Autumn 2016
32 Undergraduate majors
6 Master of Arts students
Degrees Awarded
Sept 2016 - Aug 2017
13 Bachelor of Arts degrees
4 Master of Arts degrees
4 Minor degrees
Major Student Awards
Since 2004
1 Rhodes Scholar
2 Ronald E. McNair Scholars
4 National Fellows for Advanced Arabic Study
37 Schwartz Fellows for Study Abroad
10 Roshan Institute Fellows for Excellence in Persian Studies
12 Naficy Scholars in Persian Studies
7 Turkish and Ottoman Literature Endowed Fellows
7 Hooshang Afrassiabi Essay Award
15 Foreign Language and Area Studies Fellows
3 Boren Scholars
4 Fulbright Scholars
6 Critical Language Scholars
2 Gilman Scholars
2 Easa Bateh Fellows
1 Williams Endowment for Excellence Fellow
3 Fulbright-Hays Language Fellows
1 Institute for International Public Policy Fellow
OUTREACH
Annual events hosted by NELC include the Farhat J. Ziadeh Distinguished Lectureship in Arab and Islamic Studies and the Hooshang Afrassiabi Distinguished Lectureship in Persian Studies. These lecture series bring renowned speakers from around the world to speak to NELC students and the greater University of Washington community. Additional lectures and cultural presentations are supported by the Turkish Studies Endowment, the Hebrew Bible and Ancient Near East Fund, the Ravani Endowment, and the Friends of Persian Studies Fund.
Programs and cultural activities are presented throughout the year by the Central Asian Turkic Languages and Culture Circle, the Persian Circle, and other student interest groups.
NELC faculty and students participate in many activities across the campus, for example the annual World Languages Day, an event that introduces high school students to language study at the University of Washington.
FACULTY
Autumn 2017
4 Professors
2 Associate Professors
3 Assistant Professors
1 Research Professor
8 Lecturers
7 Adjunct Faculty
7 Affiliate Faculty
2 Emeritus Faculty
Faculty awards and leadership roles include:
Fulbright Scholars
National Endowment for the Humanities grants
Fellows, American Research Center in Egypt
Senior Fellow, American Center for Oriental Research
Presidents, Middle East Studies Association
President, Society for Iranian Studies
President, Middle East Medievalists
President, Pacific NW American Research Center in Egypt
President, Pacific NW American Academy of Religion/Society of Biblical Literature
Director, American Research Center in Egypt
Director, Center for Arabic Study Abroad
Samuel and Althea Stroum Chair
Mentor Award, Middle East Studies Association
Service Award, Middle East Studies Association
Editors of leading journals (Associate Director of the Review of Middle East Studies)
Foreign Language and Area Studies (FLAS) Fellowships
SCHOLARSHIP
NELC faculty are engaged in a wide variety of individual research endeavors with emphases including post-colonial theory, intercultural exchange, literature as performance, archeology and culture of archaeology, gender theory, political literature and politics of literature, literary dynamics in exilic or diaspora communities, children's literatures, linguistics, legal theory, and comparative religion. Departmental research on Jewish, Christian, and Islamic literatures and cultures is characterized by the study of these not as isolated entities, but rather as integral to wider Near Eastern cultural developments.
Faculty in NELC have been leaders in numerous national and international team research projects including:
The Ottoman Text Archive Project, an international effort to make a vast collection of documents crucial to understanding the history and cultural heritage of the Ottoman Empire accessible in a central web-based text archive; for which a pilot project, The Baki Divan Project: Digital Approaches to Ottoman, was awarded $40,000 from the Royalty Research Fund (RRF) to archive and analyze the Divan (Collected Works) of the Ottoman poet Mahmud Abdulbaki, or Baki (1520-1600).
The Newbook Project that establishes a digital archive and a publishing platform for manuscripts related to the Near and Middle East Studies.
Federally-funded grants for innovative Arabic distance learning programs.
National grant initiatives to develop more effective and advanced pedagogies for proficiency in Arabic and Persian.
Organizing and hosting international conferences including Western Ottomanists Workshop (2014); Western Jewish Studies Association conference (2016); Writing the Iranian Revolution: Memory, Testimony, Time (2017); and The Many Poems of Baki (2017) .
Areas of Scholarship
Ancient Near Eastern Languages and Cultures
Modern Hebrew, Arabic, Persian, Ottoman, Turkish and Turkic Languages, Literatures and Cultures
Hebrew Bible
Judaism in Late Antiquity
Ancient Christianity and Religions of Antiquity
Islamic Institutions, Philosophy, Religion, History
Comparative Religion
Coptic Language
Cultures of Near Eastern Archaeology
Linguistics and Near Eastern Studies
History of the Middle East
Scholarships & Fellowships
Bateh Scholarship in Arabic Studies
Paul LeRoy Award in Egyptological Studies
Hooshang Afrassiabi Student Prize in Persian Studies
Naficy Family Fellowship in Persian Studies
Friends of Persian Studies Student Fellowship
Aryan Khorram Research Award on the Iranian-American Experience
Roshan Cultural Heritage Institute Fellowship
Graduate Fellowship in Persian Studies
Maurice and Lois Schwartz Fellowship for Study Abroad
Michael A. Williams Scholarship for Excellence in Near Eastern Studies
Turkish and Ottoman Literary Fellowship Award
CONTACT
Department of Near Eastern Languages & Civilization
Box 353120
University of Washington
Seattle, WA 98195
(206) 543-6033
nelc.washington.edu
last update: Summer 2017