In mid-October, more than 2,000 women—and a few men—descended upon Seattle Center for the inaugural GeekGirlCon, a "convention celebrating the female geek." And self-described feminist geek Jennifer Stuller (BA, CHID, 2005) was right in the thick of things as programming director and a co-founder of the event. 
"It's been the most stressful and most fulfilling experience of my life so far," says Stuller. 
For the uninitiated, Stuller defines "geek" as anyone who is "obsessively fannish over something. It can be sports or music, but typically geek culture tends to be about gaming, comics, sci fi, television, and movies."
Stuller traces her own geek roots back to her childhood, when her father introduced her to 2001: A Space Odyssey. He also bought her a copy of Ms magazine at 14. "That's how I got interested in feminism and popular culture," she says. "Since then, the two interests have always paralleled each other."
By the time Stuller arrived at the UW as a transfer student at age 27, her interest in female archetypes was firmly established. As a Comparative History of Ideas (CHID) major, she co-led a CHID focus group about Buffy Summers, the teenage heroine of the popular television show Buffy the Vampire Slayer. (CHID focus groups are two-credit discussion groups designed and facilitated by students on topics of their own choosing.)
"We titled the focus group 'Buffy as Archetype: Exploring Human Nature Through the Buffyverse,'" explains Stuller. "We came up with the readings and viewings. It opened up this whole new world of pop culture academia to me. I discovered that I liked gathering information and then presenting it to people to get them to think about the world differently." 
That discovery led Stuller to write a book proposal for her CHID senior thesis, which in turn led to an invitation to present at an academic conference in Melbourne, Australia. At the conference, Stuller was introduced to some of the biggest names in the field of popular culture. "I met one of the founders of the Comic Arts Conference, sort of an academic track of Comic-Con (a huge convention for popular culture enthusiasts). That night, my husband and I were invited to dinner with all the keynote speakers. It was pretty amazing."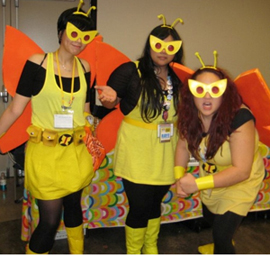 Conference invitations continued after Stuller graduated in 2005. Soon publishers were expressing an interest in her book, based on her proposal. So she sat down and wrote it.
"Well, it wasn't quite that simple," laughs Stuller. Although she had written her share of UW Daily columns and freelance articles, a book was a very different beast. "I was overwhelmed. I didn't know where to start." She joined a writer's group, whose members told her to write an introduction and bring it to them in three weeks. "They got me on track," she recalls, grateful. 
The book, Ink-stained Amazons and Cinematic Warriors: Superwomen in Modern Mythology, was published in 2010. A book tour followed, with Stuller attending various conventions, including Comic-Con. That's where the idea for GeekGirlCon was born.
"At Comic-Con, a panel of comic book writers had one woman and the rest were men," recalls Stuller. "On the gay panel, they were all men. There was one panel for women, called 'Geek Girls Exist.' The room was packed—so packed that the fire marshalls had to close the doors. Afterward, a woman asked, 'When are we going to do one of these for us?'" 
The question resonated for Stuller, who tossed around the idea with other geek girls. Meetings were organized, a core group of volunteers signed on, and GeekGirlCon was born. "I wasn't sure what I was going to do with myself after my book tour," recalls Stuller. "Then this idea came up. Serendipity, right?" 
As programming director for GeekGirlCon, Stuller was responsible for planning all the panels for the two-day event. Topics ranged from Star Trek to vampires, geek parenting to sexism in the video game industry. Gail Simone of DC Comics, the lone female comic book writer on the Comic-Con panel, presented. So did Jane Espenson, a writer-producer whose extensive credits include Battlestar Galatica, Firefly, and Game of Thrones. The event was held at Seattle Center and EMP, the latter an event partner. Attendees came from as far away as Mumbai, England, and Mexico City. 
"People started coming up to me and thanking me—as well as the entire talented staff—for this event, saying it's the best con they've ever been to," recalls Stuller. "Someone emailed me the next day, saying I was a geek-girl pioneer. Gail Simone said it felt like being at Woodstock. She said it felt like a game changer."
With their first major convention under their belt, GeekGirlCon's organizers—all volunteers—are eager to plan next year's event. But they're also scheduling activities throughout the year, from film screenings to karaoke sing-offs. The group's Facebook and Twitter pages each now have more than 5,000 fans. 
"This has all happened in the past 13 months," marvels Stuller, who could never have imagined she'd be taking on this role. "I've always done things the back door way," she admits. "Going to school in my late 20s, writing a book—everything's been circuitous. I'm just excited to see what happens next."