When the band Quetzal received a Grammy Award for Best Latin Pop, Rock or Urban Alternative Album at the 2013 Grammy Awards, A&S graduate student Martha Gonzalez, a PhD candidate in the UW Department of Gender, Women & Sexuality Studies (GWSS) and 2012-13 Ford Foundation Dissertation Fellow, was among the band members on hand to accept the award.
Quetzal was honored for their 2012 album Imaginaries, released on the Smithsonian Institution Folkways Label. Smithsonian's Folkways describes Imaginaries as a creative combination of "East L.A.'s soundscape, traditional son jarocho of Veracruz, salsa, R&B, and more to express the political and social struggle for selfdetermination and self-representation."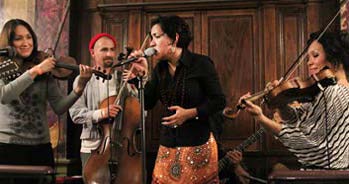 Doctoral advisor Michelle Habel-Pallán describes Gonzalez as a "cultural producer, singer, songwriter, percussionist, and community builder." Gonzalez's work as a recording artist is interwined with her work in academia; Imaginaries was inspired in part by Decolonial Imaginary: Writing Chicanas into History by Emma Pérez—one of the foundational texts of GWSS's Feminist Theory graduate seminar.
Gonzalez's academic scholarship focuses on the translocal/transnational music movement Fandangos Sin Fronteras and investigates community music making practices that debunk commercial and social pressures that position women to choose between musicianship and motherhood. She's presented her research at national and international conferences. She cofounded the collective Seattle Fandango Project and the GWSS series Alma en la Tarima/Soul Dancing, and is a founding member of the GWSS Women Who Rock Collective.