It started with a question.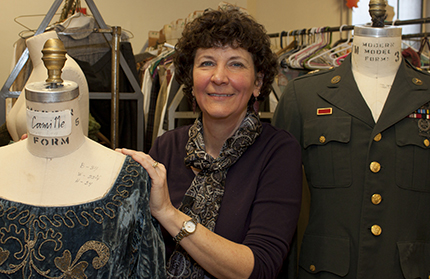 After donating vintage clothing to the School of Drama Costume Shop for several years, Dean and Tomilynn McManus wanted to do more. They asked Costume Shop supervisor Josie Gardner, "What do you need?"
"Thread," Gardner replied.
"The Costume Shop needs thread? How could this be?" Tomi McManus recalls thinking at the time. "We didn't realize that their thread is on huge spools. So our first monetary gift of $200 went to replenish the thread cabinet."
More and larger gifts followed, always addressing a specific need: scissor sharpening, new dress forms, new sewing machines. "Sometimes being specific about our needs is really valuable," says Gardner. "Donors can see what they've given and know how it will be used."
The Costume Shop's three-member staff builds costumes, maintains an extensive costume collection (see sidebar), and offers courses in sewing, pattern drafting, and theater makeup. Their primary role is to support students who design costumes for School of Drama productions. (The School offers an MFA in costume design as well as costume classes for undergraduates in Theatre Studies.)
"We are set up to function as a professional costume shop, to give students the most professional experience we can," says Gardner, who explains that costume shops are tasked with building the clothing and accessories that designers dream up. "We also understand that we are working with students. They will make mistakes or choices a professional designer wouldn't make. We're here to help them learn."
The McManuses are happy to do their part as well. The couple has strong ties to the University — Dean is an emeritus professor of oceanography; Tomi works in the College of Arts & Sciences — and they were already generous donors to the School of Oceanography and the School of Music before discovering the Costume Shop. They are adding to their oceanography and music endowments this year with matching support from the UW's Faculty, Staff, and Retiree Matching Campaign for Students, but they also chose to increase their support of the Costume Shop, largely because of Gardner's enthusiasm and appreciation.
This support fund is exciting for us. We're a small shop. There are things we can really do with this gift.
"We've donated to other causes and been proud of doing so," says Dean, "but with Josie, the joy she gets from what we've provided is just infectious. It just magnifies our pleasure." Adds Tomi, "Any time we walk into the Costume Shop, the staff and students thank us for being there. I just can't stress enough how much we feel a part of the family."
That personal connection was never more apparent than when the McManuses funded the purchase of four new sewing machines for the shop. "Sewing machines have a specific life," Gardner explains. "Like an old car, at some point you end up putting more into repairs than the machine is worth." After acquiring the new machines, the School of Drama wanted to add plaques to acknowledge the donors. The McManuses asked instead that they name the machines Josie (for Gardner), Sarah (for Sarah Nash Gates, School of Drama executive director at the time), and Doris and Clara, in honor of Tomi and Dean's mothers. "Both of our mothers sewed, so the sewing machines were so intimate for us," says Tomi. "And now the students call the machines by name."
Earlier this year, the McManuses took another step in supporting the Costume Shop by creating the Josie Gardner Costume Shop Support Fund. As with their first oceanography and music student development endowments, they made an initial gift toward a five-year pledge plan. "With Josie, we get the sense that every bit that we give is being used," says Dean, who hopes other donors will add to the fund.
Asked how the shop will use this support, Gardner is full of ideas, including hiring professionals from local theater costume shops to offer specialized courses, and introducing new technology to the shop. "This support fund is exciting for us," says Gardner. "We're a small shop. There are things we can really do with this gift."
The McManuses don't doubt that for a moment. "We started with a gift of thread," says Tomi. "The University is such a huge place, it never crossed our minds that small donations would be appreciated and valuable. Now we know that a small gift can sometimes make a big difference."
.   .   .  
Support the Josie Gardner Costume Shop Support Fund.