Visitors to Meany Hall for the Performing Arts will soon encounter a new piece of art when they attend an upcoming performance. Walking through the lobby, patrons will be greeted by a 20 foot wide, 8 foot tall original artwork by one of the most influential American artists of the 20th century, Robert Rauschenberg. Thanks to the generosity of long-time UW supporters, Marsha and Jay Glazer, UW students and the community will now have access to this significant artist and art work.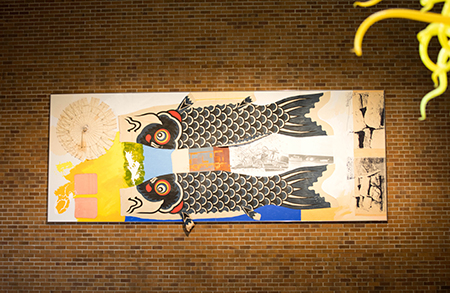 The 1995 Rauschenberg entitled Doubleluck will be displayed prominently in the company of pieces by Jacob Lawrence and Dale Chihuly. This immense piece – an assemblage of Acrylic, Japanese kite, parachute, umbrella and fabric on bonded aluminum – features techniques that echo through much of Rauschenberg's work: juxtaposition of materials, doubling of imagery, photo transference and bold color variance.
Rauschenberg has been called a forerunner of essentially every postwar movement since Abstract Expressionism. He began making art in the late 1940s and early 1950s and continued up to his death in 2008. Throughout his career, he pushed beyond the boundaries of method and medium to create pieces in dialogue with themselves and the world beyond. He stretched the idea of what constitutes art, and in so doing, paved the way for artists like Warhol and Lichtenstein after him.
Rauschenberg was also deeply committed to collaboration, working with other visual artists as well as performing artists, choreographers and musicians. He collaborated regularly with notable choreographers Merce Cunningham and Trisha Brown – both of whom have deep ties to the Meany stage – designing sets and costumes for numerous productions over his six-decade career.
We believe that the importance and power of art is unbound by any one discipline or form. And the placement of this piece by Rauschenberg in Meany Hall exemplifies this bridging of artistic spaces.
As a thriving hub for the arts at one of the nation's top public universities, Meany Hall is the perfect place to showcase this innovative and collaborative artist's work. Each year, thousands of UW students and community members gather at Meany to experience the transformative power of art. And the presence of this piece will only elevate that experience.
"We want to give our students and the larger UW community an expansive and interdisciplinary view of the arts," remarks Jamie Walker, Director of the UW School of Art + Art History + Design. "We believe that the importance and power of art is unbound by any one discipline or form. And the placement of this piece by Rauschenberg in Meany Hall exemplifies this bridging of artistic spaces."
This expression of generosity is one of the many ways the Glazers have invested in the UW, its students and faculty over the years.  "The Glazers have shown time and time again their dedication to this University," says UW President Ana Mari Cauce. "Whether it's through the creation of an endowed professorship to help us ensure that we can recruit and retain the best faculty or, as in this case, giving our students and community access to a seminal American artist, the Glazers have always sought creative and timely ways to elevate the UW."