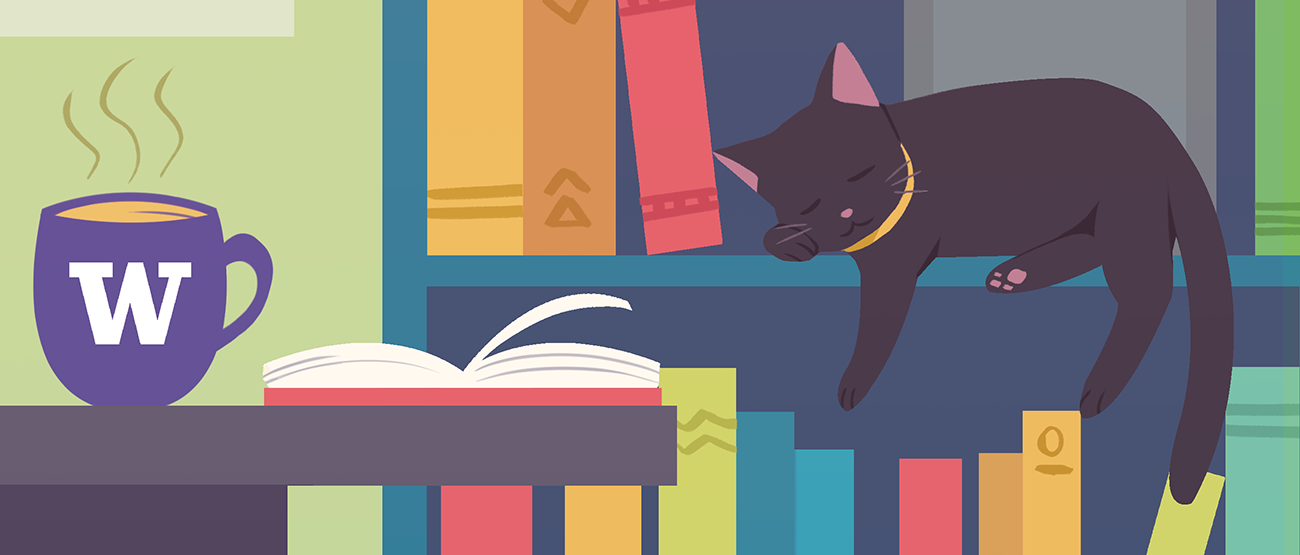 Frances McCue
Senior lecturer and co-founder of Hugo House
Specializes in poetry and poetics
One Hundred Years of Solitude
by Gabriel Garcia Marquez
Sometimes, you need a great big epic, a literary blockbuster that transports you into the wedge between magic and realism: "The world was so recent that many things lacked names, and in order to indicate them it was necessary to point." I feel like that just now.
The Overstory
by Richard Powers
This novel will remind you of trees. It will also bring you history and imaginings of heritage and nature shapeshifting while you are stuck indoors. 
The Painted Drum
by Louise Erdrich
Part detective story, part novel in search of a past, The Painted Drum is told through two characters who try to resolve lost heritage. It's a diptych that inspires and consoles. 
Shawn Wong
Professor
Specializes in creative writing and Asian American literature
The Miraculous Journey of Edward Tulane
by Kate DiCamillo
This classic children's story about the transformational power of love is perfect for kids — and adults — sheltering at home. Novelist Ann Patchett recently called it the kind of life-changing book we need right now. I couldn't agree more. With its almost perfectly constructed story, it's also the kind of book writers wish they had written.
Eat a Bowl of Tea
by Louis Chu
Published in 1961 and reissued by the University of Washington Press last month, this classic Chinese American novel is set in post-WWII New York City's Chinatown bachelor society, still feeling effects of the Chinese Exclusion Act and decades of immigration laws. Louis Chu had to invent an English that mirrored the kind of Cantonese street talk he heard in his community. The novel was made into a movie by director Wayne Wang in 1989.
Straight Man
by Richard Russo
When I first heard of this novel about a lowly creative writing professor who becomes chair of his English department, I was transitioning from director of the UW Creative Writing Program to chair of the UW English Department. My colleagues kept telling me that it was one of the funniest books they'd ever read, because, I guess to them, being chair of English must be a job filled with comedy and humor. I resisted reading it until halfway through my term as chair, and then it became my "owner's manual."

Jeffrey Knight
Associate Professor
Specializes in Renaissance literature and Shakespeare
The Poems of Emily Dickinson: Reading Edition (Belknap, 2005)​
Emily Dickinson is the poet laureate of social distancing. This complete collection of her works is best read slowly, at random, and in conjunction with the open-access Emily Dickinson Archive, where you can page through the manuscripts exactly as Dickinson left them.
The Library Book
by Susan Orlean
Nominally an account of the catastrophic fire that almost destroyed the Los Angeles Central Library in 1986, The Library Book is really an absorbing, personal love letter to the institution of the public library and the ideals of community, generosity, and democracy it embodies.
The Long Public Life of a Short Private Poem: Reading and Remembering Thomas Wyatt
by Peter Murphy
A masterpiece of lively, accessible literary detective work, this book tells the "life story" of a single poem written five centuries ago by a doomed Tudor diplomat. If you've ever wondered what it means for art to "stand the test of time," read this book.
Jessica Burstein
Associate Professor​
Specializes in British literature from the late 19th century through the present, and fashion
Vile Bodies
by Evelyn Waugh
When in doubt, mock. This is arsenic-laced froth. The characters' names alone are maniacal-laughter inducing (Viola Chasm, Fanny Throbbing [!!], and England's prime minister is named Outrage). Waugh's book gives you the uneasy birth of fake news, and I didn't read it so much as I ate it. Beware: the arsenic leaves an aftertaste.
Boredom: The Literary History of a State of Mind
by Patricia Spacks
Boredom is intensely interesting. Spacks traces its evolution from acedia — the sin of will-lessness — to ennui, through women's letter-writing in the 18th century to Proustian yawns. The punchline is that modernity hinges on the expectation that the world exists in order to amuse you.   
Harriet the Spy
by Louise Fitzhugh
This is a wonderfully worlded book to live in. It's a terrific bildungsroman, a novel of education, starring the irreplaceable and exemplary eponymous. Fitzhugh's drawings are emblazoned on my mind (one is on my forearm). If you are spending time around young people, this is a good thing to have them read to you, or vice versa. It's about growing up, and also about joy, conviction, and writing. But in the end it's about beginning, and right now that is an achievement.
Rae Paris
Assistant Professor
Writing, research, teaching, and service layered in land, memory, resistance, Black, Indigenous, and Brown futures
The Marrow Thieves
by Cherie Dimaline
In a polluted world where some people have lost the ability to dream, settlers extract the marrow from Indigenous people, which allows others to dream. The language, the love and care, the characters. I read this early in the pandemic and didn't want it to end.
Education in Movement Spaces: Standing Rock to Chicago Freedom Square
Multiple Editors*
Full disclosure: I'm one of the editors, but the contributors are dope. With chapters from artists/organizers/educators/young people, this book highlights the importance of activist-oriented teaching and learning, with attention to recent social movements. The folks in this book inspire me to imagine and work collectively toward building the world we need. You can find the book here.
*edited by Alayna Eagle Shield, Django Paris, Rae Paris, and Timothy San Pedro
"Blessing the Boats"
by Lucille Clifton 
A single poem. Focusing enough to read a book while disproportionate numbers of Indigenous, Black, and Brown people die can be a lot. I'm beginning and ending days with a poem. This is an evening poem, a blessing, a reminder to keep dreaming. You can read it here.