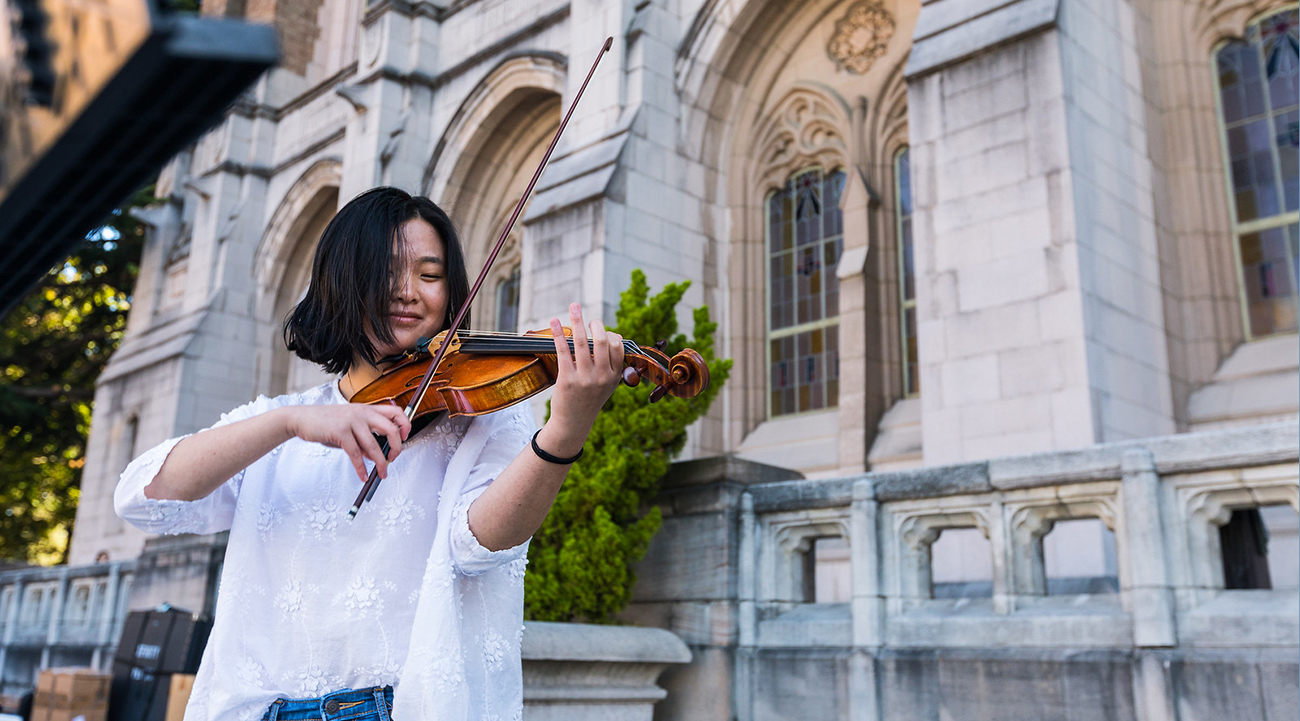 Artmaking – the process and practice of creativity – is no longer the sole purview of dancers, designers, actors, and ceramists at the University of Washington. Here, future aeronautical engineers, math teachers, oncologists, and social workers have opportunities to broaden their skill sets by learning how to approach a challenge as an artist might step up to a blank canvas. Or by visualizing a way to communicate with more than words, the way a graphic designer would lay out a website. 
Thanks to a generous three-year $600,000 grant from The Andrew W. Mellon Foundation, the University of Washington's College of Arts and Sciences is developing six undergraduate courses open to all, yet tailored to students who are not arts majors. The purpose of these courses, says Divisional Dean of the Arts Catherine Cole, is to equip students with tools and skills that will enable them to think and solve in different ways when presented with a challenge. 
"How do you bring the creative process into all kinds of activities in life?" asks Cole. "These courses will zero in on the creative process in the performing and visual arts, making that process available to all students, and – very important – greater numbers of students. Our professors are identifying the core experiences and aspects of their field that would benefit an engineering or philosophy student who is about to enter a very uncertain, dynamic world."
We are invested in the arts as a way to view, interact with, and impact the world.
This is the second Mellon Foundation grant awarded to the UW under the University's Arts and Creativity Initiative umbrella, the three goals of which are to develop new introductory arts curricula, cultivate the next generation of faculty arts leaders, and to support visiting artists advancing their creative process. 
In 2016, the UW was honored with a three-year Mellon grant for the Creative Fellowships Initiative, spearheaded by the Meany Center for the Performing Arts, to advance the field of performing arts by supporting artists in the development of new work and by integrating the performing arts more fully into teaching and learning across disciplines. The original grant was the first time the Meany Center for the Performing Arts, the School of Music, School of Drama, DXARTS Center and Department of Dance had joined together for an experiment of this scale. The current grant will enable more interaction among undergraduates and Mellon Creative Fellows, as well as with seasonal visiting artists at the Meany Center. 
"Based on the relationship we'd established with Mellon through this support, we were able to return to them with a request to build upon and extend our creative fellowships initiative," says Michelle Witt, executive and artistic director of the Meany Center.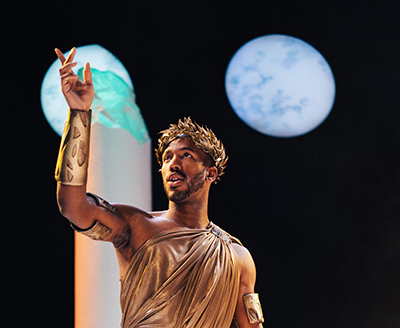 "We would like all of our students to have transformative arts experiences," says Ed Taylor, UW's dean and vice provost of undergraduate academic affairs. "Transformative learning is based on the notion that how we see the world is a result of our perceptions of our experiences. Transformative learning is a process of examining, questioning, and revising those perceptions."
"We are invested in the arts as a way to view, interact with, and impact the world," says Catherine Cole. "In the U.S., artists traditionally haven't had much in the way of research-and-development space, yet large public research universities like the UW, especially those with a public face like the Meany Center, can be magical places for artistic R&D. Whatever you're making art about, we've got an expert on that. We can provide access. If you're a writer and you need to know about, say, black holes, we have an expert on that. Or you're a choreographer who wants to understand how movement lights up parts of the brain – we have neuroscientists who can collaborate on that!"
"The University of Washington is a tremendous arts engine for the region," says Michelle Witt, who points to UW's "innovative faculty research and teaching in a variety of artistic disciplines, our leading public engagement through organizations like the Burke Museum, the Henry Art Gallery and Meany Center for the Performing Arts, and our robust support of the creative process as an end in itself. The arts and creativity are foundational to a leading 21st century education that fully prepares its students for a changing world, and to an innovative, dynamic and internationally important city like Seattle."
With the previous grant, says Cole, "We learned how wonderful it was to have artists in residence on campus. The current grant has a slightly different, educational mandate, which will enable our students and faculty to connect more with the Meany Center."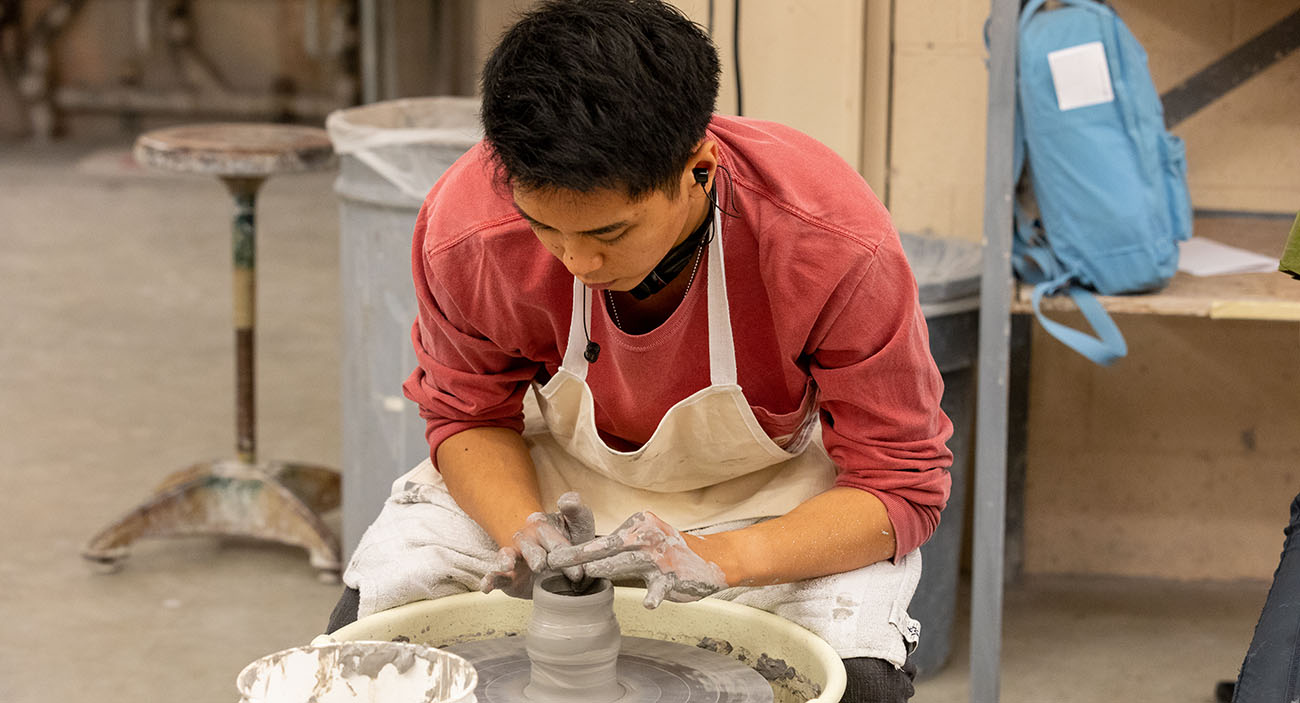 "We are not creating classes that are 'easy A' electives for non-arts students," she says. "The division has always offered large, lecture-based arts appreciation courses that can accommodate 100 or 300 students and fulfill general education requirements. However, studio classes, which offer hands-on art making, often are limited to 20 students and fill up quickly, usually with arts majors. This grant is challenging the studio-based arts faculty to imagine classes that reach more students.
"Our goal by the end of this grant," she says, "is to have six new courses that can be scaled to enroll between 40 and 100 students each. We believe that arts and creativity should be part of the DNA of every student's time at UW, regardless of their major. We are not assuming that all students will go on to master an artistic craft, but they will learn to honor the process."
To date, four courses have been developed, with two set to start in the Fall 2020 quarter. The development of the two remaining classes has been delayed due to COVID-19 stay-at-home mandates, which required faculty to convert all of their existing courses to online formats. 
The four courses that are set to launch are:
CREATIVITY AS RESEARCH (Autumn 2020 & 2021)
Professors: Jennifer Salk, Jeffery Fracé and Afroditi Psarra
Dance, Drama, and DXARTS 
This course examines creative research in the arts and the natural overlap with research in other fields. This immersive and experiential course will introduce students to processes that can be adapted to any field through the lens of artistic disciplines such as contemporary dance, theater and digital art.
VISUALIZING IDEAS – GRAPHIC DESIGN FOR NON-DESIGNERS (Winter 2020 & 2021)
Professor: Annabelle Gould
Art, Art History and Design 
Students will be introduced to a broad range of principles inherent to the discipline of visual communication design. These include the fundamentals of visual composition and typography, storytelling, cogni­tive science, signage, the basics of color theory, and effective image-making. Students in this class will actively engage in the process of creative thinking, seeing, and making in order to produce engaging and effective outcomes.
ARTIST MINDSET (Spring 2021) 
Professor: Whitney Lynn
Art, Art History and Design
Where do ideas come from? How does the practice of art connect across disciplines? This hands-on course promotes critical curiosity; students will gain experience evaluating images and developing ideas.
ROOTS AND ROUTES OF RAP (Spring 2021 & 2022) 
Professor: Christina Sunardi
School of Music
The course combines participatory workshops on artistic processes such as writing lyrics, improvising, and creating beats with discussions of listening examples and reading assignments tackling a number of issues including race, gender, class, notions of authenticity, the impact of mass media, politics of sampling, concepts of blackness, and the place of rap in and beyond African American culture.