If you're hoping to go to medical school or pursue another health-related career, you are in good company! Hundreds of UW undergraduates identify as pre-med students when they arrive at the University. Here are something things to consider as you plan for your future.
1. Think beyond STEM majors.
Though certain courses in the natural sciences may be required for medical school, a student's choice of undergraduate major is far more flexible than many realize. In fact, medical schools value students who have a well-rounded education. Last year humanities majors had a 48% acceptance rate for medical school—higher than the overall acceptance rate of 42%*.
*Source: Association of American Medical Colleges, 10/27/20
2. Explore health care through a different lens.
Beyond the obvious courses for a student interested in health care, try something less expected. Here's a small sample of health-related courses offered in the College of Arts & Sciences.
Undergraduate Academic Affairs has prepared a longer list of health-related courses. Or just explore the course catalog! You may spark a lifelong interest you hadn't imagined.
3. Participate in research or clinical work.
Medical schools and other health care professions value individuals who demonstrate the initiative to gain hands-on experience, whether in a clinical or research setting. At the UW such opportunities abound, both in academic departments and at UW Medicine, Children's Hospital, Harborview Medical Center, and other clinical and research facilities. Clinical and research opportunities are not limited to STEM majors! Students in the arts, humanities, and social sciences have great success as members of research or clinical teams. (A few examples are included below.)
4. Be proactive to find opportunities.
Interested in working with children? Contact Children's Hospital about volunteer opportunities. Intrigued by specific faculty members' research? Reach out by email to see if they are looking for undergrads to join their team. Or ask your professors for suggestions during office hours. Another great resource is the UW Undergraduate Research Program database, which lists hundreds of undergraduate research opportunities at the UW and its partner institutions, including Fred Hutchinson Cancer Research Center. UW Medicine also offers a list of enrichment and research programs for pre-health students. 
5. Set on a specific medical school? Check requirements.
According to the Association of American Medical Colleges, medical school admission requirements vary from school to school. Some require applicants to complete certain premedical course requirements; others have moved to a competency-based admissions. At a minimum, students will likely be expected to complete one year each of biology, physics, and English, and two years of chemistry (through organic chemistry). To find school-specific requirements for U.S. and Canadian medical schools, see the Medical School Admission Requirement website. The UW Career & Internship Center's Pre-Med Exploration & Preparation Guide may also be helpful.
6. Be inspired by the experiences of others.
Here are four recent undergrads who shaped their UW experience with medical school in mind, without sacrificing their other interests. 
Nicole Stankovic, Piano major
Determined to become a doctor since childhood but also passionate about music, Nicole majored in piano in the UW School of Music while spending time at Children's Hospital as a music therapy volunteer and community resources intern. During her senior year, she joined the research team of a UW professor of orthopeadics and sports medicine, analyzing data on patient outcomes after surgery.
Josh Dawson, Biology major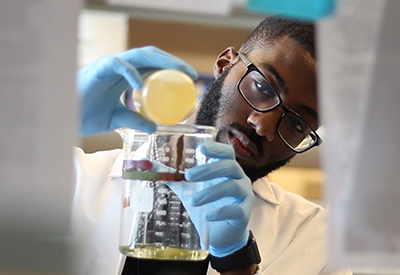 Josh spent more than two years as part of a research team at Fred Hutchinson Cancer Research Center. He also studied abroad, served as a student ambassador in the Office of Minority Affairs and Diversity, and interned at UW Intercollegiate Athletics through a program for students interested in medical professions. "As a pre-med student, so many dots were connected for me through my courses, my research, and a health care-focused study abroad in Chile that put me in a global mindset."
Allison Dumitriu Corcoana, Italian major
Allison believes her focus on languages and literature will improve her communication with patients. She paired her humanities major with research at UW Medical Center, which she presented at an infectious disease conference . "Being pre-med allows you the flexibility to major in whatever you want, so I decided…to spend four years studying something that touches me in a very different way than medicine does."
Thomas Khuu, Biochemistry major
Thomas joined an ophthamology research team at Harborview Medical Center as a UW freshman and continued that work all four years at the University. He also volunteered with Camp Kesem — a camp for children who have lost a parent to cancer — and traveled to Vietnam with the Vietnam Health Clinic (VHC), a mobile clinic that serves rural populations, with UW students assisting VHC health care professionals.
For more information
UW Office of Undergraduate Affairs: Pre-Health at the UW
UW Career & Internship Center Pre-Health Resources