Annah Mwendar-Chaba spent a year learning Hindi for her job in the Foreign Service. Two years later, she learned Arabic.  Language proficiency is just one of the challenges of working as a foreign service officer for the US Department of State.
Fortunately, Mwendar-Chaba (BA, International Studies, 2014) loves a challenge. She also loves exploring the world. Born in Edmonds, Washington to parents who emigrated from Kenya, Mwendar-Chaba's family traveled to Africa each summer to visit relatives.
"I grew up seeing two sides of the world — a very developed country and a country that was still developing," she says, "so I always had an interest in how the rest of the world worked."
The Journey Begins
Mwendar-Chaba's parents met as University of Washington students, and she was eager to become a Husky as well. She arrived on campus already set on studying international studies (now global and regional studies) in the Jackson School of International Studies, and never wavered. Her connection continued after graduation — in 2021, she gave a keynote talk at the Jackson School's Spring Convocation as the Jackson School Distinguished Alumni 2021.
Thanks to support from the Jackson School and the UW Office of Minority Affairs & Diversity, Mwendar-Chaba had the opportunity to study abroad in Paris during her junior year at the UW. Her senior year, she was named UW Homecoming Queen and, as recipient of the Jackson School Leadership Award, was student speaker for the School's graduation ceremony.
I want the United States to be represented as it truly is, not just by certain voices. It's important to me to be a part of that.
To attend that graduation ceremony, Mwendar-Chaba had to fly back to Seattle from the East Coast, where she'd started a US Foreign Service Internship in Washington, DC. The paid internship included one summer working at the State Department in DC and another working at an embassy overseas. Sandwiched between those commitments, Mwendar-Chaba explored other international work, including a United Nations fellowship and an NGO internship in Kenya.
All those experiences helped Mwendar-Chaba narrow her focus. "In NGOs you get to work on the ground, people to people, but there are constant funding challenges limiting the impact you can make," she says. "The UN is a huge bureaucracy with reach and power, but I felt too far removed from the actual difference the work was making. The State Department felt like the right balance. It has a lot of reach and resources, but its programs really get on the ground. You can see the impact of your work on a day-to-day basis."
Mwendar-Chaba applied to the Foreign Service, wading through the arduous selection process while studying international affairs at Columbia University as a Charles B. Rangel International Affairs Graduate Fellow. After earning her MIA, she received her first foreign service posting: New Delhi, India.  
New Places, New Languages
Mwendar-Chaba would spend two years in New Delhi, issuing visas and ensuring the safety of Americans in India. But first she spent a year at the State Department in Washington DC, learning Hindi and other skills needed for the job.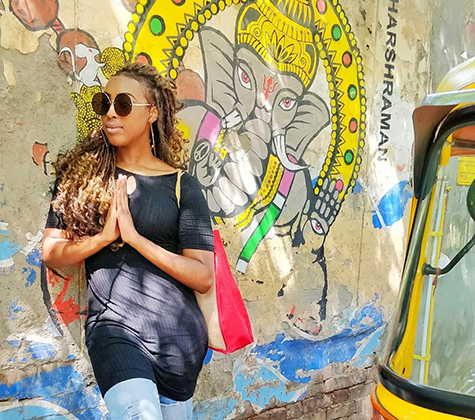 "Learning Hindi was hard," she recalls. "It was so different from the languages I spoke already — English, French, and Swahili. It was really challenging but also a great experience."
Mwendar-Chaba loved her two years in India, where she met her future husband. But before long it was time to set her Hindi skills aside and start over. She returned to DC for more language training, this time learning Arabic for a two-year appointment at the US Embassy in Israel, working in the Palestinian Affairs Unit as a public diplomacy officer. She arrived in Jerusalem in August 2021.
In her current role, Mwendar-Chaba works closely with Palestinian communities in the West Bank, Gaza, and Jerusalem to connect Americans and Palestinians for meaningful exchange, including through U.S. government-funded grant projects supporting civil society development and capacity building,
"I like being in challenging situations, so I was very happy when I got this assignment," she says. "The Middle East is such an exciting, fast-paced part of the world to work in, especially in the world of diplomacy. Anyone who watches the news knows there has been a conflict in this region for a very long time, but when you get here and meet people, you see how it impacts their daily lives."
Though Mwendar-Chaba has enjoyed settling into her new role, she knows she'll be moving again in two years. (Seniority will soon lead to longer tours.) It helps that her husband, who works in finance, can work remotely and embraces frequent moves to far-flung places.
"He is very open and flexible," Mwendar-Chaba says of her spouse. "That's also the mindset you need in the Foreign Service. If you have rigid expectations for what life has to be, you're going to end up being disappointed."
A Welcome Perspective
Mwendar-Chaba has no idea where she'll be headed next. She says she's open to any location, though the opportunity to work in Kenya holds particular appeal.  
"I think it would be interesting to do public diplomacy work there because of my cultural background, because I do have a different perspective on Kenya than an American who doesn't have a cultural tie to it," she says. A bonus: there would be no need for language training. "I don't want to learn any more languages," she laughs. "I think I have enough languages and I'm tired."
No matter where Mwendar-Chaba is posted, she will bring a perspective that is somewhat unusual in the Foreign Service.
"Compared to decades ago, there are many more women, more minorities, more people who identify differently and don't come from elite backgrounds in the Foreign Service," she says. "That's a really great thing. But I do still go into rooms where I'm the only person of color or the only person with immigrant parents. I'm often the outlier."
That reality has not been a deterrent for Mwendar-Chaba. In fact, it has motivated her.
"I feel that my voice, my perspective, my background is needed in the Foreign Service," she says. "I want the United States to be represented as it truly is, not just by certain voices. It's important to me to be a part of that."