You're flying through space at warp speed. You zoom past Saturn. Surge toward the Milky Way and beyond, past giant clouds of gas and dust, to witness the formation of galaxies at the far reaches of the Universe. Then the lights come on and you're back on campus.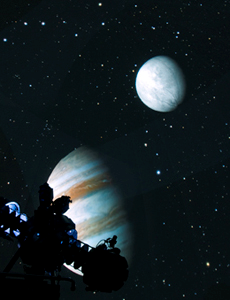 Class is over.
Welcome to the digital planetarium, an upgrade to the UW's Planetarium that is both an exhilarating experience and a powerful educational tool.
Previously, the UW Planetarium—like most planetariums across the country—used a "star-ball" to create points of light that mimic the night sky. "With the star-ball, we can show the constellations and the brighter stars on the sky, but you don't really get the richness of zooming into a large nebula where stars are being born," says Andrew Connolly, associate professor of astronomy. The digital Planetarium instead uses images streamed from Microsoft's Worldwide Telescope (WWT), a computer program that brings together imagery from the world's best ground- and space-based telescopes into a seamless, immersive media experience.
"There's a 3D aspect to it as well," says Connolly. "You can actually 'fly' around the solar system. You can look at the sky as a whole, then zoom into Orion, then zoom into individual stars. You can fly between stars and see that constellations are not actually groups of stars, but superpositions of stars on the sky. You can even zoom into the Hubble Deep Field, effectively looking back almost 12 billion years. It gives us many more options in terms of what concepts we can get across in an astronomy class."
In the past, bringing this digital technology to a planetarium meant installing dedicated digital projection systems at a truly astronomical cost of $500,000 to $1 million. But the Department of Astronomy, collaborating with WWT developer Jonathan Fay and others at Microsoft, has found an economical solution that creates the same effect: six projectors, located strategically around the Planetarium, a specially crafted lens, and software to project a portion of the digital image onto the dome.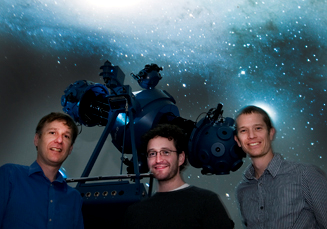 "The software allows us to send different images to different projectors so they line up perfectly. The key is perfect alignment," explain graduate students Phil Rosenfeld and Jake Vanderplas, who worked on the project. Once the team realized it could use home theatre projectors, "we were able to build the whole system ourselves for about $30,000, with a resolution of about 8 million pixels," says Vanderplas. "This is now one of the highest resolution digital planetariums in the country".
Visiting the UW Planetarium is not the only way to view the WWT, which is accessible on any computer at www.worldwidetelescope.org. But experiencing the images on the Planetarium's expansive dome is immersive in a way that a smaller computer screen cannot replicate. Still, Connolly often recommends that students explore WWT on their own after experiencing it in the Planetarium. "It's a great teaching tool," he says, "because it allows them to continue exploring at their own pace after class. It breaks the barrier between work inside and outside of the classroom."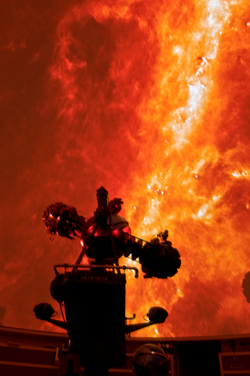 About 2,000 students visit the Planetarium each year as part of a range of astronomy courses. Wednesday night Planetarium shows, open to the general public, attracted another 2,000 visitors during the International Year of Astronomy. Astronomy faculty and students are currently planning WWT content for future shows and developing tours of the sky that can be saved for repeated use.
"Our hope is to generate tours that can be shared with other institutions," says Connolly. "It takes time to build these things. Why should everyone reinvent the wheel? Just like astronomical data are public, we believe this information should be public."
On a larger scale, Connolly is eager to share what the team has learned about developing a low-cost digital planetarium. "The great thing is, now that we've shown we can do this, other smaller institutions that thought a digital planetarium was out of reach will also be able to do this," he says.
Planetarium shows, presented by Department of Astronomy graduate students, will be available during the Astronomy Department Open House on Saturday, April 16, from 1 to 5 pm. Due to the shows' popularity and limited seating in the Planetarium, tickets will be issued on a first-come basis. For more information, visit http://www.astro.washington.edu/groups/outreach/openhouse.