A violist, an economist, a poet, and a mathematician received the College of Arts & Sciences' highest undergraduate honor in June: the 2015 Dean's Medal.  The four graduating seniors, representing the College's four divisions, were selected for the medal on the basis of their academic record and faculty recommendations. Read more about Romaric Pokorny, Joshua Kim, Jack Chelgren, and David Jekel.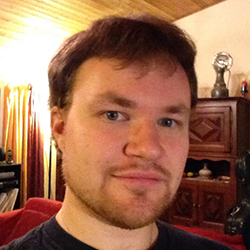 Romaric Pokorny
BM, Music
Dean's Medalist in the Arts
"It's hard to believe that Rom is not one of a set of twins or triplets," says Richard Karpen, director of the School of Music and Aura Morrison Endowed Professor, describing music major Romaric Pokorny. "Everywhere one looks, there is Rom, intense and confident, but always modest, playing viola, attending events to support his colleagues, representing the School and the UW in so many different musical ensembles and venues, and reaching out to those who attend our concerts, master classes, and donor events."
Pokorny, a violist, has performed widely at the UW. He served as principal viola of the UW Symphony Orchestra and was twice the winner of the UW Chamber Music Competition. He also was a member of the School of Music scholarship quartet—the Oceana Quartet—which was a national finalist in the Music Teachers National Association's chamber music competition.
Beyond the UW, Pokorny has performed with such professional ensembles as the Seattle Opera Orchestra, the Northwest Sinfonia, and—on period instruments—Pacific MusicWorks. Interested in musical instrument building, he has worked as an apprentice to an organbuilder and built a large organ of his own, with nearly 500 pipes.
"In addition to his impressive accomplishments as a musician and scholar, perhaps what sets Romaric apart is his active participation and seemingly endless contributions to our community at the UW School of Music," says Melia Watras, associate professor of viola and Adelaide D. Currie Cole Endowed Professor. "He thoroughly embodies everything one can ask from a music student: deep musical artistry and technical ability, leadership, collegiality, academic excellence, and humanity."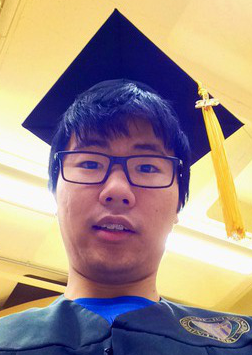 Joshua Kim
BS, Economics, Mathematics
Dean's Medalist in the Social Sciences
Joshua Kim, a double major in economics and mathematics, came to the UW after his sophomore year of high school through the Early Entrance Program. He was a political tracker for a presidential campaign at the end of his freshman year and has taken on multiple research projects as an undergraduate.
"I have been impressed that he has the gumption to seek big challenges, and the maturity and discipline to complete ambitious projects," says Fahad Khalil, chair of the Department of Economics and Castor Professor of Economics.
For the past two summers, Kim was a research fellow at the California Institute of Technology, studying the financial habits of NFL athletes to understand why so many go bankrupt so quickly. The research was covered in The Wall Street Journal, The New York Times, and other media outlets, and a paper he co-authored about the findings was presented at the annual meetings of the American Economic Association. That paper will be published in the proceedings issue of the American Economic Review, the flagship journal in economics. "This is a highly significant feat for any academic economist, and an unbelievable achievement for an undergraduate student," says Khalil.
In addition to his academic and research accomplishments, Kim has lent his talents to several student organizations on campus. As a vice chair of the UW chapter of the Washington Student Association, he lobbied for affordable, accessible, and quality higher education for students in Washington state.  He was a technology intern with Fuse Washington, helping to create the Progressive Voter's Guide, and was a member of the ASUW Advancement Committee. He also served on the Economics Department's Economics Undergraduate Board and tutored economics students at the introductory, intermediate, and advanced level.
Kim will continue his studies at Stanford University, working toward a PhD in economics.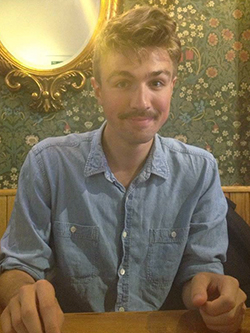 Jack Chelgren
BA, English
Dean's Medalist in the Humanities
Jack Chelgren is an English major and published poet who writes and edits for Poetry Northwest and interned at Copper Canyon Press. On campus he helped form the UW Poetry Brigade, which aims to get poetry in front of people who might not self-select as literature lovers, and he founded Blind Glass, a student-run, poetry-only online journal. (See the May 2015 UW Today story, The Poetry Brigadier, for more.)
"Jack is someone ready and willing to devote his time, energy, and creativity to advancing poetry as an art form, whether that be as a publisher, poet, academic, or some blend of all three," says Brian Reed, professor and chair of the Department of English and professor of comparative literature.
Chelgren's talents extend to the classroom. "He displayed from day one an intense intellectual curiosity and an omnivorous desire to learn," says Reed, "and he regularly asked astute, probing questions. He was five or six chess moves ahead of the rest of the class."
He may have been ahead, but Chelgren had a way of bringing the rest of the class along. Eva Cherniavsky, Andrew R. Hilen Professor of American Literature and Culture, notes Chelgren's commitment to furthering the collaborative work of the class. "He takes up and inhabits the questions raised by others in the class with as much care as those he himself brings to the table," she says. "It is a quality of intellectual openness and generosity that is as difficult to describe as it is crucial to the value and productivity of a classroom space."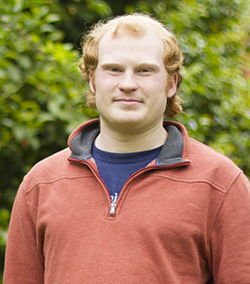 David Jekel
BS, Mathematics; BA, Classics
Dean's Medalist in the Natural Sciences
David Jekel is a double major in mathematics and classics—an unusual combination that makes perfect sense to him. "I cannot study everything, but these two disciplines cut a wide swath across the field of human knowledge," he says.
Jekel excelled in both fields. Classics Professor James Clauss can tick off half a dozen areas in which Jekel did graduate level work, describing him as "scary-smart."  In graduate courses in mathematics, he proved to be "better than our very best graduate students," according to his professors.
During his time at the UW, Jekel participated in research, competed in international math challenges, and served as a teaching assistant. After his sophomore year, he attended the Mathematics Department's Research Experiences for Undergraduates (REU) summer program, which attracts top students from across the country. He has since served as a teaching assistant for the REU program, as well as for the UW's honors calculus sequences.
This fall, Jekel will enter a PhD program in mathematics at UCLA. For more about his UW experience, see the June 2015 Perspectives article Cutting a Wide Swath with Math and Classics.