Four Arts & Sciences graduate students earned special recognition from the College this month: the 2015 A&S Graduate Medal. The medal is awarded to an exceptional graduate student in each of the College's four divisions, based on faculty recommendations. This year's honorees include a dancer, a film scholar, a chemist, and a political scientist. Read more about Jason Ohlberg, Annie Fee, Gregory Peterson, and Joannie Tremblay-Boire.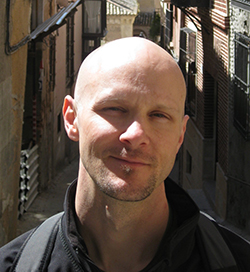 Jason Ohlberg
Graduate Medalist in the Arts
MFA, Dance
As a professional dancer for more than a decade, Jason Ohlberg explored the human body's potential for artistic expression. As a graduate student in the UW Dance Program, he studied anatomy and gained a new perspective on the human body.
The Dance MFA, designed for professional dancers wanting to teach at the college level, includes opportunities to study education theory, teach, perform, and pursue research in an area of individual interest.  For Ohlberg, that interest was anatomy. "His contributions to class were incredible," recalls Beth Rollinger, lecturer and academic fieldwork coordinator who teaches anatomy in the School of Medicine's Department of Rehabilitation Medicine. "His positive energy and passion for learning elevated the class participation and depth of reasoning."
For his master's project, Ohlberg developed and taught a challenging Anatomy for Dance course that  "engaged students both physically and intellectually," says Hannah Wiley, professor of dance. Wiley adds that Ohlberg is "a breathtaking performer," as audiences who saw him perform with the UW's Chamber Dance Company can attest.
"He has brought joy, depth, and momentum to every learning experience," says Wiley. "My colleagues, the graduate students, and undergraduate students who have been touched by him have experienced a rare gift of intellectual inquisitiveness, openness to new ideas, and selfless support in shared learning environments."
Ohlberg will now share his talents as interim core faculty at Cornish College of the Arts.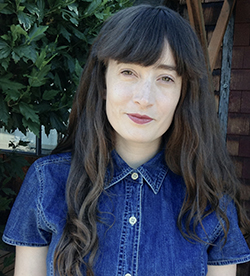 Annie Fee
Graduate Medalist in the Humanities
PhD, Comparative Literature, Cinema & Media
Annie Fee's interest in film goes way back—all the way to the early years of cinema in Paris. For her dissertation about the historical reception of film in 1920s Paris, she spent more than a year in the City of Light, tracking down archival materials.  With support from the UW Simpson Center for the Humanities, she is constructing a digital "deep map" of 1920s Paris based on those materials.
Fee's work has received considerable attention nationally and internationally, with invitations to deliver papers at conferences on both sides of the Atlantic. Her array of awards includes a 2014 Simpson Center Digital Humanities Summer Fellowship to support her digital mapping project, and the Oxford Bibliographies Graduate Student Article Award. She also was a founding member of the Moving Image Research Group at the UW, which inspires intellectual exchange through communal screenings, workshops, and writing events.
Fee also has a talent for teaching. "I have heard audience members rave about her talks at professional meetings," says James Tweedie, associate professor of comparative literature, "and I have spoken with students who registered for courses specifically because they knew Annie was teaching them and because she brought unmatched excitement and energy to the classroom." 
Crossing the Atlantic again, Fee will spend the next three years at the Department of History, University College London, through a British Academy postdoctoral fellowship.
Gregory Peterson
Graduate Medalist in the Natural Sciences
PhD, Chemistry
Gregory Peterson's passion for science comes through in his research as well as outreach projects for high school students.
His research focuses on polymers—large molecules composed of many repeated subunits. He has collaborated on several polymer-related research projects at the UW, including projects that may offer revolutionary capabilities in 3D printing. He has co-authored numerous papers about his work, and is included as an inventor on two patents being filed.
"Greg has been an invaluable component of my research group," says Andrew Boydston, assistant professor of chemistry. "He has all the skills and makings of others I have seen go on to become scientific leaders at top academic institutions."
Peterson's impact extends to high school students. Through a collaboration with science faculty at Sammamish High School, he has developed problem-based STEM curriculum materials that offer a glimpse of what research can be. The curriculum has already benefited more than 750 students. Peterson has also developed and taught a lab course for incoming UW freshmen  through the College of Engineering Bridge Program.
Peterson's next chapter? He will continue with chemistry research as a postdoctoral researcher at the University of Akron.
Joannie Tremblay-Boire
Graduate Medalist in the Social Sciences
PhD, Political Science
Joannie Tremblay-Boire gets around. She has presented her research at more than a dozen conferences across the U.S. and Canada. And launching her post-UW job search in a tough job market, she received ten invitations for campus visits. She accepted four invitations—all for tenure-track faculty positions—and received job offers from all four schools.
Tremblay-Boire's success is no surprise to Aseem Prakash, professor of political science and Walker Family Professor for the College of Arts and Sciences. "Joannie is an outstanding student," he says. "She's among the very best in our graduate program."
Tremblay-Boire's research focuses on NGO/nonprofit accountability. Her dissertation examines the interactions between philanthropic foundations and nonprofits, looking at factors influencing grantmaking decisions. Her postdoctoral work will explore factors driving the varying levels of interdependence between donors and their grantees. "She is off to a strong start in terms of publishing in refereed journals," says Prakash. "She is passionate about her work and I see her emerging as an important scholar of NGO and nonprofit accountability and governance."
And those four job offers? Tremblay-Boire decided on Georgia State University, where she will join the faculty of the Andrew Young School of Policy Studies this fall as a tenure-track assistant professor.