When actor Tom Skerritt learned that more American soldiers were committing suicide than being killed in Afghanistan, and that many felt no one was listening to their story, he was determined to help. He called several friends, including novelist and screenwriter Shawn Wong, UW professor of English. "We know how to tell a story and how to teach people to tell a story," Skerritt told Wong. "We should do something."
That 'something' became the Red Badge Project, which provides soldiers with the tools to tell their own stories in their own way.  Skerritt, who served in the Air Force, and his neighbor Evan Bailey, a former Army captain, co-founded the nonprofit four years ago with the help of Wong and two other accomplished storytellers, Brian McDonald and Warren Etheredge.  
Wong, McDonald, and Etheredge lead Red Badge classes and workshops, with Skerritt visiting frequently. The students come from the Warrior Transition Battalion at Joint Base Lewis-McChord (JBLM), a battalion of injured soldiers transitioning to civilian life. "We are basically part of their medical therapy," says Wong. "It's writing therapy. I often say that I'm practicing medicine without a license."
Having taught creative writing at the UW for more than three decades, Wong assumed he could use the same teaching approach with the soldiers. He quickly discovered otherwise. "Every one of the soldiers is angry, from really angry to pretty angry," says Wong. "They have experienced a lot of trauma and the trauma is very recent. So while in my UW classes I rarely talk about myself and what I've been through in my life, in these classes I talk about the traumas in my own life and how I've dealt with them. They listen very intently."
The thing that impresses me is how honest everybody is in what they put down on paper. Once they realize they can say and write whatever they want, they really make some progress.
As a non-veteran, Wong initially worried how he would be received by the soldiers. To his surprise, they like the fact that he is a civilian, particularly since they are transitioning to civilian life. And because nothing from class ends up in their Army record, they feel comfortable speaking freely. "We don't ask them to write about anything in particular," says Wong. "We don't ask them to write about combat or trauma. I'll put out a writing prompt, and it's up to them to decide what to write about. The thing that impresses me is how honest everybody is in what they put down on paper. Once they realize they can say and write whatever they want, they really make some progress."
That progress presents in surprising ways. Wong recalls a National Guard soldier who had suffered more than half a dozen concussions from roadside bombs and had lost motor function in his fingers. He'd been a middle school teacher before deployment but was now unable to type and had trouble writing by hand. "I would say he was the angriest of all the students," says Wong.  Doctors told the soldier his injuries were likely permanent, but after taking the Red Badge Project class multiple times, he regained the ability to type and write—and got his old teaching job back. "Before he left, he told us, 'I don't know how to say this, but you saved my life,'" recalls Wong. "There are moments like that when you realize the importance of what you're doing."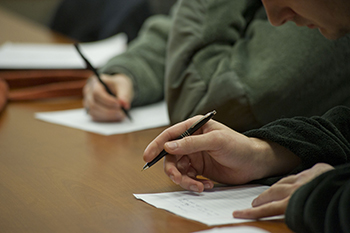 Wong can point to other examples, including a soldier whose uncontrollable tic disappeared whenever he wrote in his class journal, or a soldier who was silent and aloof in class for days until one day he shared a story that was immensely personal and heartbreaking. "One of the things the soldiers have told us over the years is that they find our classes safe," says Wong. "They realize it's a safe place."
Since launching in 2011, the Red Badge Project has expanded to include a Women's Group led by writer Sonja Lea, and a class in Walla Walla made possible through funds raised by the Walla Walla Veterans Center. The Walla Walla class is taught by local college faculty, trained by Wong and other Red Badge Project volunteers.
Wong has found the Red Badge Project to be more satisfying than he ever imagined. "Every time I'm in class I learn something new," he says. "You can't hear the soldiers' stories and not be affected by them. In the beginning, I didn't know what to do with those stories. I carried around that weight. I'd wake up at night, worrying about the soldiers. But as I became more confident with my teaching and I could see that I was helping them, that made it better. It's the most challenging teaching I've ever done, but also the most rewarding."
The bottom line, says Wong, is that the soldiers now feel free to tell their stories. "While they can't always control what happens to them, they can control the message of what happens to them," he explains. "And that's probably more important than anything else."
.   .   .  
The Red Badge Project now offers a class at the University of Washington Tacoma with the support of UW Tacoma's School of Interdisciplinary Arts & Sciences. For more about the Red Badge Project, visit theredbadgeproject.org.
Shawn Wong will speak about the Red Badge Project at a talk sponsored by the Humanities Washington Speakers Bureau on April 2 at 4 pm at the Clinton Library on Whidbey Island. The talk is free and open to the public.