AJ Friday rarely ventured into Seattle's University District during his first year at the UW. As a student in the School of Drama's Professional Actor Training Program (PATP), he was too busy with coursework and rehearsals to spend time exploring the surrounding neighborhood. That changed last fall, when he and about two dozen other drama students began work on Skies Over Seattle, an ambitious year-long theater project that connects the campus and surrounding community.
Skies Over Seattle combines volunteerism and artistic creation. The students — graduate students in acting, design, and directing, as well as several undergraduates — began the project by volunteering regularly for three community organizations in the University District, then devising original theater pieces inspired by the people they'd met as volunteers. Visiting artists Katie Pearl (BA, Drama, 1996) and Lisa D'Amour — the OBIE-winning duo behind PearlDamour — and engagement strategist Ashley Sparks have guided the creative process from the start.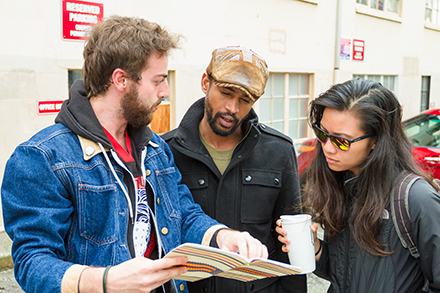 "This has been one of the biggest projects ever in the history of the School of Drama," says Scott Magelssen, associate professor of drama and a faculty adviser for Skies Over Seattle. "The artistic challenge is finding a way to be authentic to the communities, to create art that comes from grassroots experience."
The participating organizations are local nonprofits providing much-needed social services: Elizabeth Gregory Home (EGH), which provides transitional housing, a day center, and other services for homeless and at-risk women; The People's Harm Reduction Alliance (PHRA), a peer-run organization that promotes the philosophy of harm reduction and safer drug use; and ROOTS Young Adult Shelter, where young adults experiencing homelessness can find essential services and a safe place to sleep. "As volunteers, we were all in learning mode, establishing bonds with people where we were volunteering," says Friday, a co-director of the group working with PHRA. "UW aside, we were there for them. We wanted to establish a relationship on their terms."
ROOTS executive director Kristine Cunningham appreciated that attitude. "As a nonprofit across the street from the UW, ROOTS has had student projects galore," Cunningham says. "Some have been wonderful, some have left us feeling like lab rats. But the students from the School of Drama have been different from the start. They arrived with a palpable openness to the experience that is our shelter. Because they have invested real time as volunteers to build their performance, it's going to be good."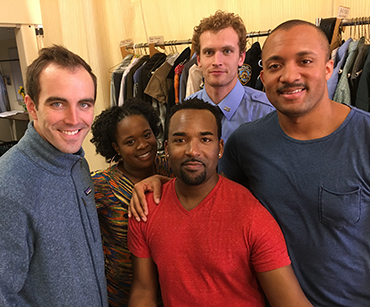 PATP student Tamsen Glaser certainly hopes so. Spending time at ROOTS, she found the young adults there very willing to talk, and looks forward to celebrating their lives through performance.  "They are confident in who they are," she says. "They are not ashamed or afraid. That's what ended up fueling our piece — the people we met."
The desire to capture the spirit of the community partners both inspired and weighed heavily on the UW students as they began building their pieces. "My group floundered for a time," Glaser recalls. "We were scared of misrepresenting or making a 2-D caricature of things that were so much more rich and beautiful than what we could ever put into a performance." The open-ended nature of the project was also a challenge. "It's amazing how not having any boundaries is unbelievably constricting," Glaser says. "There's the feeling, 'Oh, I have so much freedom. What am I going to do?'"
We want the community to know that we're not giving them a voice — they already have a voice.
Katie Pearl says those roadblocks are to be expected, and are addressed in the Skies Over Seattle workshops that PearlDamour and Sparks led several times during the year.  "One of the tools we bring in and really stay with is learning to be comfortable wandering around in the unknown, stumbling around in the dark," says Pearl. "Faculty have mentioned that they appreciate that aspect of this project, because that is not part of professional actor training."
Pearl should know, having majored in drama as a UW undergraduate 20 years ago. She began doing experimental work while studying at the University, including a site-specific piece performed by undergraduate and graduate actors in a squash court at the Intramural Activities Building. "I was able to try low stakes, high energy experiments at the UW," Pearl recalls. "All the things that started bubbling back then have led to what I've done since. I feel a lot of gratitude toward the School of Drama, so it makes me excited to come back and give students an experience that may open things up for them in the way that things opened up for me when I was here."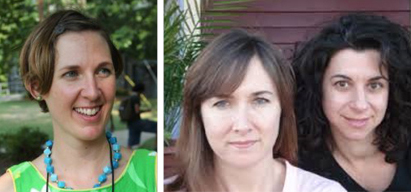 From the start, the visiting artists made it clear that Skies Over Seattle was not intended to represent the community organizations in a naturalistic way.  "It's not about playing a homeless person or imitating someone's speech," says D'Amour. "That's not the core of the experiment. It's more about reflecting back. And we're challenging the students to use some kind of experimental aesthetic."
True to that challenge, none of the three groups will present a traditional narrative play, though there will be narrative elements in each. The ROOTS group, which happens to be musically inclined, will weave original compositions through its piece, which loosely follows the journey of a ROOTS guest from night into morning. The PHRA group is planning a carnival theme, reflecting PHRA's desire that the piece be fun and entertaining. It will include stories — some abstracted, some nearly verbatim — that PHRA clients have shared with the UW students. (Anonymity will be preserved.) The EGH group's piece will combine improvisation, projections, and scripted scenes, with a nod to superheroes.  
Why the superheroes? "A team member was volunteering [at EGH] and overheard a woman talking about watching Xena, Warrior Princess on TV," explains PATP student Tatiana Pavela. "Another woman responded, 'Honey, we are all warrior princesses.' That made us think of the superhuman strength required of these women just to get through the day, find a meal, and be able to sleep safely."
In late May, the students will perform their finished pieces for their community organizations. Then Pearl and Sparks will work with the students to weave the three pieces together for public performances at Jones Playhouse from June 3 - 5 (see sidebar).
The students look forward to the Playhouse shows, but the performances that are likely to mean the most are those performed for the community organizations they have come to know so well.
"The hope for us is that they feel as though they have been seen and heard," says Glaser. Adds Friday, "We want the community to know that we're not giving them a voice — they already have a voice."
.  .  .  .
This project was made possible in part with support from the Floyd U. Jones Family Endowed Chair in Drama, as well as the School of Drama Innovation Fund, which supports guest artist residencies as part of the School's commitment to building an ongoing laboratory for creative research.