Anyone who feels wedded to their career path should consider the journey of artist Susie Lee (MFA, Art, 2006), co-founder and CEO of Siren, an online dating app.  
Growing up, Lee was determined to become a doctor. She attended an ivy league school and majored in molecular biophysics and biochemistry. But partway through, "everything in me said, 'This is not the path for you,'" she recalls. Instead Lee earned a masters in science education and taught for several years in a public high school in New York City. But that didn't feel quite right either. "I went into a tailspin," she says. 
When her partner was hired by Microsoft, Lee moved to the Northwest, still unsure of her next step. Out of work and at loose ends, she signed up for a ceramics class at the Kirkland Arts Center. She discovered that she loved the creative process, yet a career in the arts never crossed her mind. It took finally applying to medical school—and being accepted—for her to change her thinking.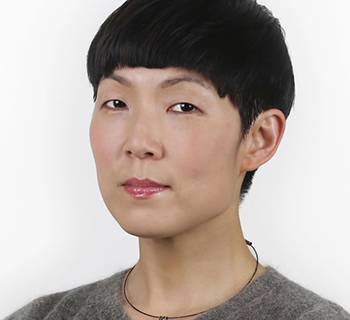 "When I was accepted to medical school my heart sank, which was not the right response to seemingly good news," Lee recalls. "My partner, who'd seen me light up when I went to the clay studio, said, 'There are very few people who know what they love to do. Most don't get the chance to find out. But if you do, it's a tragedy not to pursue it.' His comment really changed how I thought about the next stage of my life."
Over the next few years, while working as a math and science tutor, Lee took more art classes. "I have this mental image of moving through a channel and trying to change the direction of the barge," she says. "It was a lot of momentum to change." Eventually she completed a postbaccalaureate program in the UW School of Art + Art History + Design, with ceramics professor Akio Takamura (who passed away earlier this month) as a mentor. Lee continued her art education through the School's MFA program, where she transitioned from ceramics to video art. Private support, including a UW Recruitment Scholarship, a Kottler/Noritake Scholarship, and a Nordstrom Recognition Award covered nearly half her tuition. "That support gave me reassurance that I wouldn't go into debt to go to art school," she says. "It really made a difference." 
At a dinner party, ...you hear what someone says and maybe find yourself interested. We thought, 'What if we hosted conversations like that?'
Since graduating, Lee has earned accolades including Best Emerging Artist (Seattle Weekly, 2006) and a Visual Art Genius Award (The Stranger, 2010). Her work has been exhibited widely, including the Wing Luke Museum, the Whatcom Museum, the Portland Art Museum, the Tacoma Art Museum, and galleries in Italy and Korea. But she always had the sense that she could do more.
Looking for new ways to make her art more accessible to a wider range of people, Lee became intrigued by cellphones and how people use them. When she learned that many people use dating apps on their phones, she decided to dip her toe into that world. (She had split from her partner by then.) "It was an interesting sociological experiment," she recalls. "It felt like shopping for humans. Some dating sites encouraged oversharing; others were based almost entirely on looks. They weren't focusing on the elements that really spark human chemistry."
Lee decided to make her own dating app prototype that encouraged people to connect through conversation, sparked by interesting questions posed by creative people. She included the option for users' photos to be viewable only when a connection is made. Lee envisioned exhibiting the prototype in a gallery, but then realized the impact would be greater if she made it more public. She launched a beta prototype in 2014 and the press took note, praising the approach. "Suddenly the whole thing became kind of serious," Lee recalls. She joined forces with designer Katrina Hess to launch an official version of Siren in 2015; by year-end it had earned Geekwire's App of the Year award.
Online conversations are a central feature of the app. "At a dinner party, there will be conversation," Lee explains. "You hear what someone says and maybe find yourself interested. We thought, 'What if we hosted conversations like that?'" Each day a different "guest host"-- from artists to choreographers to writers to entrepreneurs—poses a question.
Questions of the day have ranged from "where does rain sound best?" to "when was the last time your body surprised you?" or "what would be your weapon of choice in a zombie apocalypse?"  When users read an answer that intrigues them, they can privately "like" the response and reach out to learn more about the poster. Lee considers privacy and safety top priorities for Siren, noting that there has not been a single report of harassment since the app's launch.
Siren now has about 30,000 users in the Seattle area. In the next few months it will launch in New York City. Since September, Lee has been spending time in New York as an entrepreneur in residence at NEW INC, a program of The New Museum, where she has worked on rebranding Siren and running focus groups for the New York market. "Culturally, New York is really different," she says. "I get the sense that when we launch Siren there, it will be at a different level. It's good we got to incubate in Seattle."
Asked what her next act will be, Lee just laughs. She knows it's in her nature to shake things up again at some point. "When I rock the boat it's exhilarating," she says, "but I get seasick at the same time. It's always nerve wracking."