A Psychology Professor's Award of Firsts
When Kristina Olson joined the UW faculty five years ago, she brought her Social Cognitive Development Lab and launched the TransYouth Project. Now Olson, associate professor of psychology, has received the Alan T. Waterman Award — an award that comes with a $1 million prize from the National Science Foundation — to support her work.
The Waterman Award is the U.S. government's highest honor for an early career scientist or engineer, recognizing an outstanding scientist under the age of 40 or within 10 years of receiving a Ph.D. In the Waterman Award's 43-year history, Olson is the first psychologist to receive the award, the first UW faculty member to receive it, and the first woman to receive it since 2004.
"I am truly humbled and honored to have even been nominated," says Olson. "More than anything, this award is a reflection of the hard work, dedication and brilliance of the staff, students, and collaborators with whom I work. Only through their contributions am I even in consideration for this award."
At the Social Cognitive Development Lab, Olson and her students explore three strands of child-focused research: the emergence of prosocial behavior, the development of bias, and children's reasoning about social categories. Perhaps her best known work is the TransYouth Project, the nation's largest study of transgender children. Her team examines gender development and well-being among participants who were between the ages of 3 and 12 when they joined the study; the team will follow them for 20 years. To date, more than 300 transgender children and their families from 45 U.S. states have enrolled in the study.
The Waterman Award will help maintain and expand all the work going on in her lab and will support another of Olson's goals: establishing a summer research internship program aimed at including more underrepresented undergraduate students in research in her lab and related UW labs.
Read more about Kristina Olson's groundbreaking Waterman Award in Science.
Wildlife Protector Earns Prestigious Award (Despite His Nickname)
Samuel Wasser may be wildlife's best friend. His noninvasive tools for monitoring human impacts on wildlife have led to key collaborations with wildlife authorities in the U.S. and internationally, and resulted in prosecutions of major transnational ivory traffickers. For his pioneering work, Wasser, UW professor of biology and endowed chair in Conservation Biology, has been awarded the prestigious Albert Schweitzer Medal from the Animal Welfare Institute. He's in good company: past recipients include Jane Goodall and Rachel Carson, among others.
Wasser earned the nickname "the Guru of DuDu" because he developed methods for measuring the abundance, distribution, and physiological condition of wildlife by studying their feces. Using detection dogs to locate the fecal samples over large wilderness areas, he has addressed diverse conservation questions including impacts of poaching, oil development, and overfishing on the well-being of multiple endangered wildlife populations. Wasser also applies these tools to forensic analyses of transnational wildlife crime; he used elephant dung to assemble a DNA reference map of elephants across Africa, which is now widely used to determine the geographic origins of poached ivory and track the number and connectivity of major ivory traffickers operating in Africa.
"Dr. Wasser's groundbreaking work has paved the way for remarkable strides in the fight against wildlife trafficking, especially ivory trade," said Cathy Liss, president of the Animal Welfare Institute. "The Animal Welfare Institute feels privileged to have this opportunity to acknowledge his accomplishments with the Albert Schweitzer Medal."
Japan Honors a Trio of Faculty
In the past few months, three faculty from two Arts & Sciences departments — the Jackson School of International Studies and the Department of American Ethnic Studies — have been honored by the Japanese government for their contributions to Japan-U.S. relations.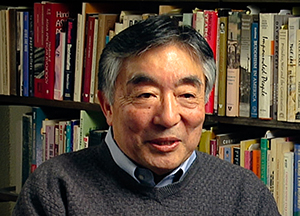 Tetsuden Kashima, professor emeritus of American ethnic studies, has been awarded the Order of the Rising Sun, Gold Rays with Rosette, by the Government of Japan in recognition of his contributions to furthering the understanding of Japanese American sociology and history, as well as his contributions to the advancement of Japanese and Japanese Americans in the United States. Kashima's scholarly work has focused on Japanese American incarceration during WWII, Buddhism in America, and the Japanese immigrant experience. In 1997, he established the UW's annual Day of Remembrance to reflect upon the signing of the executive order that sent people of Japanese ancestry into American incarceration camps during World War II. He also played a key role in an event to bestow UW honorary degrees to 449 Niseis forced to leave the University in 1942, and the 2014 celebration commemorating Japan's gift of 34 cherry trees to the UW as a symbol of friendship and goodwill.
Marie Anchordoguy, professor of international studies, and Donald C. Hellmann, professor emeritus of international studies, each received a Japan Consul-General's Award of Commendation in January during an official ceremony at Seattle's Japan Consul. In his remarks, Consul General Yoichiro Yamada noted that Anchordoguy's work on Japanese business, technology, and political economy has been recognized at home and abroad. Anchordoguy served as co-editor for the Journal of Japanese Studies for a decade, and has twice served as chair of the UW's Japan Studies Program. Hellmann began studying Japan politics and foreign policy nearly 50 years ago. As chair of the Japan Studies Program in the early 1970s, he secured significant funding for the program. He has since brought together academics and government officials from across the Asia Pacific region through conferences, consortia, and initiatives related to technology, development, and regional policy. And his many former students who teach at universities across Asia "continue his legacy of furthering international cooperation and understanding," says Yamada.
Other Awards, Honors, and Professorships
Honorary Awards
P. Dee Boersma, professor of biology and Wadsworth Endowed Chair in Conservation Science, was named a Finalist for the Indianapolis Prize, the world's leading award for animal conservation. Boersma, a conservationist dedicated to the study of global warming's impact on penguins, has been successful in stopping both harvesting and the development of oil tanker lanes through penguin colonies.
Chris Bretherton, professor of applied mathematics and atmospheric sciences, was named the 2019 Bernhard Haurwitz Memorial Lecturer by the American Meteorological Society.
Kathryn Bunn-Marcuse, curator of Ethnology at the Burke Museum and assistant professor of art history, received a National Endowment for the Humanities-Mellon Fellowship for Digital Publication.
Jiun-Haw Chu, assistant professor of physics and clean energy, Arka Majumdar, assistant professor of physics and electrical engineering, and Jessica Werk, assistant professor of astronomy, have been awarded early-career fellowships from the Alfred P. Sloan Foundation.  Open to scholars in eight scientific and technical fields — chemistry, computer science, economics, mathematics, molecular biology, neuroscience, ocean sciences, and physics — the fellowships honor those early-career researchers whose achievements mark them as the next generation of scientific leaders.
Catherine Cole, divisional dean of the arts and professor of drama, received a research fellowship from Freie Universität Berlin, International Research Center, Interweaving Performance Cultures program. 
Karen Hartman, senior artist in residence in the School of Drama, won the Deborah Salzer Excellence in Arts Education Award from Playwrights Project for exemplary achievement in arts education programs for youth, and for making a personal impact on students' lives. The School of Drama will be presenting Hartman's play "Goldie, Max and Milk" from May 22- June 3.
Janneke Hille Ris Lambers, professor of biology, was named a 2018 Ecological Society of America Fellow. Hille Ris Lambers was elected for her research linking models and data to test theories of community assembly and hypotheses about the role of climate and competition in setting species range limits, and for outstanding public outreach through an innovative citizen science program in Mt. Rainier National Park.
Huck Hodge, associate professor of music, has received the Charles Ives Living Award from the American Academy of Arts and Letters.  See related Perspectives story
Max Lieblich, professor of mathematics, was named a Simons Fellow in Mathematics by the Simons Foundation. Lieblich is the seventh faculty member in the UW Department of Mathematics to receive the award, joining colleauges Tatiana Toro, Hart Smith, Gunther Uhlmann, Sándor Kovács, Chris Hoffman, and Julia Pevtsova.  
Scott Magelssen, associate professor of drama, was recognized in November with an American Society for Theatre Research fellowship.
Christian Lee Novetzke, associate professor of international studies and director of the Center for Global Studies, has received a Guggenheim Foundation fellowship. His research includes studies of India, religion, history, culture, and politics, linked to questions of public ethics.
Julia Pevtsova, professor of mathematics, received the 2018 Distinguished Teaching Award from the Pacific Northwest Section of the Mathematical Association of America.
JoAnn Taricani, associate professor of music, was awarded the 2017 Noah Greenberg Award by the American Musicological Society for her edition and recording of newly discovered music for the coronation of the British King Charles II.  
Tatiana Toro, Craig McKibben & Sarah Merner Professor in Mathematics, was inducted into the Colombian Academy of Sciences as a Corresponding Member. She joins her father, who is also a member.
Mary Pat Wenderoth, principal lecturer of biology, received an award from the National Association of Biology Teachers and gave the keynote address at the annual conference in St. Louis, on the future of evidence-based teaching.
Publication Awards
Jesse Oak Taylor, associate professor of English, won the 2018 Sonya Rudikoff Award for the best first book in Victorian studies from the Northeast Victorian Studies Association, for The Sky of Our Manufacture: The London Fog in British Fiction from Dickens to Woolf.
Chair & Professorship Appointments
Rebecca Cummins, professor and chair of photomedia in the School of Art, was appointed to the Floyd and Delores Jones Endowed Professorship in the Arts.
Daniel Gamelin, professor of chemistry, was appointed the Nicole A. Boand Endowed Chair in Chemistry.
Christoph Giebel, associate professor of international studies and history, was appointed the Colonel Donald W. Wiethuechter, USA Ret. Endowed Faculty Fellow in the History of War and Society​.
Alexander Hollmann, associate professor of classics, was appointed to the Dr. Nick and Nancy Vidalakis Family Endowed Professorship of Culture, Excellence and Spirituality in Hellenic Studies.
Geoffrey Korf, professor of drama, was appointed to the Floyd and Delores Jones Endowed Professorship in the Arts.
Xiaosong Li, professor of chemistry, was appointed to the Harry and Catherine Jaynne Boand Endowed Professorship in Chemistry.
Dustin Maly, professor of chemistry, was appointed to the Raymon and Rosellen Lawton Endowed Professorship.
Hong Qian, professor of applied mathematics, was appointed the Olga Jung Wan Endowed Professor of Applied Mathematics.
Adrian E. Raftery, professor of statistics, was appointed to the Boeing International Professorship. 
Brian Reed, chair and professor in the Department of English and professor of comparative literature, was appointed as the inaugural Glen and Alison Milliman Endowed Chair in the Humanities.
Adrienne Russell, professor of communication, was appointed to the Marie Mary Laird Wood Endowed Professorship in Communication.
Ka-Kit Tung, professor of applied mathematics, was appointed the Frederic and Julia Wan Endowed Professor of Applied Mathematics.
Other Honors
Megan Ming Francis, associate professor of political science, has been named a fellow of the Thurgood Marshall Institute, a multidisciplinary research and advocacy policy center within the NAACP's Legal Defense and Educational Fund (LDF). Francis studies American politics, race. and the development of constitutional law, with an emphasis on the establishment of rights and citizenship and black political activism.
Two psychology professors are on TheBestSchools.org's list of the "Top 50 Most Influential Psychologists in the World." They are Marsha Linehan, professor of psychology and director of the Behavioral Research and Therapy Clinics, and Andy Meltzoff, professor of psychology, Job and Gertrud Tamaki Endowed Chair, and co-director of the Institute for Learning and Brain Sciences. Other scientists on the Top 50 list include Nobel prize-winner Danny Kahneman and renowned scientist Michael Posner.
Brian Reed, Glen and Alison Milliman Endowed Chair in the Humanities, chair and professor in the Department of English, and professor of comparative literature, delivered a Katz Distinguished Lecture in the Humanities on the subject "Sing Along: Poets and Birds."
Luke Tornabene, curator of fishes at the Burke Museum and assistant professor of aquatic and fishery sciences, received a UW innovation award to explore whether a marked rise in marine disease is real or an artifact of improved observation and reporting.
Kathleen Woodward, director of the Simpson Center for the Humanities and Lockwood Professor in the Humanities, has been appointed to the board of directors of the Association of American Colleges and Universities.