As a beginning clarinetist in grade school, Huck Hodge added a twist to a Bach minuet performed by the class. At the end of each musical phrase, he added his own elaboration to Bach's composition. 
"The teacher asked why I was doing that," recalls Hodge, associate professor in the UW School of Music. "I thought, 'Why wouldn't I do that?'" 
Hodge continues to ask that question. Now an accomplished composer, he recently received the largest monetary award for American composers, the Charles Ives Living Award in Music. Presented by the American Academy of Arts and Letters (AAAL), the award includes a $200,000 prize and the stipulation that the composer forego all salaried employment during the two-year award period.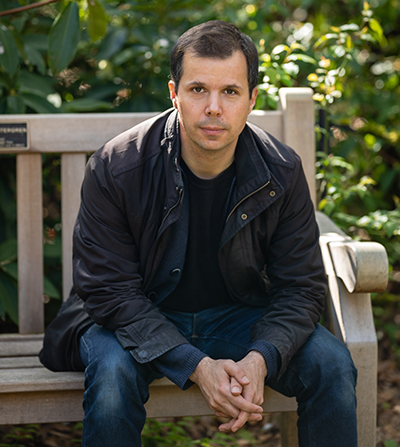 "Having a full two years dedicated to composing is exciting, but also a bit daunting," says Hodge. "I might try to do a couple of larger-scale projects, maybe branch off in directions I haven't gone in before."
Hodge's body of work is already tremendously diverse. Since writing his first composition for bicycle horn at age eight or nine, he has composed solo pieces and symphonies, pieces with electronics, and collaborative works involving video and dance. His music has been performed at Carnegie Hall, Lincoln Center, Seattle's Benaroya Hall, and numerous music festivals, with a different creative process for each piece.
"Sometimes I have a pretty strong concept in mind," Hodge says. "It's not even necessarily a musical concept. It may be a response to a poetic idea or some really sublime experience in the natural world. I usually try to come to an understanding of the underlying structure of the experience that can be translated into music."
The real insight is in the way music can cast the familiar in an unfamiliar context, so that the things that are familiar become uncertain.
So what can one expect of a Huck Hodge composition? AAAL president Yehudi Wyner describes Hodge as "a brilliant colorist and creator of gorgeous, lyrical soundscapes." Hodge welcomes that description, with a caveat: the lyricism in his work may not be what people expect.
"Usually when we use the word 'lyrical' to describe music, it entails sweeping lines, effusive gestures, and full-on emotive action," explains Hodge. "There's a somewhat shallow, unreflective self-confidence about it. But my music is never lyrical in that way. There's always something about the lyricism that's just on the threshold of breaking, of collapsing." Hodge offers the example of a broad sweeping line held slightly too long, affecting the listener's ability to hear it as a continuous melody. Or sustained tones with glitches or breaks, as if the tones are disintegrating within the lyricism. 
Hodge sometimes includes familiar elements in his compositions to enhance the tension and the potential for discovery. For listeners who find this brand of music challenging, those familiar elements can make his compositions more accessible. But Hodge encourages audiences to approach all new music with a sense of adventure, a willingness to sit with the unfamiliar.
"In a way, unfamiliarity is the whole essence of contemporary classical music," Hodge says. "This is an approach to music that typically questions complacency. But if the music you write is completely unfamiliar or alienating to others, that could be just another form of complacency. The real insight is in the way music can cast the familiar in an unfamiliar context, so that the things that are familiar become uncertain."
Hodge points to his award's namesake Charles Ives as a master of this, always introducing ingenious and original concepts in his compositions. Hodge notes that Ives — often considered the greatest composer in American classical music history — was not taken seriously for most of his life. Only after winning a Pulitzer Prize shortly before his death was his music performed regularly. The m­­oney for the Charles Ives Living Award comes directly from royalties paid for performances of Ives' work, donated by his wife.
"Receiving the award is a huge honor, but for me mostly because of the legacy of Charles Ives," says Hodge. "I hope that I can return even a little of the generosity in the music that I write. It's good to have my name out there, but for me, it's more important to use the opportunity to give something back in my music."
. . .
To learn more about Huck Hodge and his Charles Ives Living Award, check out an interview with Hodge on the School of Music website.  To hear Hodge's work performed, listen to excerpts on his website or attend a recital of works by Hodge and his composition students at the UW on June 2.