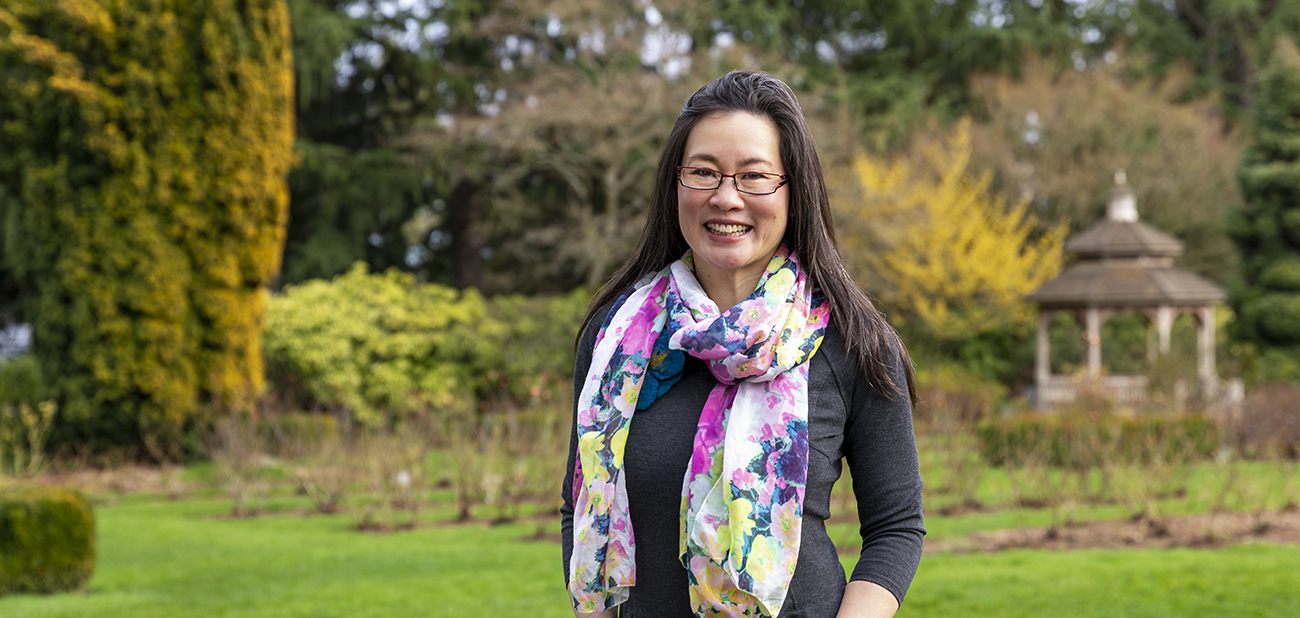 Despite teaching literature at the UW for nearly two decades, Michelle Liu was unsure what to expect when she assigned a Charles Johnson short story in 2019. Rather than her usual class of University undergraduates, the assignment was for Microsoft employees taking an hour from their busy schedules to discuss literature.
The conversation was through Books@Work, an organization that introduces literature into workplaces to encourage human connection and sharing of diverse perspectives. Since 2009, Books@Work has engaged with 85 organizations in 26 states.
"When I first heard about the program, I loved the idea of using short stories to help foster workplace culture and camaraderie in companies," says Liu, associate teaching professor and associate director of writing programs in the UW Department of English. "My job as facilitator is not to lecture, but to ask questions that will help the participants connect with each other through literature."
I loved the idea of using short stories to help foster workplace culture and camaraderie in companies.
Since 2019, Liu has facilitated about a dozen Books@Work sessions at Microscoft and other companies. (Early sessions were held in person; since COVID they have been online.) Before each session, Liu learns about the company and its goals for the Books@Work session, and then plans with those goals in mind. A popular focus is unconscious bias, especially in relation to power.
Liu explains that literature provides a powerful way to begin such conversations. Often what creates the tension of a story is a character forced into a vulnerable position. How readers interpret the story depends on their personal histories.  
"Reading literature, people can project their own experience onto what's happening in that imaginary space and discuss their reactions to it," Liu says. "It's interesting to learn who they identify with and why and when, and who they don't identify with. That can lead to a deeper conversation about who we are used to connecting with or not, and what it means to empathize with a person. Using examples from literature rather than from the participants' lives, people feel they can talk about issues like bias without being judged."
The story "Kwoon," by Charles Johnson, UW professor emeritus of English, often leads to a conversation about what leadership looks like — specifically how masculinity plays into certain styles of leadership. Short stories by other authors inspire equally meaningful discussions (see sidebar), always with a connection to the workplace.
As facilitator, Liu asks questions that encourage the group to share their rich and varied interpretations. "That will inevitably lead to a conversation about the different experiences, contexts, values, and orientations they're each bringing into a situation," Liu says.
Liu engages in similarly powerful conversations in her UW courses but sees a difference in how those discussions translate to action. "It's the difference between talking about power dynamics with undergraduates who are not working in positions of power, and having similar conversations with people in leadership positions who are tasked with making things happen," says Liu. "They can't just point out problems that are happening. They can't just tear things apart. Their job is to put something together. That is really exciting to me."
The Books@Work conversations have benefited Liu's UW students as well, as they have led Liu to personal realizations about her own teaching. Liu particularly recalls introducing a short story to a Books@Work group, convinced that all participants would interpret the ending as she had. She was surprised to discover that was not the case. "I realized — and this was a good realization for me to have — that I go into the undergraduate classroom with some authority as a teacher, and when I bring in assumptions, I'm wielding authority in an unhealthy way," says Liu. "Until you've heard from the other people in the room, whether they be undergraduates or adults in a work environment, you haven't built something collaborative."
Relishing her discussions of literature in UW classrooms and corporate settings, Liu wanted to extend her reach even further. She joined the Humanities Washington Speakers Bureau, through which she presents talks about literature at libraries, senior centers, and other community venues in Washington state. Her two-year appointment was extended due to COVID, and she was recently approved for a second term.
"Applying to be a public speaker was nerve-wracking, but I love, love, love the kinds of discussions it enables me to have," says Liu. The focus of her talks has been two books she considers formative in American history and culture: Uncle Tom's Cabin by Harriet Beecher Stowe and To Kill a Mockingbird by Harper Lee. "It was an interesting challenge for me to distill those texts — which I cannot assume anybody coming to the talk has read — to make what was happening in those books live and really interesting for the people who do attend."
Whether in a classroom, meeting room, or library, the main draw for Liu is inspiring people though literature, just as she has been inspired by favorite books.
"I love that through literature, we can have deep conversations that remind us of the ways that we're human and fallible," she says.