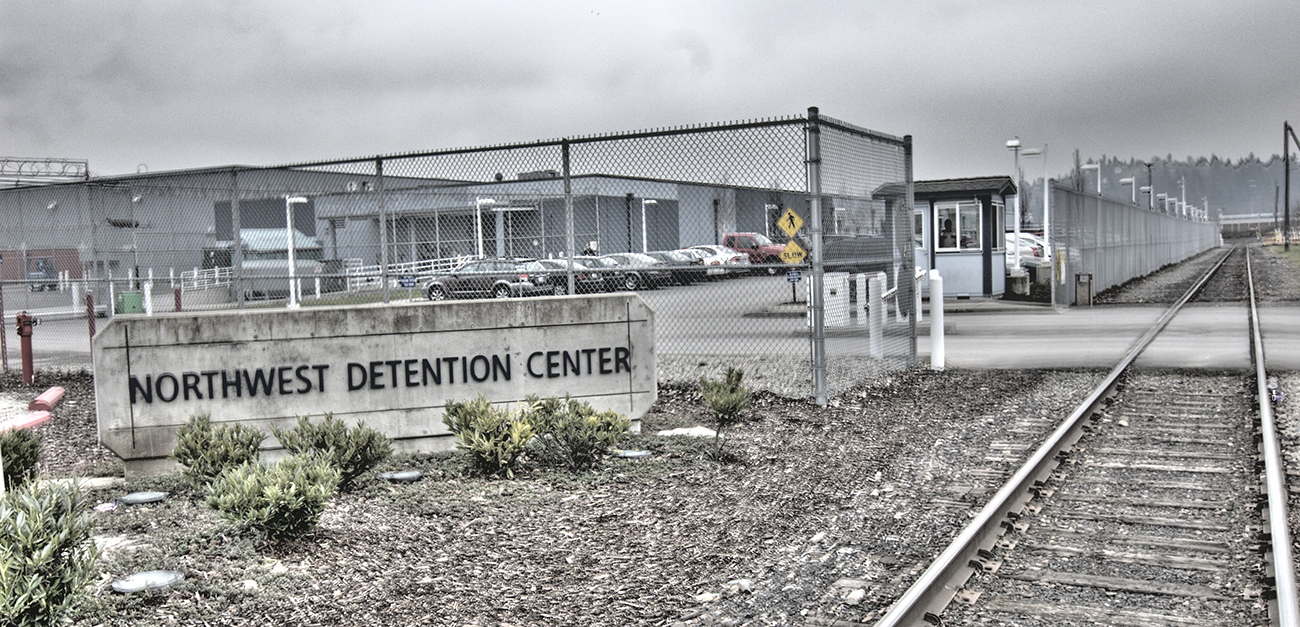 At the Northwest Detention Center (NWDC) in Tacoma, Washington, individuals can be held for months or years without a hearing. Some have been deprived of appropriate medical care. They have been served spoiled or infested food. Some have been kept in solitary confinement for months at a time.
The conditions at NWDC — privately owned and operated, under a contract with Immigration and Customs Enforcement (ICE) — are worse than many prisons. Yet individuals held there have not been charged with a criminal offense.
"One of the things that ICE frequently does is describe people in its custody as criminals or use language that alludes to criminality," says Angelina Godoy, professor of law, societies & justice and international studies and director of the UW Center for Human Rights (UWCHR). "But ICE is not holding those individuals on criminal justice grounds. It's purely on civil grounds — things like overstaying their visa or entering the country without authorization. And a growing segment are asylum seekers who are not suspected of violating any law, since seeking asylum is perfectly legal."
Godoy and others at UWCHR have spent the past few years researching human rights violations at the Northwest Detention Center, and have published a series of reports outlining their findings.
Unearthing the Facts
Established by the Washington state legislature in 2009 to address human rights concerns in Washington state and beyond, the UW Center for Human Rights — housed in the Jackson School of International Studies — spearheads human rights efforts across all three UW campuses. The Center excels at unearthing information that some would prefer to keep hidden, including details about NWDC's operations.
"There are many first-person accounts of abuses at the Northwest Detention Center from people who have been detained there," says Godoy. "Unfortunately those accounts are often dismissed. Our role has been to gather more information to corroborate those accounts, to understand what's really happening there, and to ultimately stop the abuse of people's rights."
...If the records on solitary look like this, what does that say about how the facility is operating as a whole?
Godoy explains that a key principle in social science research is to triangulate your data, gathering information from multiple sources to ensure accuracy. For the NWDC research, that has meant reviewing the detention center's own records to verify detainees' accounts of abuse.
Neither ICE nor GEO Group, the private company that runs the Northwest Detention Center, has been eager to hand over such records. Fortunately the US government provides a powerful tool for gathering information: the Freedom of Information Act (FOIA). By filing numerous FOIA requests, and filing lawsuits when those requests are ignored, UWCHR has been able to obtain thousands of pages of documents from ICE and GEO Group. A thorough review of those documents has yielded significant information about human rights violations.
Concerns about Solitary Confinement
UWCHR's published findings on NWDC abuses include concerns about the sanitation of food and laundry, medical neglect, and overuse of solitary confinement. While many of the findings have been disturbing, those related to solitary confinement are particularly troubling.
NWDC documents confirm that the facility holds individuals in solitary confinement for very long periods. "They keep them in solitary longer than any other ICE dedicated facilities in the nation, and not by a small margin," says Godoy. Many held in solitary are individuals with documented mental illness — an action that ICE's own policies prohibit.
There's also concern about conflicting information. UWCHR obtained two sets of records from GEO Group and two sets from ICE, each presenting a different picture of the use of solitary confinement. "With so many different versions, it was impossible to crosscheck," says Godoy. "If these organizations that are partnering have different renditions of what's happening, we started to wonder if anyone really knows how many people are in solitary at any given time."
A well-documented American Civil Liberties Union lawsuit on behalf of a former NWDC detainee has raised even more concerns. Attorneys on that case have documented the dates when their client was in solitary confinement at NWDC — dates that ICE never disputed in court — but that individual is not listed in any of the ICE or GEO databases from that period.
"That's really disturbing when you are talking about the extreme circumstances of being in solitary confinement," says Godoy. "How many others might have spent time in solitary with their presence never recorded by their own jailers? That somebody could be sent there without any record of it happening is very worrisome both under international law and just on a human level. And if the records on solitary look like this, what does that say about how the facility is operating as a whole? It really opens up a lot of questions."
Turning Information to Action
UWCHR is continuing to review data and publish its findings so that others can turn those findings into action. "We're researchers, not activists," Godoy says of UWCHR's work. "We collaborate with community groups working for real-world change. Our role is to try to produce research that's useful to them, that will help them advocate for better policy or practices."
Currently seven UW students — three undergraduates and four graduate students — are on UWCHR's research team. Undergraduates in Godoy's advanced research seminar in the Department of Law, Societies & Justice also have worked with NWDC data and contributed to UWCHR's published reports.
All funding for this work comes from private support, including from UWCHR's Human Rights at Home Fund, created by the late Peter Jackson and his wife Laurie Werner. (That fund supports several UWCHR projects in Washington state.) The hope is that this research will lead to real and lasting change — and an informed public.
"What's happening at the Northwest Detention Center is being done by the US government with our tax dollars," says Godoy. "At the most minimal level, we should know what's being done in our names and ask ourselves if this is truly the system we want. I hope our work can bring those things to light so that people can make more informed decisions, leading to policies more in keeping with human rights principles."
. . .
Editor's note: On April 14, Governor Jay Inslee signed HB 1090 into law, banning most private detention facilities in Washington state. As a result, the Northwest Detention Center will close at the end of GEO Group's current contract in 2025.
Interested in supporting the work of the UW Center for Human Rights? Learn how you can help.