The first time Maria Bogomolova stepped onto a volleyball court, she was in diapers. Her father — a professional volleyball player — was preparing to serve during a game. Bogomolova was so excited she rushed onto the court.
Years later, Bogomolova still loves the game. But now she is the one serving the ball on the UW Women's Volleyball team. "I guess volleyball is in my blood," she says. This year the team made it all the way to the Final Four in the NCAA Women's Volleyball Tournament — a thrilling coda to Bogomolova's UW experience. She graduates this month with a bachelor's degree in Classics.
A Student First, then an Athlete
As a high school student in St. Petersburg, Russia and a volleyball player on Russia's U18 (under 18) national team, Bogomolova assumed she'd attend a Russian university. But American universities came calling after her parents sent out film of her games. From the beginning, the University of Washington stood out from the rest.
"The UW really took care of every question that I had," says Bogomolova. "They took it to a different level. And they were very upfront about the value of academics — the importance of being a student first and then an athlete. I knew I wanted to be both, so that's what impressed me the most."
When Bogomolova arrived on campus, it was her first time in the United States. Navigating language challenges, the size of the University, and American-style volleyball, which is faster-paced than its Russian counterpart, was overwhelming at first. She was glad to be redshirted her freshman year — held from official competition to extend her period of eligibility — since it gave her an opportunity to acclimate to the University.
[The UW was] very upfront about the value of academics — the importance of being a student first and then an athlete.
Through academics, Bogomolova settled in. An English 101 writing course for international students "helped a ton," she recalls. So did Gender and Sport and other classes that provided intriguing lenses on American culture. But she particularly loved astronomy courses. Her plan was to major in astronomy — until she discovered the Department of Classics.
"I took [Classics] Professor Stroup's athletics and gladiators class (CLAS 324: Greek and Roman Athletics), and it changed everything," Bogomolova says. "It was so cool, and I wanted to learn more. So I took another Classics course, and another, and another, and another, and each professor on my path made it so interesting. Every single professor was just amazing and poured their heart into it. I saw their passion for Classics and how they love the topic."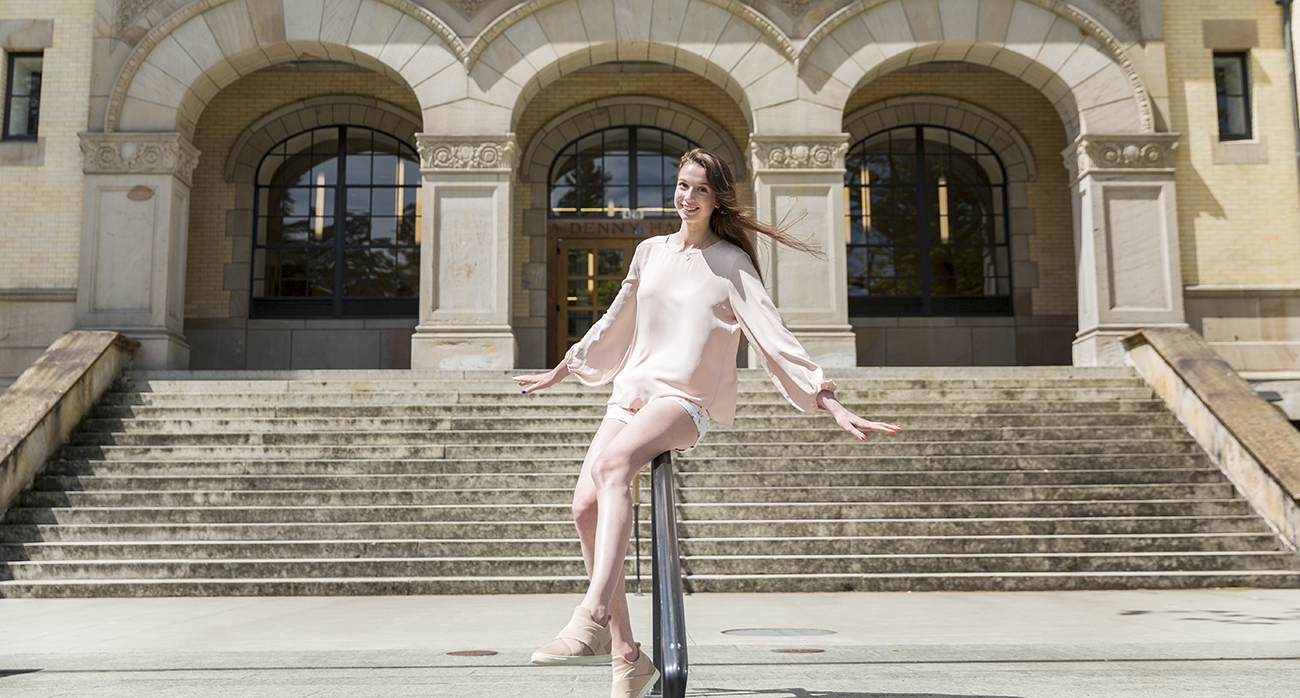 Bogomolova was so enamored with Classics that it spilled over to her volleyball practices. She would write Latin words on the whiteboard in the team room before Latin exams and present mini-lectures to her teammates on Oedipus and the brutality of mythology. "I would do stuff like that all the time," she laughs. "They started calling me Professor Maria."
Volleyball Success After Pandemic Challenges
Despite her fascination with the ancient world, Bogomolova was intensely focused on volleyball when she stepped onto the court. She's an opposite hitter — a position that involves both offense and defense — and is known for her powerful serve. In this year's NCAA tournament, that serve was crucial to the Huskies' success, most notably in their round of 16 match, when she served seven points in a row to help the team rally from the brink of elimination and win the match. For Bogomolova's role in that victory, gohuskies.com dubbed it the "Boga Match."
Bogomolova's performance was particularly impressive given her challenging senior year. After spending last summer with her family in Russia, she faced a three-month delay in her return to Seattle due to visa problems. When she finally arrived in late October, state and UW Athletics guidelines required her to quarantine. Soon after, she tested positive for COVID, which meant extending that quarantine.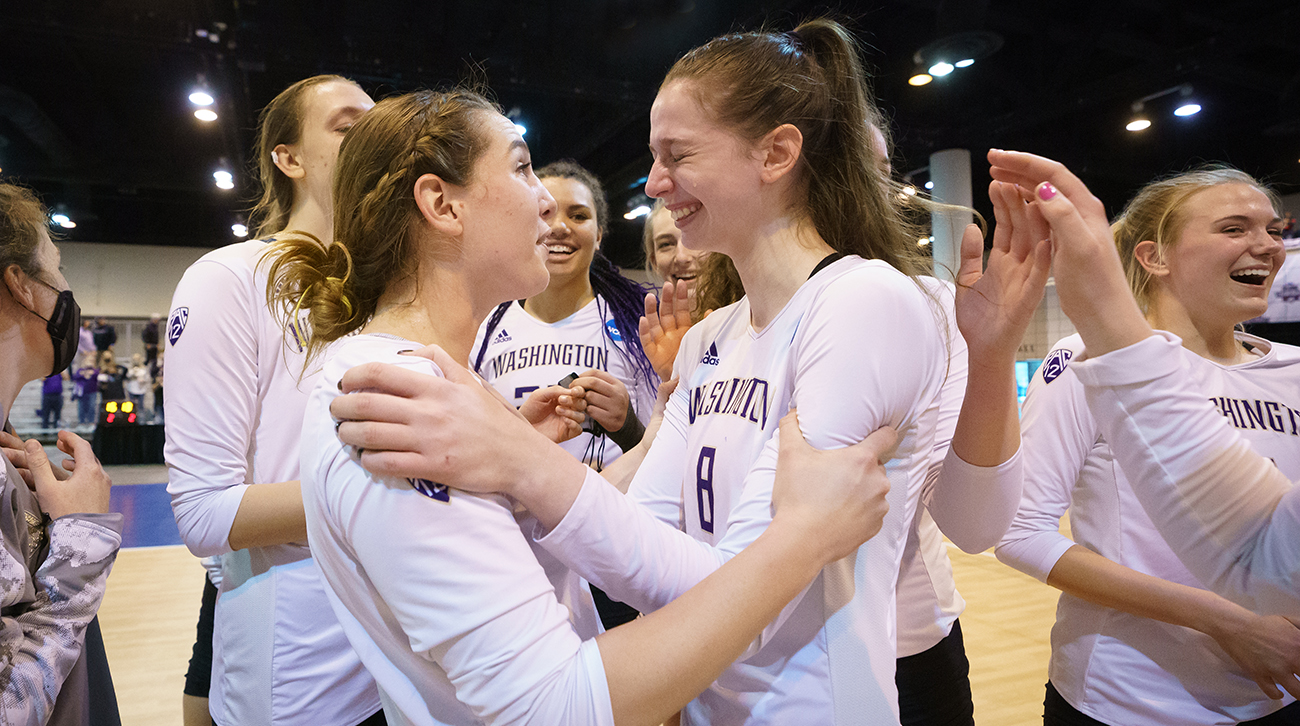 By the time Bogomolova could attend volleyball team practices, her teammates had been practicing together for months. She joined them for just four days before a PAC-12 pre-season quarantine meant halting practices.  Despite the challenges of the pandemic, the team earned a spot in the National Semifinals for the first time since 2013.
For Bogomolova, the accomplishment was bittersweet.
"Going into the Final Four was never an end goal for our team," she says. "We were always looking to go all the way to the final and win the national championship title. That's still our goal and where we are heading. We've truly created something special, and knowing what kind of seeds were planted this year, I can't wait to see what future Huskies will bring."
With Bogomolova graduating this month, she will now cheer for the team from the sidelines like other Husky fans. But she's not ready to leave the court completely. Her goal is to coach women's volleyball at the college level.
"At one point I thought I'd be a Classics professor, but right now I truly want to coach because of how much my coaches helped me and changed me as a person and how much they brought into my life," she says. "I would like to do the same for others, to help them grow. And I think I'm pretty equipped to do so."
The toddler who rushed onto the volleyball court is still enthralled.
"It's a beautiful sport," Bogomolova says. "A sport that's all about teamwork. I don't know how anyone can not love volleyball. I can't imagine my life without it."