"One of the most present students I've ever had in the classroom." That's how Odai Johnson, professor of drama, describes Jarrett Johnson (BA, Drama (Performance), 2021). That quality was especially important as the pandemic led to online courses — a particularly challenging format for classes on acting.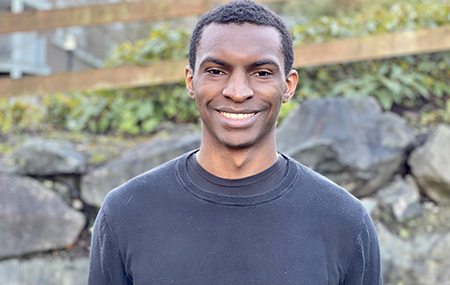 "Jarrett's enthusiasm, energy, and openness to new exercises became his greatest gift to the class culture," says Jeffrey Fracé, associate professor of drama, recalling Johnson's participation when Drama 353: Physical Acting was taught over Zoom. "Often the first to volunteer and 'try it out,' Jarrett paved the way for more volunteering and experimentation than I dreamed I would get in this maiden Zoom class. His openness and dedication made for some of the most successful acting moments in class."
Johnson was recently honored by the UW College of Arts & Sciences as Dean's Medalist in the Arts.  
Before focusing on acting, Johnson spent nearly a decade serving in United States Air Force — in Qatar, the United Kingdom, and Texas — with security responsibilities that included law enforcement patrolman and manager of criminal investigations. He then attended Seattle Central College, where he discovered a love of acting. After earning his associate degree at in 2019, he transferred to the UW.  
His openness and dedication made for some of the most successful acting moments in class.
Johnson was only in his second quarter at the University when COVID emerged and all his courses suddenly moved online. He was father to a newborn as well.
"Somewhere, somehow, he was balancing the demands of school with the demands of a family and the demands of a job…and just always delivered, with poise and grace," says Odai Johnson. "Brave, smart, invested: we don't often see that all in one."
Graduating into a theater scene that has been devastated the pandemic, Jarrett Johnson remains steadfast in his decision to pursue acting. As he explained in a February 2021 Seattle Times story, "With COVID, I understand how difficult it's going to be to continue to act, but I welcome the challenge. [My wife and I] were both deployed. If we can make it through that, we can make it through anything."