As a wine drinker, Danni Lin is a lightweight. As a wine entrepreneur? That's a different story. Lin is founder and CEO of Great Wine Inc, which produces seven wine varietals under the label Percipio. And she is managing partner of myVinotype, a platform that guides novice wine drinkers to potential wine preferences.
Lin, who was named to 425 Magazine's "30 Under 30" list in 2018, believes her UW education (BS, Statistics, 2011; MS, Computational Finance and Risk Management, 2013) has been integral to her success.
"All the skillsets I gained from the UW led to quick job offers after college," says Lin. "I still use those skills in my work."
Intrigued by Statistics
As a teenager, Lin left her hometown of Harbin, China to attend high school in Calgary, Canada, where she was valedictorian of her class. During her college search, a high school counselor mentioned the University of Washington and Lin decided to apply. She saw the campus for the first time during new student orientation.
"I was surprised by how beautiful the campus was," she recalls. "I loved it immediately."
Lin attended Early Fall Start (EFS) — a month-long program designed specifically for incoming first-year students — and chose an EFS statistics class taught by Professor Fred Bookstein, now emeritus. She credits that class with setting her on her career path.
The experience of wine can be very special and unique — and that's something I'm excited to create.
"On the first day of class, I thought I was in the wrong room," Lin laughs. "The professor didn't say anything about math. There were no formulas, no equations, no mathematics. Instead he talked about how you can apply statistics in different industries — how we can use this skill to innovate, to change the world. I chose statistics as my major that same day."
After earning her bachelor's degree, Lin relaxed for one week before starting a master's program in computational finance and risk management in the UW Department of Applied Mathematics. While in grad school, she also worked full time as a statistical analyst at Symetra, a financial services company.  Next came a two-year stint at Microsoft, where she maintained and expanded a forecasting program for the Bing search engine advertising team.
When Lin felt she'd mastered that role, she explored other career options — including starting her own business. She realized that her connection with China could be a huge advantage.
"I wanted to see if I could establish something between the two countries, but I needed to figure out what that would be," she says. Through conversations with peers in China, Lin learned that wine drinking had become trendy there. But wine choices — particularly wines from the US — were limited. She saw an opportunity.
A Promising Market for Wine
With little knowledge of the wine industry, Lin prepared herself by completing a wine education and certification program, WSET, at the Napa Valley Wine Academy. While achieving the highest level of certification, she also made connections within the industry, most notably with Master of Wine Tim Hanni, author of Why You Like the Wines You Like.
Hanni was interested in the physiological factors that shape individual wine preferences and the psychological factors that can change those preferences over time. He and business partner Chris Cutler had created the platform myVinotype, an online survey of taste preferences to help predict wines that an individual might like. Lin was intrigued and thought she could help improve the platform. Hanni and Cutler agreed and invited her to join their business.  
"It was a perfect match," says Lin. "My skillset benefited them, and their resources and network were exactly what I was looking for. I helped them improve the platform and get it to the next stage."
After the improved myVinotype platform was shared worldwide in seven languages, Lin wanted to do more. In 2015, she founded Great Wine, Inc. to produce wines based on drinkers' wine personalities or vinotypes.  A winery in California produces the wines under the label Percipio; Lin handles promotion and distribution in the US and China.
China has been a particularly promising market. "When I first started the wine business in China, most people in the industry there were business people who treated wine as a regular consumer good. But without understanding the nature of the product, that becomes a limitation. You can get people to buy a product, but to retain them as a customer, you really need to understand their needs and the market. That was a gap I felt I could fill."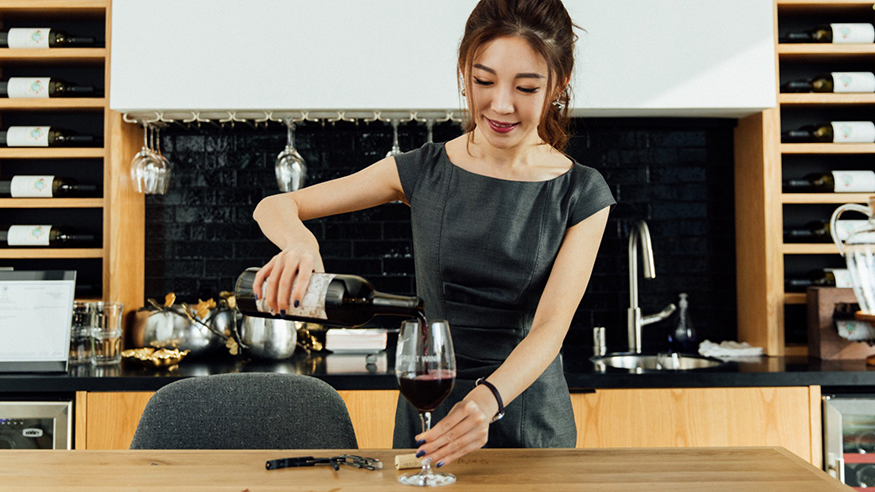 As Lin's business grew in the US and China, she established tasting rooms in Bellevue, Washington and Harbin, China, where visitors could take the myVinotype survey and sample wines based on their taste profile. The tasting rooms also hosted numerous events, from art appreciation gatherings to musical performances.
Then COVID happened.
With COVID, More Education
Great Wine Inc.'s tasting rooms and related events halted with the arrival of COVID. (They have since reopened.) Lin, always thinking about next steps, used the time to reflect on her company's future. A believer in education as preparation for success, she enrolled in the University of Pennsylvania's Wharton School  in fall 2021 to pursue an MBA.
"I had always wanted to do an MBA, but because of my international travel, I hadn't been able to commit that much time," says Lin. "And to make the MBA worthwhile, I felt I needed some problems to solve or questions to address. This past year, thinking about what to do with my company next, it felt like the right time."
Lin anticipates that Great Wines Inc. will continue to evolve as she gains insights through her MBA studies. What won't change is her appreciation for the role that wine plays in so many lives.
"Wine is really a record of time," Lin says, noting that each vintage captures a specific harvest, a specific moment in history. "And enjoying wine with friends also creates a record of time. If I drink that same wine in the future, I can recall the memory.  The experience of wine can be very special and unique — and that's something I'm excited to create."