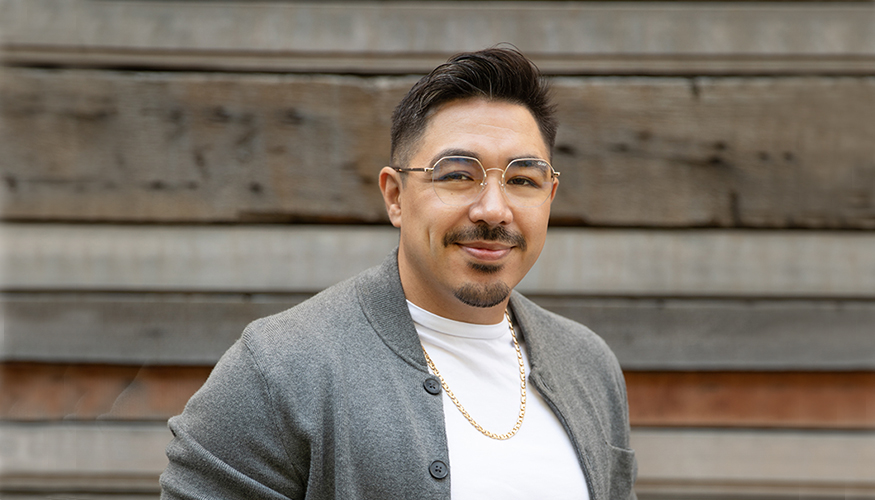 After seven years in the military, Ricardo Ruiz (BA, Creative Writing, 2020) decided to pursue a college degree. Four deployments, including two to Afghanistan, had taken a toll on his family. At the UW, he intended to study business but found himself drawn to creative writing.
That choice led to an opportunity he could not have imagined: As a UW senior, Ruiz was offered a book contract for his poetry. The resulting book, We Had Our Reasons, shares the experiences of Mexican immigrants in Ruiz's rural farming community in Eastern Washington. The book was published in 2022 by Pulley Press.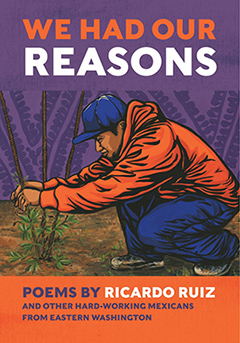 Ruiz credits Frances McCue, teaching professor in the UW Department of English, with making the book possible. The two met in 2020, partway through his senior year of college. At the time, McCue was starting a new poetry imprint (which would become Pulley Press) at Clyde Hill Publishing. She enlisted six student interns, including Ruiz, to help her articulate the imprint's mission and create a business plan.
McCue saw a need to encourage poets and poetry offering new perspectives on what it means to live in rural areas. The group researched rural poets and publications and came up with a plan to feature rural poets writing about their working lives and the places where they live. When McCue learned that Ruiz was part of a Mexican farm community in Eastern Washington, and also a talented poet, she saw a perfect fit.
Ruiz wrote many of the poems in collaboration with others in his farming community. He used a technique invented by McCue, known as the "poetry pulley," which functions as a fresh approach to documentary poetry. "The Pulley" is a collaborative mechanism that encourages poets to make poems with their friends, neighbors, coworkers, and family by interviewing them and then collaborating on poems that arise from the transcripts. Each participant becomes a poet in the process, and the poems, as if strung along by a pulley, glide into the hands of readers. Each poem in the book is presented in both English and Spanish, as is the book's final section with information about the collaborating poets.
In July 2022, Ruiz and McCue spoke with Perspectives editor Nancy Joseph about We Had Our Reasons and how the project came about.
Ricardo, have you always been interested in writing?
Ricardo Ruiz: I've always been a reader. Words and communication always intrigued me. When I was young, I slept with a dictionary under my bed. [He laughs.] When I started community college, I was transitioning from the military and my mental health was extremely poor. I had no ability to manage my emotions. I found that writing provided me an outlet, a place to process my emotions in a safe way.
Frances, what led you to take on this book project when Ricardo was still an undergraduate?
Frances McCue: At the time, Ricardo was in a workshop with [poet and UW professor] Linda Bierds, so I knew he was being classically trained at a very high level in creative writing. I also noticed right away that he was incredibly resilient about feedback and eager to take everything he could learn and push it forward. So when the interns and I were working with the idea of a poetry publishing house that celebrates poets and poetry from rural spaces in America, I asked how he would feel about doing a documentary poetry project involving his community in Eastern Washington.
One of the common things that I've heard from the community is, "So when are you gonna write book two?" Their stories need to keep being told.
What does a documentary poetry project entail?
McCue: It's where a poet goes out and collects artifacts, like news clippings or pieces of documentary films, and assembles a new work of art from them. We started talking about Ricardo going into his community and interviewing friends and family. But instead of using those transcripts to write poems on his own and publish them — which is where most poets end up — we realized that ethically and from our hearts that the best thing would be for Ricardo to build poems in collaboration with the people he interviewed so they were part of the whole process.
We met with Greg Shaw, the publisher at Clyde Hill, after Ricardo had interviewed a few people. Ricardo started reading from the transcripts and Greg turned to me right in front of him and said, "Frances, I think we ought to offer him a book contract right now." And I was like, "Yes, we should."
Ruiz: This was before I'd written any poems for the project.
McCue: Greg gave Ricardo an advance, and Ricardo and I worked on a book proposal and submitted it to Greg.
How did community members respond when you asked them to participate?
Ruiz: No one turned me down. Everyone was willing. Originally, I was just planning to interview the older generation — my mom, her friends — but after the first few interviews, I realized that there was an intergenerational narrative that needed to be told. Because they were friends and family, I could ask hard questions. I felt comfortable really pushing in places because of the familiarity.
How did the collaboration work?
Ruiz: After each interview, Frances and I would read over the transcript and select the sections we felt had potential as poetry. Then I would try to write poems from them. I tried to pack as much emotion and vibrancy as I could into the poems. When a poem was about 80 percent ready — after I'd edited it with Frances — I would send it to the collaborator for first approval. After getting their comments, I would finish the poem. Before completing the book, we sent the poems to each collaborator again. They could say yes, no, change this – I worked with them to ensure that my accounting of their stories was accurate.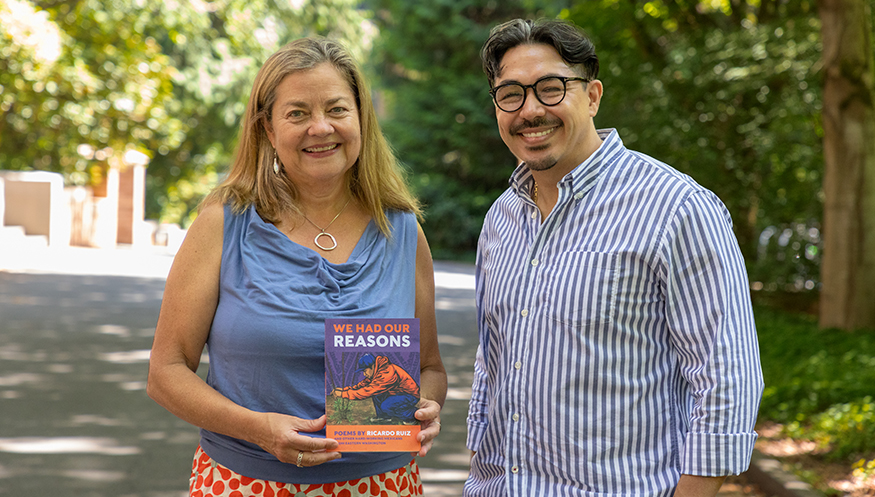 How has the community responded to the published book?
Ruiz: One of the common things that I've heard from the community is, "So when are you gonna write book two?" Their stories need to keep being told.
Is that what's next for you?
Right now I'm focusing on promoting this book. In the fall, I plan to apply to MFA programs in creative writing. I want to continue learning my craft. I want to get better. For me, poetry's fun. Language is fun.
Any final thoughts on this project?
Ruiz: I can truly say that it wouldn't have happened without Frances. She has been an incredible friend and mentor and editor to me. She held my hand through many hours of tears and struggles.  I would write something and Frances would help me take it to the next level. Few people have made such a meaningful impact in my life.
McCue: Ricardo, I feel the same. I work with a lot of writers and one thing that's special about you — in addition to your heart and your insight and your experience — is your ability to pivot when you receive a suggestion. Most writers shut down. Your openness allowed us to move through the book in such a joyful fashion.
Ruiz: Shout out to the UW for bringing us together because I am a better person for having attended the UW and for having known Frances.
A POEM, A MEMORABLE MOMENT
Ricardo Ruiz cites poet Sonia Sanchez as his favorite poet, and describes the following poem from his book as a homage to an early poem by Sanchez. He had the opportunity to read the poem to Sanchez and says, "Reading this poem to my poetry idol was one of my greatest moments in life." 
Ruiz wrote the poem in collaboration with Lorena, a family friend, about her experience crossing the border into the US.
Silent Crossing, Sleeping to the Other Side
by Lorena and Ricardo
you slept for two days
over-drugged by the coyote
i gathered all the sounds
you should have made
placing them inside the leather bag
upon my shoulder
when my steps strained
i opened the satchel and listened
                 each night
i held your sounds
and know your future's here