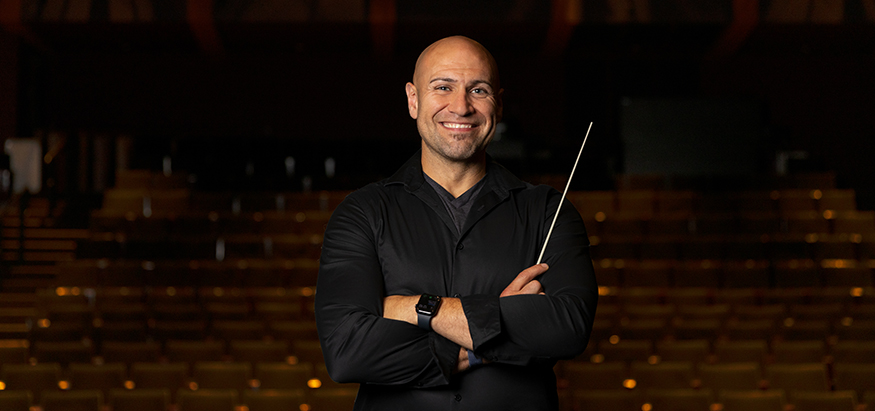 When Jay Gillespie joined the US Navy, he was recruited to be an aircraft mechanic. Oliver Callahan enlisted in the US Army as an infantryman. But both men found their true calling after transferring to a different role in the military: performing music.
Gillespie (BMus, Music Education, 2020) became a saxophonist in several Navy bands. Callahan sang in the 82nd Airborne Division All-American Chorus. These experiences helped them envision future careers in music — and inspired them to study music education in the University of Washington School of Music after leaving the military.
"In the military, the whole mission changes when you go into music," says Callahan, a post-baccalaureate student in the School of Music. "You're still supporting the same interests as far as freedom and democracy and liberty, but you are attacking it differently. Instead of shooting bullets, you are ambassadors, showing a force of peace rather than violence."
An Early Start in Music
Jay Gillespie was asking his parents for a saxophone by age three. By high school he was immersed in music, spending his senior year at the prestigious Interlochen Arts Academy in Michigan on a music scholarship. Then, as a classical saxophone performance major at the University of Michigan, his journey took the first of many turns.
Trained in classical music, Gillespie wanted to switch to jazz. It was not an easy transition. "I practiced eight to ten hours a day," he recalls. "I was used to being one of the more precocious musicians, but that was in classical music. As a jazz saxophonist, I wasn't good. But I eventually got there."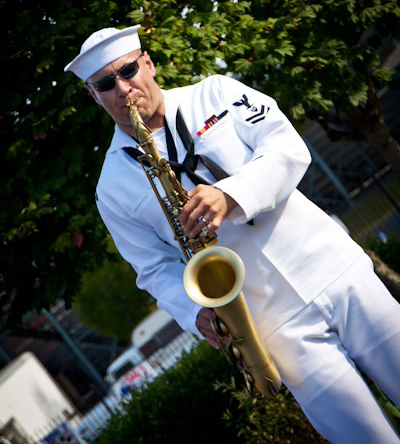 Unfortunately, when Gillespie wasn't practicing, he was partying, which eventually derailed his education. He dropped out of college and returned home to Alaska. When he heard about the US Navy — more specifically, its bands — he saw an opportunity.
Unable to afford the flight to a band audition, Gillespie joined the Navy as an aircraft mechanic instead, with hopes of transferring to the Navy band later. The risky plan ended up working out. Six months into his service, Gillespie auditioned for and was accepted into the Navy band, stationed first in New Orleans and later in Western Washington.
Callahan was slower to warm to music. He did enjoy choir in high school, but his goal was to enlist in the infantry. His mother convinced him to earn a college degree first. He earned a degree in recreation management at Idaho State (where he also took music courses) and then joined the Army.
Ten months into his military service, Callahan fractured his femur during a training exercise at Fort Bragg. The injury made it impossible to perform some essential duties. When members of the 82nd Airborne Division All-American Chorus — also based out of Fort Bragg — mentioned that auditions were coming up, he took note. "I figured I had to change my career anyway, so I might as well audition," says Callahan, who joined the chorus.
Serving through Music
Both Gillespie and Callahan performed at official military events but also for — and sometimes with — civilians. "We played for Naval ceremonies and balls, but most of our performances were community events — everything from Veteran's Day celebrations to public school concerts to Rhododendron Festivals," Gillespie says of the Navy band. "Our whole goal was to just go out and make people smile."
The same was true for Callahan, though his most memorable choral performances paid tribute to soldiers. A highlight was a trip to France to commemorate the invasion of Normandy during World War II. "Every year the town of Sainte-Mère-Église hosts a weeklong memorial celebration to remember what happened in those towns and cities," Callahan explains. "The 82nd Airborne had a big part in the invasion, so we were invited to sing. The fascinating thing is that everybody you meet there was either there during World War II or their parents or grandparents were there, and they have amazing stories to tell."
The chorus also performs at military funerals. "Those were some of the most tender and life-changing performances," Callahan says. "We would sing Amazing Grace or Danny Boy. They tell you at your first funeral not to look at the family, because if you do, you'll start to cry, and then you can't perform. A lot of the funerals were for people we knew, people in our unit, so it became very personal to provide that service for both the family and the soldier who passed away."
Callahan learned all the music for the chorus from recordings. He had expected to receive a binder of sheet music, but none existed. His commander, upon learning that Callahan had experience using music notation software, asked if he would help transcribe the songs into sheet music. That project, which took about eight months, was a turning point for Callahan, who also created new arrangements for some songs. "It's when I started to consider continuing with music after leaving the military," he says.
A New Chapter
Callahan's separation from the military came sooner than anticipated. Ongoing issues with his leg, including several surgeries, led to a medical discharge after three years of service.
Gillespie's separation was unexpected as well. After several promotions, he held leadership roles including unit leader of several bands and fiscal petty officer for his unit. But after serving for eight years, personal challenges got in the way. "I'm a person in long-term recovery, and at the end of my Navy career I slipped off the wagon," Gillespie says. "I was honorably discharged from the Navy, but my personal challenges outside of work made me unable to continue my service."
Without the stability of military life, Gillespie struggled. He eventually got back on track and returned to college for web design, figuring that would be more lucrative than music. Despite good grades, he soon realized he had no passion for it. Remembering how much he'd enjoyed working with music students during Navy visits to schools, he decided to audition with the UW School of Music, with the goal of preparing for a career in music education. He was accepted and graduated in 2020.
Callahan also auditioned for the UW School of Music, around the time Gillespie was graduating. He hopes to work in music education at the collegiate level.
"The thing that makes the UW School of Music so special is the faculty and students collaborating to make music together, to learn and to grow," says Callahan. "My professors put so much time and effort into helping me personally. They know what my goals are and what I want out of this program, which makes it so much easier for them to provide that."
Passing on their Passion for Music
With COVID waning, Callahan attends his UW classes in person. But in 2020, Gillespie had to complete several classes online due to COVID, including his student teaching. When he graduated, most K-12 schools were postponing searches for music teachers due to the pandemic. He applied for the few available positions with no success.
Then came a miracle: Ballard High School's music director left suddenly and the school needed a temporary replacement. A UW professor recommended Gillespie for the job.
In his first year at Ballard High, Gillespie so impressed the school's leadership and families that his temporary role turned into a permanent one. He was hired as the full-time music director and now leads two jazz bands, three concert bands, a percussion ensemble, and a marching band.
"Only a few of those high school students plan to go to college for music," Gillespie says. "For the rest, my goal is that they leave high school knowing that music is fun and that they can participate throughout their lives — and that it will enrich their lives in the long run."
Now in his third year of teaching, Gillespie has already received Ballard High School's Outstanding Educator Award. He believes his time in the Navy played no small part in preparing him for this role.
"The military prepared me for this musically in so many ways, because we played every kind of music," his says. "Everything I'm doing now, I basically did on a professional level with the Navy." 
Callahan also credits the military with preparing him for success. 
"A lot of the core values of being in the military transfer over to what I'm doing now — work ethic, integrity, teamwork, honesty," Callahan says. "I'm finding that all of these things continue to be important in my life."