The UW College of Arts & Sciences is pleased to announce three Graduate Medalists for 2023. The Graduate Medal honors exceptional graduate students who completed their doctoral degrees this year, with medalists selected on the basis of nomination letters from faculty. 
E. J. Koh
Graduate Medalist in the Humanities
PhD, English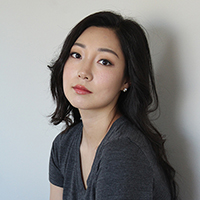 E. J. Koh asks questions of han, an emotion she describes as "a form of Korean grief and trauma," but she argues against it being connected solely to the Korean peninsula. In her dissertation, Koh explores what might be learned by redefining and reimaging han in America. "I question what is possible for han if it crosses the Pacific," Koh says. "Drawing upon a range of textual materials, interviews, and close readings, I revivify both the meaning and importance of han in the English language."
"This is new research and completely original scholarly territory," writes Koh's dissertation adviser Shawn Wong, professor of English and Byron and Alice Lockwood Professor in the Humanities, in his nomination letter for Koh.
In addition to completing her dissertation at the UW, Koh published a critically acclaimed memoir, "The Magical Language of Others" — winner of the Washington State Book Award and a longlist for the PEN Open Book Award — while she was a graduate student. She also completed her debut novel, "The Liberators," scheduled for release this fall, and was a writer for the TV series adapted from the bestselling novel "Pachinko," by Min Jin Lee. Koh published a collection of poetry, "A Lesser Love," winner of the Pleiades Editors Prize for Poetry, before coming to the UW.
In my 39 years here at the UW, I've never encountered... any student like her.
"These works, combined with her dissertation, demonstrate a writer, artist, and scholar able to work across genres and connect with readers on so many levels," notes Wong. "In my 39 years here at the UW, I've never encountered a PhD student like E.J., or, for that matter, any student like her."
Read more about Koh's memoir, The Magical Language of Others, in the December 2020 issue of Perspectives newsletter.
Ludger Clayton Dahm
Graduate Medalist in the Arts
PhD, Music Education
Before coming to the UW for a PhD in music education, Ludger Clayton Dahm taught music to children in schools in Kansas, London, New York City, and Seattle. In his UW research, he has explored ways that global popular music can be effectively incorporated into K-5 classrooms.
"Clayton's dissertation research tests an intriguing proposition," writes Shannon Dudley, professor of music and chair of ethnomusicology, in his nomination letter. "He looks at whether popular music styles from different cultures may have enough similarity to be perceived as familiar (to a greater extent than folk styles) and that popular music recordings and practices can therefore provide an engaging entrance point for students to begin thinking about different experiences and styles."
Through ethnographic techniques — observations, audio recordings, interviews, and more — Dahm has explored the pedagogical, musical, and sociocultural dimensions of children's engagement with global pop music. He found that students can respond positively to familiar aspects of a song but also be intrigued to learn more about an aspect that was foreign to them.
His research underscores a continuing commitment to the intersection of music and culture...
"Clayton is curious and committed to scholarship," writes Patricia Shehan Campbell, UW professor emeritus of music and Dahm's PhD committee supervisor, in her nomination letter. "His research underscores a continuing commitment to the intersection of music and culture in the process of musically educating young learners, who develop as well in their cultural sensitivity and civic engagement. I think his creative energy will manifest itself in research and scholarly activities for many years to come."
Dahm has been appointed as visiting professor of music by Northwestern University for the coming year.
Isaac Javier Rivera
Graduate Medalist in the Social Sciences
PhD, Geography
Born and raised in Denver, Colorado, Isaac Rivera says his dissertation is the product of years of collective dreaming and collective organizing in Denver for a liberatory world. His dissertation investigates the entanglements, functions, and remakings of cartography as a vehicle for world-making, focusing on the self-determined ways Indigenous nations know the world instead.
"Isaac's dissertation advances powerful arguments about the possibilities and pathways for grounded Indigenous liberation politics, particularly with regard to self-determined visual and digital politics," writes Sarah Elwood, professor and chair of the Department of Geography, in her nomination letter.
Megan Ybarra, associate professor of geography and a member of Rivera's dissertation committee, adds that the scope of Rivera's dissertation is crucial to the field of human geography. "First, Isaac demonstrates how social movements that respond to community harms actually create new possibilities for life-worlds," she writes. "Second, his work bridges the gaps between historically assumed difference between Indigenous peoples and non-Indigenous peoples of color. In his words, the dissertation 'maps the terms of freedom' where Chicanx and Indigenous peoples create new life-worlds through collaboration."
Geography has been fortunate to support a student with such ferocious creativity and intellectual force....
Elwood also notes the energy Rivera brought to the department as a student and instructor. She writes, "Geography has been fortunate to support a student with such ferocious creativity and intellectual force, generosity and commitment to students and colleagues, and deep attention to all the ways that universities can be places for justice, equity, and transformation."