Despite its prominence in the news during the past few years, many people still find Bitcoin confusing. Some reporters call it a stock, others call it money. But Bitcoin is actually a technology—one that is modernizing money through sophisticated encryption technology. And Jinyoung Lee Englund (BA, Comparative History of Ideas, 2006) has the difficult task of explaining it to the world.
Englund, director of communications and business development for the Bitcoin Foundation, is not an economist or an MBA or a computer scientist. Before joining the Bitcoin Foundation, she had not worked in the financial or tech industries. In fact she was downright puzzled when an entrepreneur friend involved with Bitcoin first introduced the concept to her in 2010. "I thought he was making it up," she recalls. "I didn't think what he was talking about was real."
After more conversations with her friend over the next two years, the lightbulb turned on and Englund became excited about Bitcoin. "The clincher for me was Bitcoin's potential in providing economic opportunity to individuals and communities traditionally locked out of financial services because they are too poor, live in very rural areas, or are considered too high risk," she says.
It's no surprise that the social implications of Bitcoin are what piqued Englund's interest. At the UW she majored in comparative history of ideas (CHID), an interdisciplinary program that encourages students to delve deeply into topics of personal interest. Englund took a range of courses related to poverty and empowerment, including courses in religious studies, philosophy, international political economy, and business. "In CHID, I felt like I was in a community of people pursuing their passions and dreams," she says.
It turns out one of my skill sets is creating order out of chaos.
Faith has also been central to Englund's life and work.  She did humanitarian work in Mexico and India with her church during high school and college, and after earning her bachelor's degree in 2006, she made the bold decision to volunteer in Mozambique with Iris Ministries, a faith-based nonprofit. The volunteer job quickly turned into a paid position.
Mozambique was reeling from a recently ended civil war, with orphans outnumbering adults. Englund developed a project proposal for a well-drilling initiative, convincing venture capitalists to support the project. Then she established a child sponsorship program and created a database of the thousands of children the organization had provided for over the past decade. "At the time, the nonprofit had plenty of volunteers who loved children," she says. "But what they needed was someone who was interested in writing proposals and developing systems."
Englund returned to Seattle after two years in Mozambique, interested in learning more about public policy. She was hired as director of a Republican National Committee field office for Washington state's 8th Congressional district just weeks before election day. Despite the steep learning curve, Englund's office outperformed every other field office in Washington state. "It turns out one of my skill sets is creating order out of chaos," she says with a laugh.
Republican leadership noticed. Congresswoman Cathy McMorris Rodgers from eastern Washington, the highest-ranking Republican woman in the U.S. House of Representatives, met with Englund and was especially drawn to her real-life experience creating economic opportunities to help people overcome poverty. She invited Englund to join her leadership staff in Washington, D.C. in 2009. Over the next few years, Englund gained more political experience working on a U.S. Senate race, on the Romney/Ryan presidential transition team, and for the Heritage Foundation.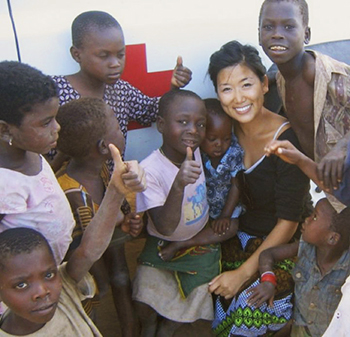 After four years in public policy, Englund wanted to understand the private sector's role in improving lives. So when her entrepreneur friend talked to her again about Bitcoin in 2013, she jumped at the opportunity to become involved. The entrepreneur, who Englund met through her work in Mozambique, had just joined with other entrepreneurs to establish the Bitcoin Foundation, a nonprofit trade organization that supports Bitcoin's ongoing technical development and serves as a de facto face for the technology.
As an open source protocol, Bitcoin is not owned by any one person or company, so ongoing development is sporadic. The Foundation's members support full-time developers to secure and improve the protocol. "We just passed 100,000 transactions a day and the industry has received over $400 million dollars of venture funding in the past two years from the top venture capitalists in the world," says Englund. "When you have that much money involved, you can't depend on volunteers to develop the protocol, fix bugs, and scale it for mass consumer adoption." The Foundation also addresses questions about Bitcoin, including security concerns raised by the FBI, the Treasury Department, U.S. Senate Committee on Homeland Security, and other government agencies.
Englund focuses on developing strategic partnerships between the Foundation and other businesses and serves as "brand ambassador" for Bitcoin. Her salary is paid in bitcoins rather than dollars. "If you want to be part of the organization, you have to show that you really believe in it," she explains. "Anyone who does work for the Foundation gets paid in bitcoin. That's a non-negotiable."
Earlier this month Englund was identified as one of the Top 40 Women in Bitcoin, ranking #4 on the list—not bad for someone who was left scratching her head about Bitcoin five years ago. She credits her UW education with inspiring her to approach Bitcoin with an open mind.
"My interdisciplinary degree taught me how to do the research and how to analyze issues from a variety of perspectives," Englund says. "When you are doing something you love, you naturally give it 110% and all that hard work pays off."
To learn more about Bitcoin and the Bitcoin Foundation, visit bitcoinfoundation.org or follow @BTCFoundation.