Turn on a faucet in the U.S. and you can assume the water is safe to drink. When it's not, it's a big news story (as officials in Flint, Michigan recently learned). That's not the case in some parts of the world, as UW alumnus Eric Stowe discovered when he visited orphanages in China while working for a U.S. adoption agency.
"The tourist hotels and the KFCs and Starbucks in China all had safe water, but the orphanages didn't," recalls Stowe (BA, interdisciplinary arts and sciences, 2001; MA, international studies, 2003). "I thought there must be a way to take what works for those restaurants and hotels—their technology, supply chains, and standards—and bring it to orphanages." That idea led Stowe to found Splash, a nonprofit that now provides safe water to hundreds of thousands of children living in urban poverty in Asia and Africa.
Clean water was not something Stowe pondered as an undergraduate at UW Tacoma, or as a graduate student in the Jackson School of International Studies, where his emphasis was China Studies. But he always had an interest in social justice movements—and he believes that Splash is all about social justice.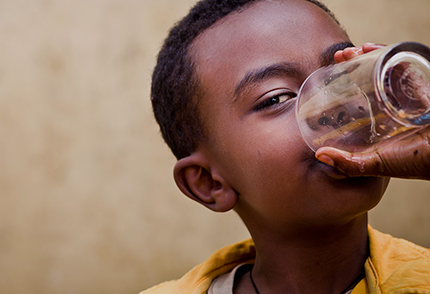 "Our work is first and foremost about equity, ensuring that the children in the cities where we work have the same opportunities around safe water that my own kids take for granted," says Stowe. "Water is one of the key ingredients of a healthy child and a functioning society."
Stowe was traveling to Asia regularly for his adoption agency work when he decided to tackle the safe water issue. He bought high-quality water filtration equipment at a discount in the U.S., hauled it to Asia in his suitcases, and installed it in orphanages with approval from the Chinese government. But chipping away at the problem in this piecemeal fashion became frustrating. "There were a lot of people doing adoption work but very few doing safe water for children," says Stowe, "so I left my adoption agency job to start Splash."
Our work is...about equity, ensuring that the children in the cities where we work have the same opportunities around safe water that my own kids take for granted.
With support from individuals and foundations, Splash now has a staff of 70 and a presence in eight countries: China, Nepal, Thailand, Vietnam, Cambodia, Bangladesh, India, and Ethiopia.  In China, the focus continues to be orphanages; Stowe anticipates that all of China's orphanages—1,200 facilities spanning 31 provinces—will have safe water by the end of 2017. At that point Splash will transfer maintenance to the Chinese government, which has collaborated throughout the process. "We've created the network, the supply chains, and the inventory to ensure that safe water is at every orphanage," says Stowe. "Now it's the government's time to take over and ensure that those systems keep going for decades."
In other countries, Splash focuses on a single city and reaches out to all facilities—schools, pediatric hospitals, street shelters—that serve children in urban poverty. Along with providing safe water, Splash promotes hand washing and toileting, also essential for disease prevention. "Those three in combination have the greatest impact," says Stowe. "You lose one and you lose significant degrees of impact overall." Hygiene education can be challenging, so Splash has developed fun, hands-on curricula. "Getting kids to wash their hands and getting schools to support that is significantly harder than you might imagine," says Stowe. "Our water projects are easy in comparison."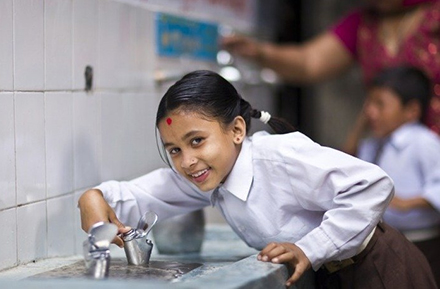 Although Splash is headquartered in Seattle, most staff live and work in the countries served. All international staff are local to their region, as are the government, corporate, and NGO partners for each project. Local ownership is critical, since Splash plans to hand over the reins once projects are established.
"To do our best work, we have to build Splash to be taken over by local businesses that are funded by local governments and supported by local communities," says Stowe. "Philanthropy at its best acts as a bridge to a long-term solution, rather than acting as the solution itself." In Thailand, a local corporation is poised to continue Splash's work; in Bangladesh, the Bangladesh Rural Action Committee (BRAC)—the largest NGO in the world—will do the same. "We're sharing all our propriety knowledge with them, showing them what we do really well, and getting them past all the headaches and hiccups we went through," says Stowe. "And then we're going to let them do it far better."
That absence of ego—and commitment to local ownership—is a hallmark of Stowe and his nonprofit. "We're an odd duck in the NGO sector," says Stowe. "NGOs tend to be a territorial, secretive, isolated bunch. It doesn't make sense to me. We don't believe that we should have a presence anywhere for more than a decade."
"When all is said and done," Stowe adds, "I'll be satisfied if other people take our work and do it better than us, and more broadly than we ever could."
.     .     .   
To learn more about Splash's international projects, visit the nonprofit's website at splash.org.