"Stranger in a strange land." That's how Shirley Malcom describes her first few months as a UW freshman in 1963. Coming from an Alabama high school where every student, teacher, and staff member was African American, it was a shock to be one of three African American women among the four hundred female students in her residence hall. In her science classes, she was the only African American woman.
"It was hard," says Malcom (BS, Zoology, 1967), "but I realized that the isolation was temporary and I needed to take advantage of the opportunities I had."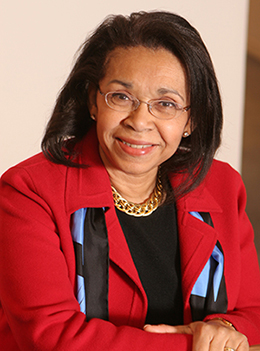 Harder yet was discovering that, despite being a star pupil in Alabama, she was woefully underprepared for her UW science courses. After failing two quizzes in a freshman chemistry lab, Malcom knew she needed help but hesitated to reach out to her white professor, convinced that he would deem her incapable of the work and suggest a lower track.
"I'd seen those kind of biases in Alabama," she says. "That kind of pre-judging is devastating to students who are bright and eager but haven't had the background to be able to be competitive." Malcom did, however, feel comfortable reaching out to a teaching assistant who was African American. He understood her situation, worked with her, and she aced the next quiz.
"If someone says diversity isn't important, don't believe it," she told UW's Columns magazine, sharing the teaching assistant story years later.
That freshman experience served as a harbinger of things to come for Malcom, who went on to become a national leader in science education. For more than four decades, she has worked to enhance public science literacy and increase access to education and careers in STEM fields.  Her efforts have earned her dozens of major awards, from the UW's Alumna Summa Laude Dignata Award to the National Academy of Sciences' Public Welfare Medal. She has co-chaired numerous national committees, including the National Science Board Commission on 21st Century Education in STEM.
Through the years, I've had many colleagues say, 'If it ain't broke, don't fix it.' My response is, 'By whose definition is it not broke?'
Malcom came to the UW intending to pursue a career in medicine. "I had no idea you could do anything else with science," she recalls. When she later cooled to the idea of medical school, her faculty adviser (Professor Alan Kohn, now emeritus) suggested a career in academia. "He did everything to support me in terms of going in a different direction," says Malcom. "Everybody needs someone who can step up as a guide or mentor, somebody who believes in them."
Malcom entered a graduate program at UCLA, paused briefly to teach high school science, and eventually earned a PhD in ecology from Penn State University. She joined the faculty at the University of North Carolina-Wilmington, then switched to a job at the American Association for the Advancement of Science (AAAS) when she married, since her husband's work was in the Washington, D.C. area. She headed AAAS's Office of Opportunities in Science for a decade before heading AAAS's Directorate for Education and Human Resources Programs, a position she has held since the directorate was established in 1989. "I've been able to play on a much bigger stage than I would ever have imagined," she says. "It's just been remarkable."
One of Malcom's early projects at AAAS was an inventory of science programs for minority students. She discovered that most programs focused on male students, with an emphasis on engineering. She shared her findings as co-author of "The Double Bind: The Price of Being a Minority Woman in Science," a 1976 landmark report that documented how racism and sexism handicapped women in science. "There were minorities and there were women, and for those of us who were both, there wasn't a lot of attention to how our lives and situations might be different," says Malcom.
Malcom also found that most science programs for minority students were at the college level, overlooking younger students with an interest in science but no clue how to proceed. "It just didn't seem that there had been a lot of real strategy and deep thinking that had gone into these programs, to figure out what needed to be done to actually move the needle," she says. Malcom established youth outreach programs to nurture an early interest in science, offered through churches and other non-academic channels that proved more open to change than public schools.  
Forty years after Malcom's landmark report, women and minorities are finding greater success in the sciences, but challenges remain. Women receive fewer peer nominations for major prizes than their male colleagues and less frequent consideration for leadership positions."Women are still not getting their due, though it's a more nuanced issue now," says Malcom. "It's easy to put your hand on the overt stuff, but this is harder because it's more subtle. If you complain about it, you sound like you're whining—and nobody likes a whiner."
Malcom and her daughter Lindsey, a research associate professor at USC, wrote "The Double Bind: The Next Generation" as a follow-up to Malcom's 1976 report. Published in the Harvard Educational Review in 2011, the study sheds light on issues currently facing minority women in science. 
"Through the years, I've had many colleagues say, 'If it ain't broke, don't fix it,'"says Malcom. "My response is, 'By whose definition is it not broke?'"
Much of Malcom's ongoing work involves promoting policies that counter unconscious bias, recognizing that bias can be insidious and hard to prevent regardless of good intentions.
"We all have biases," says Malcom, "and there are ways to mitigate the effects of these biases. But first we have to admit that they exist."