Imagine a country left behind during the digital revolution, with no internet access or smartphones. Imagine citizens dependent on word-of-mouth for information because the repressive military government monopolizes all communication. That country was Myanmar (formerly known as Burma) until 2013.
A reformist government speeded the transition to democracy in Myanmar three years ago, and the changes have been breathtaking — including access to information. In 2011, just four percent of the population had mobile phones. Now the figure is closer to eighty percent, with many people owning smartphones. But navigating the flood of online information can be problematic for new users with no experience assessing the trustworthiness of sites and sources. An initiative launched by UW faculty aims to change that.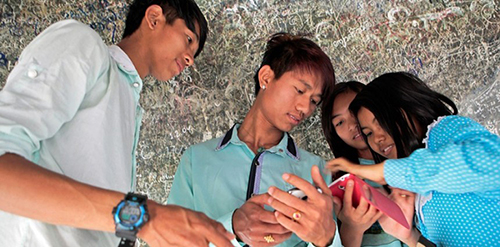 The initiative, Information Strategies for Societies in Transition (ISST), is designed to build digital literacy, information literacy, and data literacy across Myanmar. Professors Mary Callahan and Sara Curran in the Jackson School of International Studies, Chris Coward, director of the Technology & Social Change Group in the Information School, and Michael Crandall, a principal research scientist in the Information School, lead the project in collaboration with USAID, Microsoft, and the Bill and Melinda Gates Foundation.
"When we started this collaboration, we identified Myanmar's leap across the 'digital divide' as portending both enormous risks and possible opportunities in every sector," says Callahan, who has studied Myanmar for nearly 30 years. Callahan explains that the risks stem from the onslaught of relatively cheap access to unfiltered information in a country that had "discouraged critical thinking in all ways possible" for decades. The opportunities include the potential to harness the power of digital information for social good.
Recognizing these risks and opportunities, the ISST team launched several projects, collaborating with local groups in Myanmar. "Our feeling was that we really had to have partners in Myanmar who would lead and help drive the project," says Curran. Together they developed a curriculum around mobile information literacy, with modules covering the basics of the internet, online etiquette, privacy and security, and other topics.
One module compares Facebook and dedicated search engines as sources of information—a particularly important comparison in Myanmar, where Facebook use has skyrocketed. The social network holds huge appeal to citizens who previously looked to friends and family for information when the military government controlled the media. "Everyone there thinks Facebook equals the internet," says Curran. "They think Facebook is the platform in which you can find everything you need to know. We want them to understand that Facebook is a business that uses your information in a variety ways, directs you in specific ways, limits what you can see, and has algorithms in the background. It's important that people be aware of that."
There is a euphoria among all of our partners, in that almost every day they see evidence that their work is making a demonstrable difference.
The Burmese language mobile information literacy training was first offered in Myanmar to a group of 50 mid-career professionals from government, news media, libraries, and other fields in 2014. Half of that group continued their training at a month-long workshop at the UW; upon their return to Myanmar they began leading workshops through the country's large network of libraries. The program has since trained 300 master trainers, who have trained thousands of librarians and citizens.
"There is a euphoria among all of our partners, in that almost every day they see evidence that their work is making a demonstrable difference," says Callahan. "Kids, the elderly, and many otherwise excluded populations are getting access not only to digital resources, but also to guidance on how to make sense of them. Our partners are not teaching people how to surf the internet, but how not to use it in ways that could set back their personal interests and the hopes of their communities."
The initiative also brings disparate groups together to pursue shared goals. At an Information Symposium held this January in Myanmar, organized by ISST, 150 Myanmar community leaders from all walks of life met to discuss next steps in the country's information revolution, including ways to leverage information technology to advance an inclusive democracy.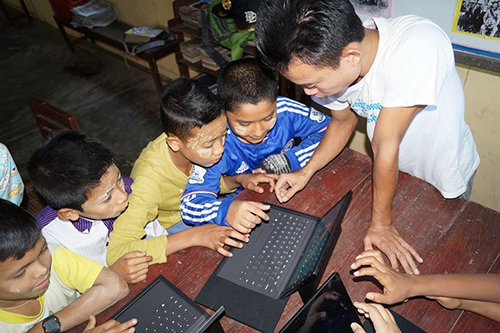 "It was a remarkable event," says Callahan, who attended with Curran, Coward, and other UW colleagues. "Everybody had something to say, from well-known writers to senior officials in the administration. There were people on opposite sides who had never actually converged before and never trusted anybody outside of their inner circle. There was a shift away from blaming the government to seeing that they, as citizens, can have a role in making things better."  
As progress in Myanmar continues, UW faculty will remain involved — creating more advanced modules for mobile information literacy, and working with software company Tableau to encourage effective and transparent online content — but collaborators in Myanmar will take the lead. "We are working very closely with our partners and providing as much guidance and support as they need," says Curran, "including weekly meetings, regular trips to Myanmar for hands-on support, and working groups of UW students providing research and accessible materials. But our partner organizations in Myanmar are pretty much driving the program agenda now."
That's as it should be, says Callahan, who began working in Myanmar as a graduate student in 1988.
"Some 27 years later, I still find the country utterly compelling in both personal and intellectual terms," says Callahan. "There is no other place I have ever been where I have been so inspired by the resourcefulness, grit, and perseverance of people who have been dealt such an unfair hand politically, culturally, socially, and economically. And I am so grateful to my UW colleagues, whose interests were not explicitly in Burma, but who were open enough to recognize a unique moment in history to bring our university's resources to bear upon an uncertain transition. There is still much to be accomplished in Myanmar, but it is so heartwarming to see friends who struggled to live with the most basic dignity now pursuing their long-buried visions for their country."
.     .     .     .
For more information, visit the Information Strategies for Societies in Transition webpage.