Dance major Angel Langley was nine years old when her father won six months of dance lessons for her in a raffle. As a teen, she tried social ballroom dancing and studied modern dance at Velocity Dance Center on her own dime.  But it was a hip hop dance battle that intensified her commitment to dance.
"I remember how people supported each other," Langley says of watching her first battle, held in the student union building at Highline Community College. During battles, dancers take turns competing within a circle formed by the audience. Other dancers encouraged Langley to take a turn that day. While she decided she wasn't ready for that, she was hooked on hip hop.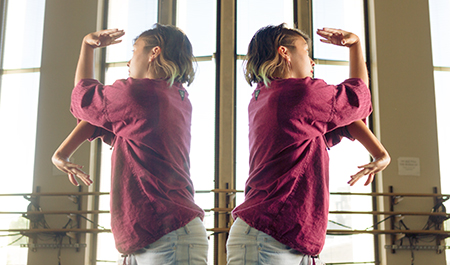 It would be two more years before Langley finally competed. Her hesitation came, in part, from the dearth of female participants. "It was male dominated," she says. "There was a lot of hubris, a lot of testosterone in the air. The girls who did dance, it was all sexualized. That's okay, but you shouldn't feel like you have to dance like that."
When Langley did eventually compete, she performed in her preferred hip hop style, popping. "In popping, the point is to accent a beat or shape in the music, like orchestrating your body to the music," Langley says. "It's very illusionary. It's like painting with your whole body."
All hip hop is male dominated, but popping is particularly so. After a few years as the only female visibly aspiring to do popping in Seattle, Langley — by then a UW honors student majoring in dance — decided to do an ethnographic research project about female poppers. She presented the resulting paper at an academic conference, UC-Riverside's Show & Prove Hip Hop Studies Conference, with support from a Mary Gates Travel Scholarship.  
I thought, 'What if I had all my idols in one space?' So it started with a selfish idea, but also the desire to celebrate women and hip hop.
But Langley wasn't done. She also organized an ambitious conference for female poppers, funded through a Mary Gates Leadership Scholarship. "I thought, 'What if I had all my idols in one space?'" recalls Langley. "So it started with a selfish idea, but also the desire to celebrate women and hip hop." Other female poppers, feeling the same isolation, came from as far away as Japan to attend.
The conference, WHAT'S POPPIN' LADIEZ!?, began with master classes at the UW and workshops at a breakdance studio in Seattle's International District, all taught by visiting female poppers. "They each had different styles of popping," says Langley. "I'd never had any female popping mentors, so that was something I wanted to see."
The conference continued with an event at Moksha, where female poppers performed choreographed showcase versions of their dance styles. Then came a battle featuring the poppers, two female DJs, a female MC, and an all-female judging panel. Unlike a showcase event, battles are improvisational, with dancers responding to whatever music is playing at the time.  
"At most battles of poppers, the DJ, the judges, all my competitors, they're all guys," says Langley. "I felt like the only way to call out my community in a healthy way was to organize a counter-event. I wanted to put Seattle on the map while also creating a platform for female poppers to share their own stories, experience, and skill through the exchange of dance."
Before the conference, Langley — who goes by Moonyeka in the hip hop universe — had connected with other female poppers through social media.  But being in the same space for a battle was a completely different experience. "Oftentimes in the battle scene, I'm the only female," says Langley. That's true for most of these women. They're often on solo journeys. Here we could be our whole selves, unapologetically. It was magical."
Juliet McMains, Langley's adviser for the project, agrees. "I loved seeing the camaraderie, skill, creativity, ethnic diversity, and such a strong showing of women," says McMains, associate professor of dance.
Langley's one regret? The timing. "If I could go back, I'd never tell myself to organize something like this while I was in school and working," she groans. Langley teaches at several Seattle dance studios, and will continue to teach after she graduates this fall. She also dances with Au Collective, a Seattle dance company that puts people of color, queer people, and women at the forefront of its work.
Looking back on the May event, Langley says, "It's like utopia happened and now it's gone again." But that just motivates her to introduce more Seattle women to popping.
"There are just a few of us female poppers, and we're all working hard, and we're all alone in a way," says Langley. "A lot of female poppers are moving to L.A., but I plan to stay in Seattle. There's a lot of work to do here."