Meghan Peters (BA, Communication, 2008) arrived at the University of Washington with an interest in journalism. As a freshman, one of her first stops was The Daily, the UW student newspaper. Before long she was writing for the paper, later serving as a news editor and features editor.
That go-to attitude has served Peters well since graduating, despite the rapidly changing landscape for journalists. Today she is a manager of strategic partnerships at Facebook, where she works closely with journalists and media organizations to find ways they can partner to expand their audiences and enrich their storytelling. 
One of Peters' earliest journalism jobs was her most memorable. Through the Department of Communication's Foreign Intrigue Scholarship, which places undergraduates at English-language newspapers outside the U.S., Peters interned at the Beijing-based China Daily. The Olympics were held in Beijing that summer, and Peters was in the thick of the action.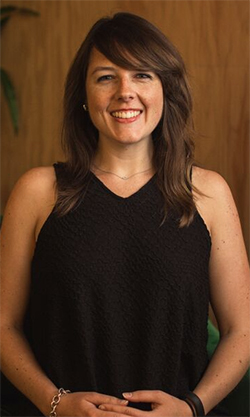 "It was one of the greatest things I've ever done in my life," Peters says. "I definitely got lucky on the timing. Being able to report on the Olympics was phenomenal." As a native English speaker, Peters found herself in particularly high demand for the publication's audio podcasts and online videos. "One big service the China Daily provides is English language learning for Chinese audiences," Peters explains, "so being a native speaker was a real plus."
Beyond the opportunity to live in China and gain hands-on experience, the internship expanded Peters' thinking about media in general. "It set the tone for a lot of how I think about and approach things," she says, "especially in terms of being open and always trying to come to a mutual understanding, knowing that the other person may not be of the same mindset going into a conversation. I developed problem-solving skills that still help me today." 
Though Peters left Beijing with impressive work experience, she returned to a dismal job market in the U.S. The economy was in disarray and newspapers were downsizing or worse, leaving both new and seasoned journalists scrambling for work. "I still wanted to do newspaper journalism, but I knew I had to keep an open mind to other opportunities," Peters recalls. She landed a job at Microsoft, running a blog that provided advice for Microsoft job applicants. 
The way people are getting their information has changed and is continuing to change. The organizations that adapt are going to be the most successful.
Still keen to do newspaper journalism, Peters got her chance with her next job, working as a web producer at The Seattle Times. The job involved updating the website whenever there was breaking news. "When news breaks, you have to be on top of it," she says. "People are looking for accurate, up-to-date information right away." Social media was on the rise, and Peters was immersed in translating print news to online platforms. "It changed how I thought about journalism and how people read the news," she says. "That's when I became more involved with the social media side of things."
Eager to dive into a larger job market, Peters took a job with New York-based Mashable, the largest news source dedicated to covering digital culture, social media, and technology.  As Mashable's community director, Peters was responsible for growing the company's audience, which meant understanding how people found their way to the site, what stories interested them, and whether it was the story's content or approach that was the main appeal.
In her current job at Facebook she asks similar questions, but with an emphasis on partnering with media organizations. The goal is to find mutually beneficial ways to help publishers grow their audiences on Facebook. She has worked closely with traditional news sources like the The New York Times, though her current focus is digital publishers like Buzzfeed, Vox Media, and NowThis. "I see more experimentation from a lot of media organizations," Peters says. "The way people are getting their information has changed and is continuing to change. The organizations that adapt are going to be the most successful."
Asked what her college-age self would think about her current career, Peters laughs. "It's kind of crazy—from when I graduated until now, the media landscape is entirely different," she says. "Things move so quickly now. Technologies that enable us to connect have become much more sophisticated."
And yet, Peters adds, her current work isn't as far from her original goals as people might think. "The reason I was attracted to journalism in the first place was that I really liked the community-building aspect of it," she says. "Having a deep understanding of audiences--why people read what they do, what types of stories people connect around—that's always been interesting to me. I'm still doing that now, just in a different way."
. . . 
Learn more about the Department of Communication's Foreign Intrigue Scholarship and other opportunities to support UW students.