Anna Sulc is passionate about environmental conservation. She also loves French literature. Her two interests may appear to have nothing in common, but Sulc has found them complementary in unexpected ways.
"Focusing on the humanities in addition to a STEM major gives me this human perspective," says Sulc, who graduates this month with majors in oceanography and French. "I actually see a lot of parallels between the two."
French is Sulc's third language, after English and Czech. Raised in San Diego, she spent childhood summers visiting relatives in Prague and then moved to the Czech Republic for high school, where French was among the subjects she studied. At the UW she thought she'd continue with a few French literature classes, but when she kept finding more French courses that interested her, she decided to become a major.  
Focusing on the humanities in addition to a STEM major gives me this human perspective.
Sulc is particularly intrigued by a literary movement in seventeenth century France, mostly led by women, called préciosité. Woman writers at that time had significant influence, yet their role has been largely forgotten. "I became interested in why these people have been erased from history and the consequences of their activities on France today," Sulc says. "I want to learn how the past makes us who we are today."
To learn more, Sulc spent several weeks last summer at the French National Library (BNF) in Paris, with support from a Míċeál F. Vaughan Scholarship from the College of Arts and Sciences, awarded to conduct archival research. Her goal was to view seventeenth century books and manuscripts, but first she had to gain entrance to the library's secure archive. "Being able to visit a closely guarded underground archive and to see the dedication to carefully protect and preserve literary history was awe inspiring" Sulc says. Once there, she studied beautifully preserved manuscripts with hand-written annotations and revisions that reflected historical events.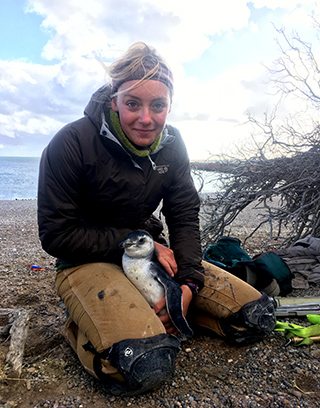 Along with her humanities research, Sulc pursued biology research at the UW, which led her all the way to remote Punta Tombo, Argentina, one of the world's largest breeding colonies of Magellanic penguins. As a member of a research team led by Dee Boersma, professor of biology and Wadsworth Endowed Chair in Conservation Science, Sulc studied the penguins and the ecosystem in which they thrive. She first learned of the research opportunity while taking a course on wildlife societies her freshman year, taught by one of Boersma's graduate students. She joined the research team her sophomore year, first on campus working with data sets and then in the field.
With two other researchers, Sulc spent seven weeks studying a penguin colony in Punta Tombo in winter 2019. The nearest town, which the team visited every ten days to communicate with the outside world and buy groceries, was more than two hours from their research site by car. "We were in the middle of nowhere with the penguins for 10- to 14-day intervals," says Sulc, who visited the colony again last fall. "If we weren't there so long, we wouldn't be able to observe all these tiny details. Watching the chicks grow up, you develop such a close relationship with the animals you study. You're always learning something new." A Washington NASA Space Grant Scholarship provided extra support for Sulc's research.
Sulc's penguin research contributed to her senior thesis in oceanography, looking at phytoplankton productivity in relation to penguin foraging patterns. She completed an honors thesis for her French major as well, working with Professor Geoffrey Turnovsky. Sulc wrote a series of computer scripts in Python, a programming language, to extract names mentioned in correspondence. Using this data, she was able to generate a digital map of the literary circles that had long fascinated her. The digital humanities methods Sulc used for her research were similar to those she uses in the sciences. "I started looking at the literary circles as if they were an ecosystem, studying the different levels and interactions between people in the same way I would study predators and prey," she says.
Just as Sulc's science background benefited her literary scholarship, the opposite has been true. She is currently working with Oceanography professor John Delaney on a project that explores human interactions with the ocean, past and present, and finds that her background in the humanities has helped prepare her for this work. "My French major has given me a much more human perspective on a lot of issues than I would have had otherwise," she says.
The current oceanography project reflects Sulc's interest in engaging the public around conservation issues. With support from a Mary Gates Leadership Scholarship, she partnered with high schools in Friday Harbor and West Seattle to present a brief curriculum about oceans and our relationship to them. Class sessions have been held remotely due to social distancing, but Sulc has been impressed with the students' responses. "I gave them an opportunity to discuss their own future, the future of the planet, and why these issues are so complex and difficult to resolve," she says. "They were really engaged."
Sulc and Delaney are now seeking National Science Foundation support to expand the project and her work with Washington high schools over the next year.  She plans to apply to graduate school in the future, though her destination is still unclear.
"What my passion really comes from is getting people excited about the oceans, about conservation, and most importantly, about taking action in any way that they can," Sulc says. "I may go into research, but I definitely don't want to lose my connection with the humanities. I'm very interested in the human aspects of the problem."