In her novel, The Last Story of Mina Lee, Nancy Jooyoun Kim tells the story of a single mother struggling to survive in Los Angeles's Koreatown after immigrating from Korea, and her relationship with her American-born daughter. The novel was a Reese's Book Club pick and a New York Times bestseller. Kim, an alumna of the UW Department of English (MFA, Creative Writing, 2006) spoke with Perspectives editor Nancy Joseph about the book. See related feature story. 
What led you to start writing this book?
It began as a short story about a young Korean American woman. There was a subtext of her having a mother she loves but in many ways has tried to escape by moving from Los Angeles to Seattle. There's also the dynamic of her not being able to understand her mother all that well because her mother speaks Korean and she only speaks a little bit of Korean. Every time her mother calls, she dreads the conversation while also wanting her mother to always be there for her. A few years after writing that story, I started to think about what would happen if the daughter visited LA and found her mother dead in the apartment she had been dreading going back to for so many reasons. The book was an opportunity to explore the many layers of that mother-daughter relationship and how complicated it is.
How much of your own experience informed the book?
The novel is not autobiographical, but in many ways I identify with the emotional and psychological terrain of the book. It's very familiar to the life I've lived and the world I've lived in, in terms of the complexity of the mother-daughter relationship. I have a single immigrant mother who speaks very little English and I've struggled all my life to communicate with her. The ways the mother and daughter in the book love, need, and at times resent each other are very real to me. But the events of the book didn't actually happen.
Most of the central characters are single women living outside the mainstream. Can you talk about that choice?
I wanted to write a narrative that centered on women who were not only enduring but also creating change in their lives, finding alternative narratives for themselves outside of the mainstream. Women who were outsiders in so many ways. These women are at the fringes of not only American mainstream society, but also the fringes of the Korean American community because they are not married. I wanted to show single women, immigrant women, as agents of change.
The ways the mother and daughter in the book love, need, and at times resent each other are very real to me.
And yet the challenges these women face never seem to let up.
There's this myth of meritocracy, that if you come to this country and you work really hard, you're going to succeed. And what that does is penalize people who don't succeed by the standards of the American dream. In many ways, this book is a counternarrative to that story. This book is about people who do not fit the model of the American dream.  I think it's important not to forget the people who will never leave Koreatown, who can never afford to own a house. No matter how hard Mina works, the circumstances of her life will really not change. That's a harder story to tell, and that's why I'm interested in it. We often invest in this idea that if you work hard as an individual, things are fair and they'll play out, but that really ignores the reality of a lot of immigrant communities and communities of color where the playing field is not level.
It's interesting that the daughter comes to understand her mother better after the mother's death.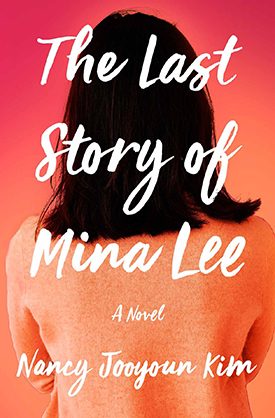 Finding her mother's body (not a spoiler!), the daughter feels the need to figure out not only how her mother died, but also how she lived. This is a huge task for any child. I lost my father in a car accident when I was in my early twenties, so I know what it's like to lose someone suddenly. You're propelled into living another person's life because you're suddenly closing out their accounts, you're making decisions about what to do with all their belongings. It's a very painful and difficult thing to go through. At the same time, even after people pass, there are ways of connecting with them, mining through memory, thinking about the things that they loved, the things that they didn't understand, that pay homage to them and not only help you develop a better understanding of who they were, but who you were in relationship to them.  
Who was your imagined audience when you were writing the book?
I was writing the book for a younger version of me. That was my primary audience and goal — someone who was not used to seeing the complexities and the nuances of their experiences on the page in a way that is sometimes painful but at the same time revelatory and truth-seeking and truth-telling. I think that there is great power in creating representations of people in which they can see themselves.
What's been the impact of Reese's Book Club featuring the book?
It's been wonderful. It felt like being struck by lightning. I've been toiling away at this book for so many years because these characters, I love them so much. They captivated me in many ways, and this is a very deeply personal book. And so I could not have imagined a more mainstream audience really connecting with them. It's striking that this story managed to connect with a large number of people. This immigration story feels so specific in many ways, and yet it's tapped into something universal. That's what art does. I just feel so grateful.
What response from readers has been most meaningful to you?
I'm always the most moved by people who've told me that the book has made them want to call someone they haven't spoken to in a long time, or has made them want to ask questions of people that they love that they've never thought of asking. That, for me, has been one of the most touching aspects of this. Just the impulse to connect with people when we otherwise might not have made the time to do so.
. . .
Read Two Perspectives on the Korean American Experience for more.