Nancy Joyoun Kim began writing a novel about a Korean immigrant and her daughter almost a decade ago. E. J. Koh embarked on a memoir about multigenerational trauma in her Korean family three years later. Both writers are first-generation Americans, with ties to the UW Department of English — Kim earned an MFA in creative writing in 2006; Koh is a PhD student in English Language and Literature. Both books were published in 2020 and received critical acclaim. Yet their portrayals of the Korean American experience are very different.
Kim's novel, The Last Story of Mina Lee, highlights the struggles of an undocumented immigrant raising her daughter alone in Los Angeles's Koreatown, with poverty as a constant worry. In Koh's memoir, The Magical Language of Others, money is a catalyst in a very different way: though her family reached financial stability, her parents returned to Korea when her father received a lucrative job offer, leaving 15-year-old Koh and her brother alone in the US for seven years. It was nine years before the family reunited.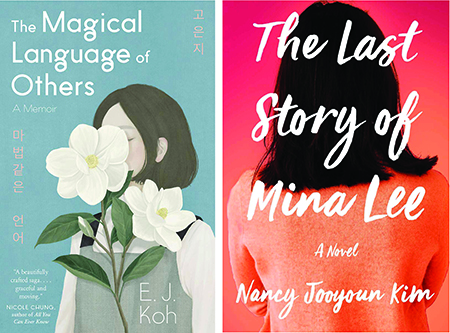 "These two books reinforce the idea that the Korean American experience isn't a monolith," says Koh. "It can't be represented by a singular narrative. What stands out about the Korean American experience is its diversity."
A Family Divided
Koh, who previously published an award-winning book of poetry, A Lesser Love, was inspired to write her memoir after rediscovering 49 letters her mother had written her while they were apart. The letters provide a fascinating window into their relationship. Koh translated the letters from Korean to English and included ten of them in her book, followed by chapters that add backstory and context. Koh channeled her troubled younger self while writing, but also interviewed others and conducted historical research to better understand her family.  What she found was a long history of trauma, from a devastating family loss during Korea's Jeju Uprising in the late 1940s to her mother's loss of her mother at an early age.
"Where we go with the memoir is always toward trying to understand somebody and their decisions," says Koh. "I'm trying to understand my mother not just as my mother. I want to see her as somebody's daughter."
Still, much of the book focuses on Koh's feelings of abandonment when her parents choose to live in Korea while she was a teen. Such a decision is not unusual in Korean culture — "in Korea, it's better to pay for your family than to be with them," Koh explains — but it was hard for Koh to accept when American culture prioritizes being near your family. With spare language and no melodrama, she recounts how her parents' leaving wreaked havoc on her physical and mental health.
Despite all that, the book moves toward forgiveness, which Koh admits required many drafts. "An earlier version of the book was angry," she says. "When I talked about forgiveness it was rhetorical; I wasn't doing the hard work of forgiving. …To understand forgiveness on a deeper level, I needed to become a different person than the person I was when I started writing this book. There was a constant pushing myself to change."
In fact Koh's whole family has changed as a result of the book. None of them expected the memoir to reach a wide audience, but rather than feeling uncomfortably exposed, they have found it healing. "All of this seemed like a family secret or burden," says Koh, "and once I exposed it, with vulnerability, then it was no longer just ours to carry. When the rest of the world shared that history with us, we all felt it wasn't as heavy as it had been before."
The American Dream, Out of Reach
Kim's book does not feature her family — it is a work of fiction — yet her own experience still informs the story. She grew up in a neighborhood near Koreatown, raised by a single mother who, like the parent in the story, never mastered the English language.
"The novel is not autobiographical, but in many ways I identify with the emotional and psychological terrain of the book," says Kim. "It's very familiar to the life I've lived and the world I've lived in, in terms of the complexity of the mother-daughter relationship. I have a single immigrant mother who speaks very little English and I've struggled all my life to communicate with her. The ways the mother and daughter in the book love, need, and at times resent each other are very real to me." 
While Kim's own mother is still alive, the book's fictional mother, Mina Lee, dies at the start of the story. Mina's 20-something daughter seeks answers about her mother's death, and through her explorations gains a new understanding of her mother, their relationship, and the shame she often felt growing up as her mother struggled to make ends meet.
The novel alternates between the current moment and the late 1980s, when Mina first immigrated to the US. We learn about tragedies in Mina's past and the challenges of navigating a new language and new country where the American dream is always out of reach.
"There's this myth of meritocracy, that if you come to this country and you work really hard, you're going to succeed," says Kim. "…In many ways, this book is a counternarrative to that story. The book is about people who do not fit the model of the American dream. I think it's important not to forget the people who will never leave Koreatown, who can never afford to own a house. No matter how hard Mina works, the circumstances of her life will really not change. That's a harder story to tell, and that's why I'm interested in it."
This immigration story feels so specific in many ways, and yet it's tapped into something universal.
Growing up, Kim struggled to find books that reflected her own experience, so she wrote her novel with an audience of a younger version of herself — a Korean American woman and the daughter of immigrants — in mind. To her surprise, the book was selected as a Reese's Book Club pick in September 2020 and found its way onto the New York Times bestseller list. Hearing from readers with vastly different backgrounds that they related to the book has been the biggest surprise.
"It's striking that this story managed to connect with a large number of people," says Kim. "This immigration story feels so specific in many ways, and yet it's tapped into something universal. That's what art does. I just feel so grateful."
To learn more about Koh and Kim's work, check out our interviews with each of the authors.