Language is a complicated issue in Ukraine. The national language is Ukrainian, but many citizens grew up speaking Russian. Some never learned Ukrainian. Others spoke it only at home. Now, with war raging, a question looms: how important is language to national identity? Can a citizen be patriotic without speaking Ukrainian?
It is a question that Laada Bilaniuk, professor of anthropology, has explored for decades. Bilaniuk, a linguistic anthropologist, studies culture through the lens of language. As a first-generation American with parents from Ukraine, her own first language was Ukrainian.
"When I started going to Ukraine as a researcher, I always felt this blend of being an insider, because I'm a native Ukrainian speaker, and an outsider because I was born and raised in the United States," she says.
A History of Suppression
Bilaniuk's first trip to Kyiv was in 1976, when she was seven. Her family spent seven months there for her physicist father's sabbatical. It was the height of the cold war and Kyiv was part of the Soviet Union. "I went to first grade there in a Soviet school," she recalls. "I wore the little uniform and learned poems about Lenin. Lenin was even in the math books."
To attend a school with classes taught in Ukrainian rather than Russian, Bilaniuk and her sister had to travel across the city. Ukrainian was considered a limited language, spoken in rural areas or at home.
The favoring of the Russian language over Ukrainian dates back to the 1800s, when Ukraine was part of the Russian empire. Various decrees forbade publishing, teaching, or performing in Ukrainian. That changed in the 1920s, as efforts to promote communism meant reaching out to more of the population. That included supporting Ukrainian language schooling.
The reprieve was short lived. In the 1930s, Joseph Stalin cracked down on the use of Ukrainian in his push for maintaining central control. "A lot of Ukrainian cultural leaders were killed or sent to gulags," says Bilaniuk. "One of the letters of the Ukrainian alphabet was forbidden. It's been brought back since."
The 1960s brought a brief renaissance in Ukrainian language and culture, followed by another period of suppression. Then Ukraine gained its independence in 1991 and Ukrainian became the state language.
End of story? Not quite.
Making the Switch
When Ukrainian became the state language, some people were reluctant to adopt the language. Historic characterizations of the language as unrefined and undesirable had to be overcome. Bilaniuk spent nine months in Kyiv during that time and found that people who spoke Ukrainian in their homes continued to speak Russian in public.  But during subsequent visits over the next two decades, she noticed attitudes changing.
There is always the question of when language is worth fighting for or changing. This war has definitely pushed the balance more in favor of Ukrainian.
"Every time I'd go back, I'd see the language situation transform," Bilaniuk recalls. "I started hearing more Ukrainian on the streets. First it would be people who spoke it at home who realized they shouldn't be embarrassed to speak Ukrainian. Or young people who decided, 'Hey, this is cool. This is my country.' So whether it was their first language or whether they started using it for ideological reasons, you'd hear more of it. Now Kyiv is about 50/50 speakers of Ukrainian and Russian."
The decision of which language to use has not been straightforward. Many older Ukrainians were raised speaking Russian, so switching meant mastering another language. But most Ukrainians have been exposed to and understand both languages even if they are not fluent in both, so for many the choice of primary language did not seem significant — until Russia's 2014 invasion of Crimea.
"That war helped spur a much stronger movement for people to switch to Ukrainian," says Bilaniuk. "A lot of people felt motivated then, knowing the historical reasons for the presence of the Russian language in Ukraine. There was the desire to right that historical wrong." Bilaniuk particularly recalls a news feature in which a woman who grew up speaking Russian explains her switch to Ukrainian. "I feel like I'm a little soldier in the war," the woman says in the feature. "By switching to Ukrainian, I'm doing my part."
Ukrainian leaders, including President Volodymyr Zelenskyy, are doing their part as well. During his election campaign, Zelenskyy, who grew up speaking Russian, shared vlog entries in which people would test him on translating Russian words into Ukrainian. Each wrong answer meant doing a set of pull ups. It was his entertaining way of showing his commitment to learning the national language.
Language Weaponized
What about those who haven't made the switch to Ukrainian? Some believe that indicates support for Russia, but Bilaniuk has not found that to be true. "It can be hard for adults to switch languages," she says. "Old habits die hard. But of those I've interviewed, even if they don't speak Ukrainian, they are supportive of their kids learning more Ukrainian."
Which again begs the question, just how important is this language issue? If people understand each other across languages, does their preferred tongue really matter?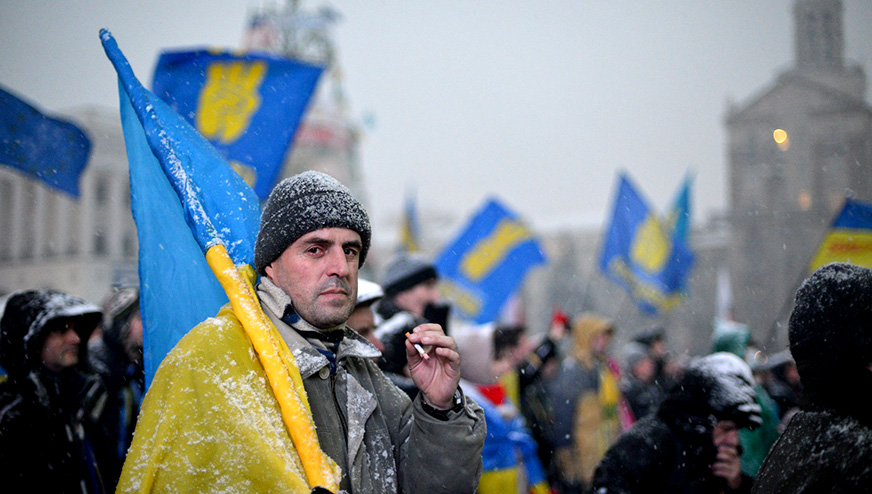 Russia's aggressive policies in occupied regions suggest language does matter. Russia has worked to eliminate the use of Ukrainian in those regions. In Crimea, none of the seven Ukrainian-language schools that existed before the Russian invasion remain.
Then there's Putin's framing of the Crimea incursion as an effort to defend Russian "compatriots" – with his definition of compatriots as Russian speakers in Ukraine. When Putin linked the Russian language with allegiance to Russia, and then used it as grounds to invade, the importance of language could not be ignored, notes Bilaniuk.
"Many people were compelled by Russia's actions to learn Ukrainian, or if bilingual, to use Ukrainian more often," says Bilaniuk. "There is always the question of when language is worth fighting for or changing. This war has definitely pushed the balance more in favor of Ukrainian. People feel this is a meaningful way that they can express their support for Ukraine."
Laada Bilaniuk is author of Contested Tongues: Language Politics and Cultural Correction in Ukraine (Cornell University Press, 2005).