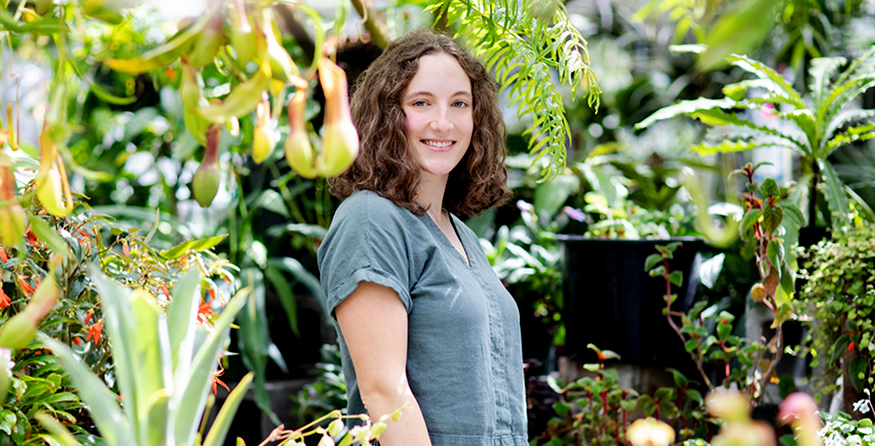 The summer before her senior year at the UW, Ava Kloss-Schmidt (BS, Biology, 2022) spent five days camping in central Oregon. She also made weekly trips to Mount Rainier and backpacked in the Cascades five times, sometimes bushwhacking to reach rocky alpine peaks.
On all those trips, Kloss-Schmidt was working. She was part of research teams gathering information about flora of the Pacific Northwest.
"I know it all sounds like fun and games, walking around in the forest collecting plants," says Kloss-Schmidt. "And it is fun. But it's also hard work."
A Fondness for Flora
Kloss-Schmidt has been fascinated by plants since childhood. Growing up in Seattle, she gardened with her mother and loved visiting the Volunteer Park Conservatory. She also was an avid viewer of documentaries about plants.
"Documentaries where they really zoom in on plants, I was obsessed with those when I was a little kid," she says. "And then in high school, when I learned how plants work mechanistically, I thought it was the coolest thing."
The breadth of things I've been able to do has been fantastic. That includes things I didn't even know the UW had to offer when I came here.
At the UW, Kloss-Schmidt knew she wanted to participate in plant research. She found her opportunity as a sophomore, in the lab of Adam Steinbrenner, assistant professor of biology and Washington Research Foundation Distinguished Investigator. The research team studies plant biology at the molecular level — specifically an immune receptor found in the legume plant family that allows plants to recognize when they are being eaten by caterpillars.
"When I started in the lab, I was still in introductory biology courses and really didn't know what I was doing," Kloss-Schmidt says. "I just threw myself into the deep end of plant immunity. I was like, 'I have no idea what's happening, but maybe I'll figure it out.'"
She definitely figured it out. Kloss-Schmidt now runs her own project in the Steinbrenner lab, creating a new legume line that lacks the immune receptor found in other legumes. Her hybrid plant will be an important tool for further research into legumes' immune recognition system. Scholarships have supported her work, including a Mary Gates Research Scholarship and four Department of Biology scholarships: the May Garrett Hayes Scholarship, the Usha and Rao Varanasi Scholarship, the Frye-Hotson-Rigg Scholarship, and a John and Dorothy Franco Award.
Research Requiring Muscle
While Kloss-Schmidt studies plants at the molecular level, she also has an interest in field research. Last summer she juggled two field research projects — MeadoWatch and Fifty Peaks.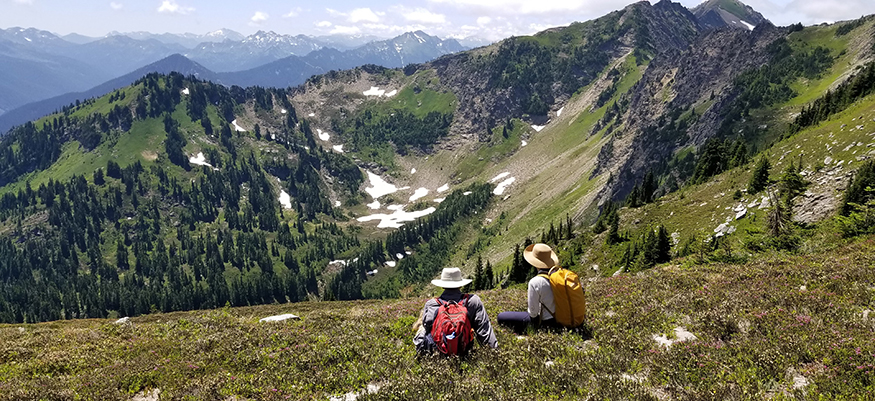 MeadoWatch is a multi-year citizen science project run by the Hille Ris Lambers and Brosi labs in the UW Department of Biology. Kloss-Schmidt interned as the volunteer coordinator, working with about 70 MeadoWatch volunteers who observed and collected data about wildflowers at two research plots on Mt. Rainier. By recording when flowers bud and release seed, and comparing those data with past years, the team is gathering valuable information about the impacts of snowfall, snow melt, and temperature on plants.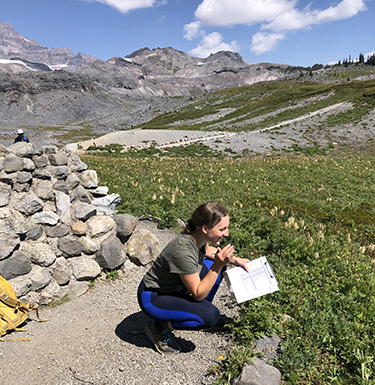 The other project, Fifty Peaks, is a survey of the complete flora of 50 alpine peaks over five years. Kloss-Schmidt prepared for that project by joining the Burke Museum's 2021 Herbarium Foray, an annual trip to collect plant specimens in various Northwest regions. But the foray — this year in central Oregon — did not quite prepare Kloss-Schmidt for the rigors of the Fifty Peaks project.
Working with project lead David Giblin and fellow Fifty Peaks intern Leo Linder, the team aimed to identify every plant species found in the rocky, exposed alpine environment and bring plant samples to the UW's Burke Museum Herbarium for thorough identification. Kloss-Schmidt quickly learned that Giblin — Herbarium collections manager and a research scientist in the Department of Biology — has "just unlimited energy" and Linder is "a superhuman hiker."  Being in their company made the trips both thrilling and exhausting.
Kloss-Schmidt laughs as she recalls a particularly demanding hike. "It was a two-night backpacking trip up Rock Mountain with about 4,000 feet of elevation over ten miles," she says. "I remember thinking, 'Wow, that first day was hard. At least the second day without backpacks will be easier.'  But the next day we hiked around the adjoining mountain and up Mount Howard which had no trail. There's a big difference between hiking on a trail and up a mountain with no trail, through wetland and brush. I remember thinking, 'Oh god, this is terrible. I can't believe I'm here right now.' Of course in the end it was a really fantastic experience."
A Dream Realized
About the time those summer internships wrapped up, Kloss-Schmidt learned that the new UW Biology Greenhouse was seeking a student assistant. After visiting the Volunteer Park Conservatory for years, it seemed like destiny.
"When I was younger, I thought working in a conservatory or greenhouse was the best job ever," she says, "so this was kind of that dream coming to fruition. I was still working in the Steinbrenner lab, but I could not pass up this opportunity."
Kloss-Schmidt's job initially involved helping move the plant collection from Redmond, where it had been stored for several years, into the new greenhouse space on campus. Then the focus turned to plant care, including pruning and addressing any pests or disease. "Moving into the new space, the plants needed special care and attention," she says. "We're finally getting caught up now."
Though she is graduating, there will undoubtedly be many more plants in Kloss-Schmidt's future. She hopes to pursue a PhD in plant biology, but first she wants more lab experience, possibly in a lab with a different research focus — an addition to her already varied experience with plants.
"The breadth of things I've been able to do has been fantastic," Kloss-Schmidt says of her time at the UW. "That includes things I didn't even know the UW had to offer when I came here. I would definitely do it all over again if I had the chance. Even that Mt. Howard hike."