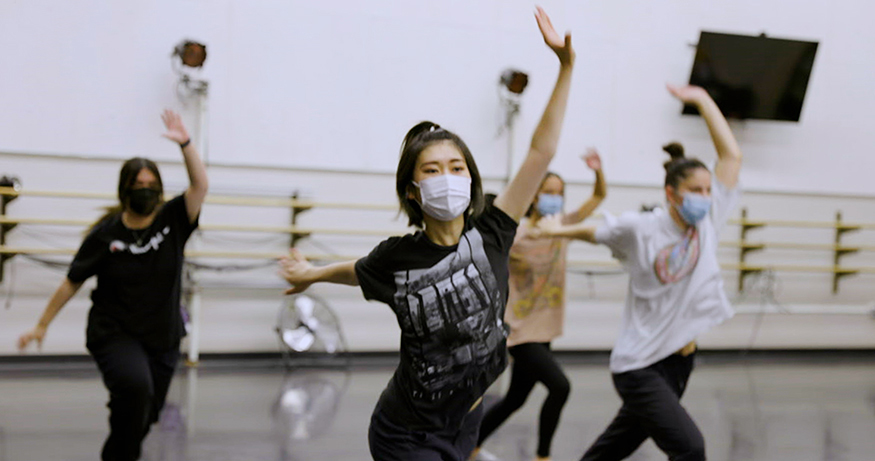 When renowned New York choreographer Ronald K. Brown entered a University of Washington dance studio in Meany Hall this fall, it was after years of planning. By all accounts, the visit was worth the wait.
The UW Department of Dance had invited Brown, founder and artistic director of EVIDENCE dance company, for a three-week residency in 2020. The COVID pandemic and personal health issues — Brown suffered a stroke in April 2021 — temporarily derailed those plans. Brown finally arrived in October 2022, joined by Arcell Cabuag, EVIDENCE associate artistic director.
During their three-week residency, Brown and Cabuag taught UW undergraduates an excerpt of "Dancing Spirit," a dance choreographed by Brown in 2009.  The students will perform the dance at the UW Dance Presents concert in January 2023 at Meany Hall.
"Ron is so respectful and so respected in the field," says Jennifer Salk, associate professor of dance, Donald E. Petersen Endowed Fellow, and Mellon Foundation Fellow. "For the residency, it was really important to have somebody who would make our students feel good about themselves. I knew Ron's reputation as an extraordinary human being."
Brown's visit was the third in a series of residencies funded through the Kawasaki Guest Artist Program in the Department of Dance, made possible through support from Glenn Kawasaki. (Previous Kawasaki guest artists were zoe|juniper and Etienne Cakpo.) The program provides students with access to a range of artists and artistic styles beyond campus. Guest artists also lead classes for the Seattle community.
A Mix of Styles
Ronald Brown's high-energy choreography blends Afro-Cuban, Afro-Brazilian, and modern dance. Students auditioning for his piece also reflected a range of genres. Some were experienced in ballet or modern dance; others had studied African dance and/or street and club-style dances. Brown was open to all of them. They had to commit to an intense rehearsal schedule of four evenings and one weekend morning each week during his three-week residency.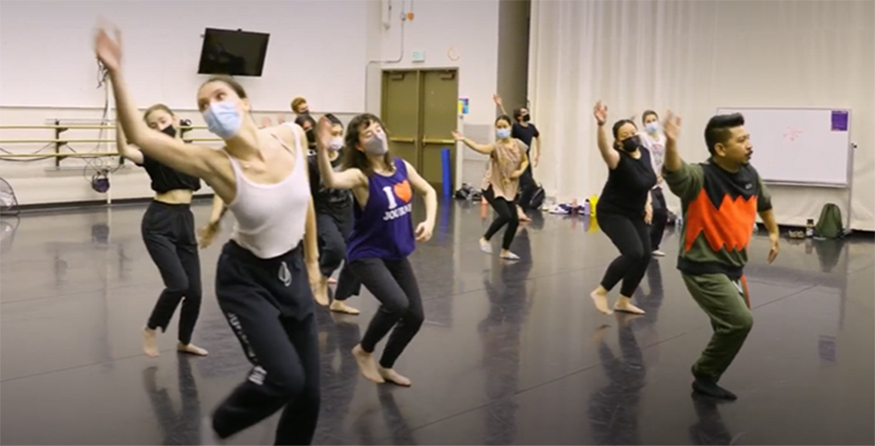 Reika Hattori, a drama major from Japan, auditioned for the dance with no expectation of being selected. Though she had taken African dance nearly every quarter since arriving at the UW, she had no experience with contemporary, modern ballet, or Cuban and Brazilian dance. But as Cabuag showed students portions of the choreography during the audition, she became excited. "I realized I really wanted to be part of this," she says. "I wanted this learning to continue."
They challenged and pushed us, but they were vocal about how much they believed in us.
Hattori was one of ten students selected for the dance. So was Olivia Anderson, a dance major who has studied many dance styles. She was drawn to the movement and emotion in Brown's choreography. 
"The choreography is challenging yet so invigorating to perform," Anderson says. "It is an exciting mix of styles, and it challenged me to bring my individuality and heart to the movement. There is a sense of release, freedom, and deep intention in every move. It's not just movement for movement's sake."
Making the Impossible Possible
Brown chose "Dancing Spirit" for the residency because the dance suits many types of dancers. Still, until he began working with the students, he didn't know if they would be able to perform the dance as intended or if adjustments would be necessary.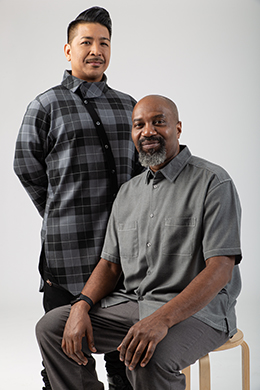 "The choreography isn't easy, but there were all levels of dancers in the room and they really stepped it up," Brown says of rehearsals. "Once we started cooking, it just started to fall into place. Arcell and I were happily surprised. We didn't change anything."
Salk credits Brown and Cabuag with understanding how to get the best from the students. She says working with students is not like working with professional dancers, and not all choreographers are able to adjust as effectively as they were.
"Restaging a work on undergraduate students, you're walking the line between the educational mission — giving them a new vocabulary and an experience with a professional artist from outside their world — and maintaining the integrity of the work," says Salk. "And everybody does that differently."
Hattori particularly appreciated Brown and Cabuag assuring students that what might seem impossible at first can be achieved over time. "They told us that no matter how impossible something seems, if you go through each step of the process and just do the work, one day you will be surprised by what you're capable of," she says. "I'll use that advice for all parts of my life."
The sharing of such advice was an important aspect of Brown and Cabuag's residency. At the end of difficult rehearsals, they often carved out time to sit with the students to process the experience and discuss how everyone was feeling. In those conversations, they also discussed their own journeys in the dance world.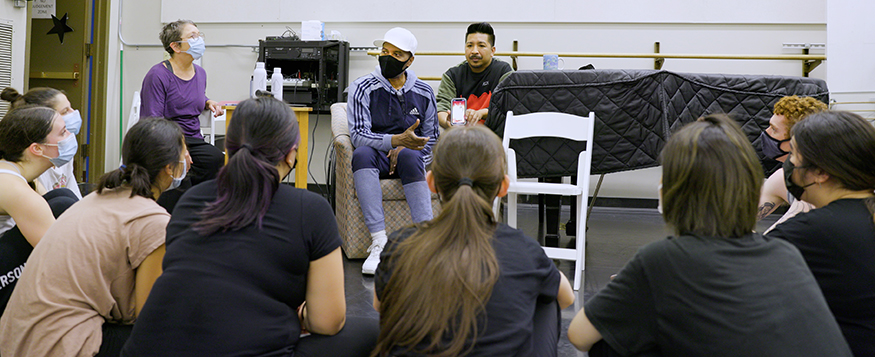 "I was touched by the stories they shared and how willing they were to invite us into their world," says Anderson. "Vulnerability from the choreographer helps break down some of the power structures in the room and allows the dancers to feel more comfortable being vulnerable too. They challenged and pushed us, but they were vocal about how much they believed in us."
The Light Turns On
Brown and Cabuag left Seattle when their residency ended in mid-October. Salk has continued to work with the students, to ensure the performance is ready for the upcoming dance concert (details below). She plans to send video clips of rehearsals to Brown and Cabuag for their input and may have them talk with the dancers over Zoom.
While Brown looks forward to the UW performance of his work, he says it's the journey — the opportunity to work with students — that compels him to participate in residencies like this one.
"I get to meet dancers and see lights turn on," Brown says. He recalls one UW student who came to dance late and was trying to find her place in the dance world. During rehearsals, he saw her visibly gain confidence. "I could see her getting to 'I can dance. I love to dance,'" he says. "I love seeing people discover that in the process."
Ronald Brown's "Dancing Spirt" will be performed at UW Dance Presents in Meany Hall from January 20 – 22.