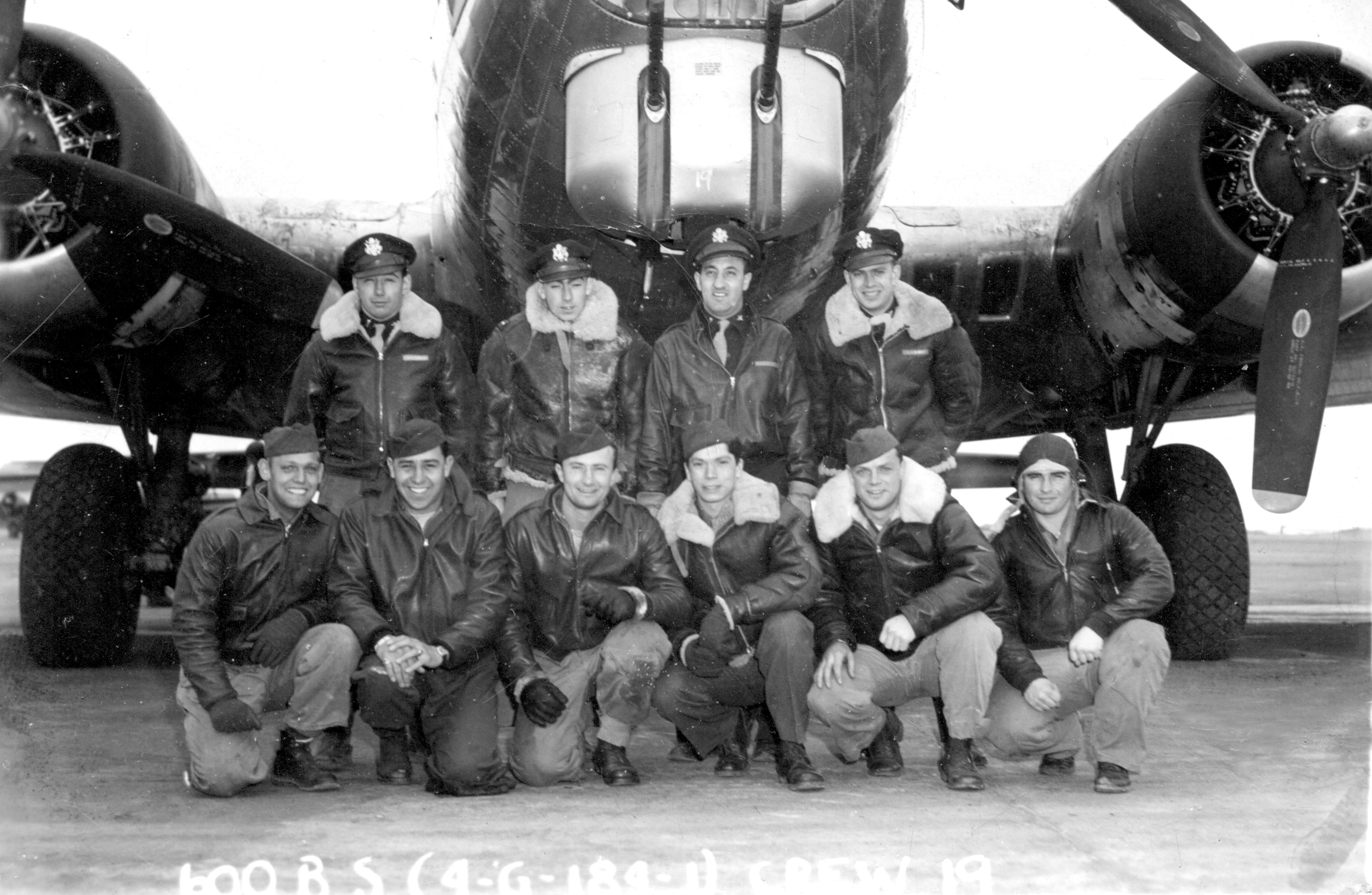 Isaac Alhadeff's life story could be a Steven Spielberg film.
After earning a UW business degree in 1938, Alhadeff was swept up in World War II. In February 1943 he joined the Armed Forces Ski Troops, then transferred to the U.S. Air Force, where he served as a first lieutenant in the 398th Bomb Group. He'd already piloted a B-17 on nearly two dozen missions when, on an August morning in 1944, his plane was hit by flak during a combat mission over Germany. A crewmate in a nearby plane watched as Alhadeff's bomber fell out of sight.
Like most Spielberg epics, this story has an uplifting ending. Alhadeff survived the war — and two prisoner-of-war (POW) camps — to live another 67 years. He became a generous donor to the University of Washington and attended every Husky football home game for more than six decades. As a Sephardic Jew with roots on the Island of Rhodes, Alhadeff also supported Seattle's Sephardic community.  
But first he had to make it through the war.  
Alhadeff and his entire crew managed to parachute out of the B-17 bomber. Unfortunately they were on enemy soil. "The Germans took him captive and threw him into the infamous POW camp for aircrew, Stalag Luft III," says Ike's cousin Ty Alhadeff (BA, Political Science, 2001), Sephardic Studies research coordinator in the UW's Stroum Center for Jewish Studies. "Only months earlier, this Luftwaffe-run camp had been the site of two famous prisoner escapes later depicted in the films The Wooden Horse (1950) and The Great Escape (1963)."
I...had the opportunity to thank him personally for his brave service to our country. In response, cousin Ike just gently smiled and remained silent.
Alhadeff experienced hunger and horror in the POW camp. Then, as the Russian army advanced in January 1945, the Germans marched Alhadeff and 10,000 other POWs through the snow before loading them onto railcars headed to Stalag VIIA, Germany's largest POW camp, near the Dachau concentration camp. General George S. Patton's tanks liberated the camp three months later.
After the war, Alhadeff returned to Seattle and his family's fish business. He and his brothers Jack and Charlie managed their father's Palace Fish and Oyster Co., adding Whiz Fish Products, Co., Whiz Eardley Fisheries, and the Pacific Fish Company. They were also deeply involved in Seattle Sephardic life — sponsoring, employing, and lending money to new immigrants. (Today's Sephardic population descends from Jews expelled from Spain in 1492, many of whom settled in Greece and Turkey. Until the 20th century, their primary language was Spanish-based Ladino, now endangered.)  
Alhadeff and his brothers followed the example of their father Nessim, who often loaned money to people down on their luck, accepting paper IOUs in return. "When [Nessim] died, there were three cigar boxes full of IOUs," recalls Sephardic community leader and UW Regent Joel Benoliel (BA, Political Science, 1967; JD, 1971). "lke and his brothers never opened the boxes. They took them down to the waterfront and dumped them through the slats into the bay."
Alhadeff's dedication to both the Seattle Sephardic community and the University are reflected in an endowed professorship at the UW: the Isaac Alhadeff Professor in Sephardic Studies. Funded through the Isaac Alhadeff Foundation, the professorship supports the work of the Sephardic Studies Program in the Stroum Center for Jewish Studies, part of the Henry M. Jackson School of International Studies.
"The Foundation's financial support came at a critical formative time for the Sephardic Studies program," says Benoliel. "It enabled the Stroum Center to build a world-class program focused on the rich Sephardic legacy in Seattle and around the world."
Devin Naar, holder of the Isaac Alhadeff professorship, is an associate professor of history and chair of Sephardic Studies. He sees a connection between Alhadeff's military service and his philanthropy. "Ike served in the U.S. Air Force to defend the U.S. and fight the Nazis, who were in the process of destroying his family's native community on the Island of Rhodes," says Naar.  "Having a Sephardic Studies professorship in his name is a tribute to his family and to the decimated Sephardic community in Greece."
Alhadeff passed away in 2012 at age 96. His cousin Ty has fond memories of time spent with him. "We were all inspired by Ike, whose namesake foundation has been crucial for the establishment of UW Sephardic Studies," says Ty. "I am grateful to have had the opportunity to thank him personally for his brave service to our country. In response, cousin Ike just gently smiled and remained silent."
.   .   .
Learn how you can support the Sephardic Studies Program.
For more about Ike Alhadeff and other Sephardic war veterans, see Ty Alhadeff's article, Seattle's Sephardic Veterans of the World Wars, on the Stroum Center website.