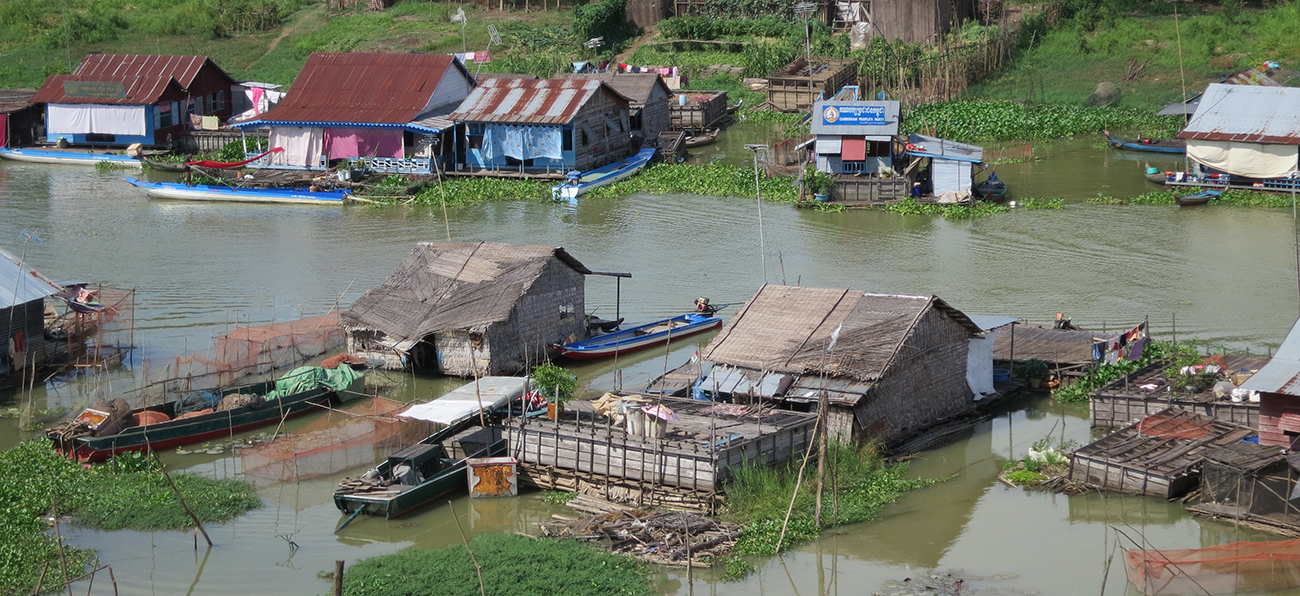 Taber Hand (MA, Geography, 1983) is not a magician. When he demonstrates how certain plants can turn sewage into clean water, it may seem like magic, but it is science — and the inspiration for Wetlands Work! (WW!), a wastewater treatment enterprise Hand launched in Cambodia in 2009.
Hand designs and builds wastewater treatment systems that harness the microbe-rich root systems and unique filtering ability of plants that thrive in wetlands. His company develops its treatment systems for extreme or unusual environments, including Cambodian floating communities and other settings where a lack of waste treatment leads to health and environmental problems.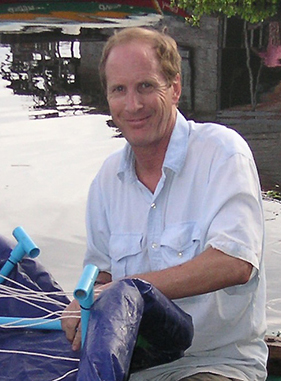 "For economically disadvantaged floating communities, there's never been a practical alternative to pooping in the water, which creates a number of bad health conditions," Hand explains. "During Cambodia's dry season, the lake water becomes so shallow that floating villages' ambient water becomes septic and black. Nevertheless, children still swim in it and people still root around the bottom for clams and such. One result is that floating-village children are significantly more likely to be stunted and have more health-related issues than upland rural children." To address this problem, WW! created the HandyPod — a miniature wetland ecosystem that attaches to floating homes to treat sewage before it enters the water.
Hand has always had a fascination with wetlands. He grew up surrounded by them and later pursued ecological research on them in the U.S. and abroad. He earned a master's degree in geography at the University of Washington, recognizing UW Geography as a "top US department with strengths in environmental issues and regional science," and then pursued a PhD in ecological economics at the University of Maryland. It was while studying wetlands in Cambodia for his PhD that Taber set up a street demonstration in central Phnom Penh to call attention to the remarkable ability of wetland plants to treat contaminated water. Using constructed wetland boxes, he treated smelly sewage blackwater pumped up from under the street.
My hope is that within five years, WW!'s HandyPod reaches one million or more people living in challenging sanitation environments.
"A sign exclaimed Wetlands Work! – Public Invited," Hand recalls. "The diverse and attractive wetland plants with their microbe rich root systems provided an output that was crystal clear water. That demonstration gave us a name and resulted in the first Wetlands Work! project requests, including a natural swimming pool and dormitory wastewater treatment at an orphanage."
Floating communities were a priority from the start, but there were challenges. While refining the HandyPod, WW! had to consider the regional availability of materials and — more difficult — the ingrained behavior of those for whom the system was designed.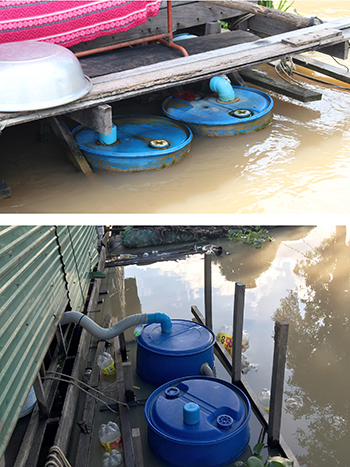 "Behavior change is one of the most difficult issues to affect," says Hand. "Once a technology is finally product-ready, the challenge becomes public awareness, motivating poor people to actually spend money on wastewater treatment when their open defecation practice has been free. Behavior can change, but it takes time, persistence, and creativity."
Fortunately, Hand is both creative and persistent. Working with local communities, local authorities, and civic leaders, WW! promotes sanitary awareness and trains teachers in hygiene education for their students. WW! staff has developed a wetlands education program for schools, and anticipates funding a full-time educator within two years.
To kick-start the use of HandyPods in communities, WW! distributes free HandyPods to about seven percent of a village's households through an equal opportunity raffle. Government subsidy programs also help households purchase HandyPods. And WW! trains local laborers to actually build the pods. "To be sustainable, it is important that local businesses are developed to market, make, install, and maintain the HandyPods," says Hand.
Thanks to recent grants from the Gates Foundation and other sponsors, WW! has been scaling up its processes and diversifying its reach. In addition to floating communities, WW! now has treatment solutions for resorts, dormitories, and even contaminated industrial discharges. One of Hand's favorite designs, still in the research phase, is the TerraPod, a simple gravity-flow system to treat persistent environmental contaminants in water, including estrogen, BPA, and pharmaceuticals. To accomplish its many projects, WW! has a four-person staff, supplemented by interns from Cambodian universities and international volunteers with relevant experience.
Hand has run Wetlands Work! from an office in Cambodia for nine years. He may return to the States someday, but he's in no rush, finding Cambodia a "truly exhilarating" place to live. "Every evening a senior monk leads group meditation at Wat Langka. Phnom Penh has the best music scene in Southeast Asia. Every ethnic food choice is available--about 25 percent of my body weight is from a big $2 bowl of organic pho soup. Most significantly, I can get work done. Meetings are easy to schedule, with most of my professional colleagues living nearby."
Despite the country's virtues, Hand finds himself leaving frequently these days to oversee new WW! projects in Myanmar, Papua New Guinea, and Benin, working with NGO partners. He's thrilled to see WW!'s technology taking off and excited to see where it leads.
"My hope is that within five years, WW!'s HandyPod reaches one million or more people living in challenging sanitation environments, and that the TerraPod is adapted to secondary and tertiary sanitation treatment plants to treat persistent environmental chemicals," says Hand. "When I arrived in Cambodia, I wanted to use my knowledge-base there and be a helpful person with uncommon expertise. I feel that I've done that, and I truly enjoy every single day."