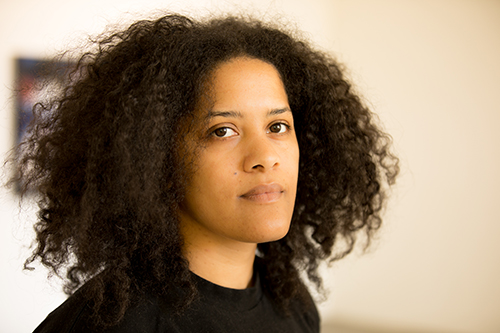 Kemi Adeyemi wants people to know that Black art is alive and well in Seattle — if you know where to look. Intellectual discourse on Black art in Seattle? She's working on that.
Adeyemi, assistant professor of gender, women & sexuality studies (GWSS), is director of The Black Embodiments Studio (BES), a program that brings together UW graduate students in the arts, humanities, and social sciences to examine how definitions of blackness are produced and expressed through the arts. She offers BES in collaboration with the Jacob Lawrence Gallery (JLG) in the School of Art + Art History + Design.
Each quarter, ten BES students immerse themselves in the local arts scene. They attend exhibits and performances across the city — BES curates a Black Art in Seattle calendar — and hear from guest speakers. And they write about art. A lot. Their essays have been shared in a BES journal and independent arts publications.
Most students come to BES with no experience writing about art. Many have no background in the arts. Some are even new to visiting museums and art galleries. None of that concerns Adeyemi, who chooses students based on their intellectual curiosity rather than their arts expertise. She jokingly describes her own background, which includes graduate work in performance studies, as "arts adjacent."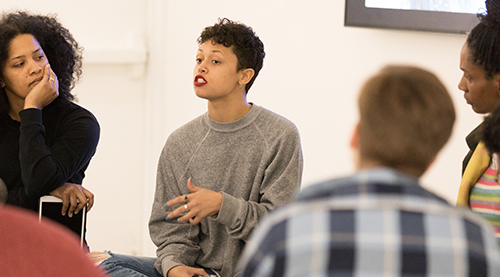 "I'm constantly finding myself drawn to the arts," Adeyemi says. "Artists are doing the same kind of work that scholars are doing in the academy, but they have different tools and a different language for asking similar questions. The arts help me be a better thinker, and I want the same for the graduate students. I want this to be a place where they can flex different muscles and think in creative ways that may not be part of their training in their doctoral program. "
Some of that thinking happens during BES microseminars. The group might discuss ethical issues in art criticism, or the politics of Black art at this particular sociopolitical moment, or some other complex topic. Conversations with guest speakers — art writers, curators, and artists — provide more opportunities for discovery. Last quarter the students met with artist Danny Giles during his month-long Jacob Lawrence Legacy Residency in the School of Art + Art History + Design. For two hours, they asked Giles about his career and his background, but also about his relationship with art writers, including how he prefers to be approached and whether he's ever felt misrepresented. This quarter the students asked similar questions of new media artist shawné michaelain holloway.
There's a kind of narrative in this city that there's no Black art. ...The journal is a reminder that there is an abundance of work happening here.
Matt Howard, a doctoral student in the Department of English, says those conversations have changed how he views Black art. He previously viewed the work through the lens of the Black radical tradition that he's gravitated toward in his own research, but after interacting with artists directly, "I'm seeing the art through their lens as opposed to my own, which in turn helps me broaden the world of art I've been exposed to. I now have a more complete view of Black aesthetics and motivations."
For Christina Yuen Zi Chung, a GWSS doctoral student, art and race are familiar topics but Black art is not. Chung's research focuses on contemporary art in Hong Kong, and she welcomed the opportunity to participate in race-related arts discourse through BES. "It is rare to find a writing incubator that focuses specifically on theorizing and unpacking the many facets of blackness in art," Chung says. "Participating in BES, with its dedicated focus on blackness, has also allowed me to reflect on Asian and Asian American racial formations and their expressions in contemporary art."
Both Howard and Chung appreciate that writing is integral to BES. Adeyemi encourages students to experiment with different writing styles, stressing that art writing can range from traditional academic writing to highly experimental creative writing. Howard, who felt stuck in his academic writing, says Adeyemi helped him "break out of that shell and learn to love writing." Chung found that experimenting with different styles of non-academic writing has also enriched her academic writing. She now integrates more rich description in her abstract, theoretical work.
The results of that writing emphasis? Adeyemi was so impressed after the program's first year that she scraped together funds to publish the students' work in a journal, which she distributed throughout Seattle. This year she has formalized the journal as part of the BES budget. "There's a kind of narrative in this city that there's no Black art," Adeyemi explains. "We have students who've done a lot of work to see all sorts of Black art and write beautiful pieces about it. The journal is a reminder that there is an abundance of work happening here."
The Black Embodiments Studio is funded through a two-year grant from the UW Simpson Center for the Humanities. Adeyemi and JLG director Emily Zimmerman are now seeking additional sources of support, so more graduate students can discover new ways of thinking and writing through art — and can share their insights with the community. 
"The students are beautiful writers," says Adeyemi. "We hope their work can find a wider audience, because what they have to say is important."
.    .    . 
For more about BES, visit the Black Embodiments Studio website.