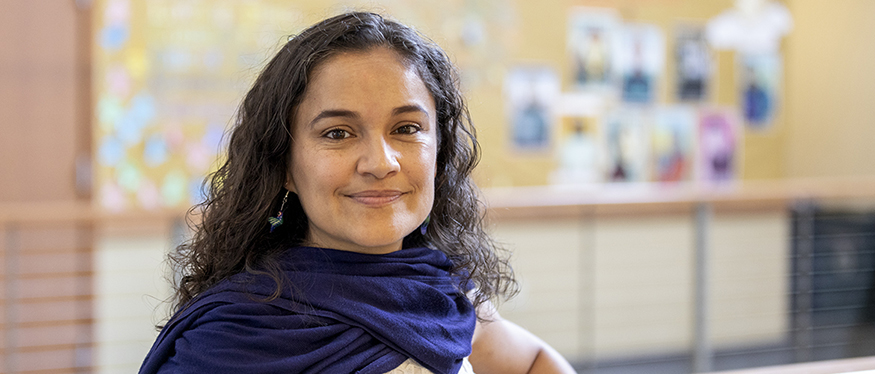 When Yolanda Valencia finished sixth grade, her family assumed her formal education was over.  "Congratulations, you're done," her mother told her, since that was the expectation in their farming community in Michoacán, Mexico.  Valencia cried at the thought. "I didn't want to be done with school," she recalls. "I wanted to keep going."
And so she did. Earlier this month, Valencia earned her PhD in geography from the University of Washington. This fall she joins the University of Maryland-Baltimore County faculty as an assistant professor.
An important part of Valencia's personal story — and doctoral research — is migration. Throughout her childhood, Valencia's father migrated from their home in Mexico to the US, undocumented, staying for years at a time to earn money. With the passage of the US Immigration Reform and Control Act in 1986, her father got the necessary documents for the family to join him in the United States, but another ten years passed before they made it off the long waiting list. By then Valencia was 17 years old.
The family settled first in Oregon, and then in Pasco, Washington. Valencia's poor English language skills limited job opportunities. She briefly worked in an orchard, and then worked the night shift in a slaughterhouse. Her work colleagues, family, and community all spoke Spanish, but Valencia was determined to learn English to improve her job prospects. She went to the local high school to enroll, but the principal balked since she was then 18 years old. When he finally agreed to enroll her, he said, "When you're ready to quit, come and tell me."
As I spoke with them, I kept wondering how Mexican immigrants thrive in places where they are not supposed to survive.
Valencia didn't quit. Within two years she earned her high school diploma, followed by an associate's degree at Columbia Basin College. She then continued on to Eastern Washington University (EWU) where she was recruited by the McNair Scholars program, which provides mentorship to promising first-generation or underrepresented college students to prepare them for doctoral studies.  Valencia, who was married by then, accepted the support but admits that "honestly I just wanted the summer research stipend. I needed the summer job, but didn't see myself going to graduate school."
After college Valencia worked for the Washington State Department of Labor and Industries and started a family. But watching some of her peers from the McNair Scholars Program earn PhDs, she realized she was not finished with higher education. So nearly eight years after earning her bachelor's degree, she dove back in as a graduate student in the UW Department of Geography.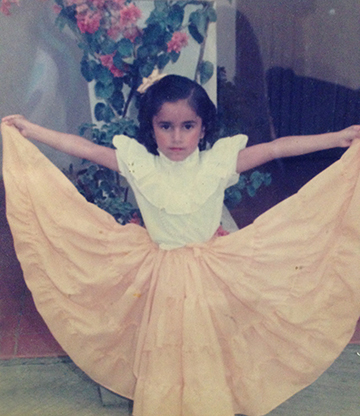 For her master's thesis, Valencia interviewed women who immigrated to the US from Mexico without documents, to understand their journey. She was surprised to find that rather than only complaining about their treatment as undocumented immigrants, they also felt a sense of security in the US. "As I spoke with them, I kept wondering how Mexican immigrants thrive in places where they are not supposed to survive," she recalls. "How are they producing moments of meaning and humanity when so many US policies around immigration are dehumanizing?"
That question became the focus of Valencia's doctoral dissertation. She interviewed more than 40 documented and undocumented Mexican immigrants in Pasco, a majority-Latinx community. She also spoke with non-Latinx public officials, including Pasco's mayor and chief of police. Thanks to her roots in Pasco and Mexico, she gained the community's trust, and again was surprised by the immigrants' sense of hope despite harsh immigration policies and the ongoing exploitation of their labor.
Valencia attributes this positive attitude to the community's Mexican tradition of valuing community over individualism. At celebrations like birthday parties and weddings, whole families or communities are invited, just as they are in Mexico. And when undocumented immigrants cannot travel to Mexico with their children to share their heritage, neighbors with documents step in to help, taking the children to Mexico for them.
"That's very significant," Valencia says. "In this way, citizenship gets reconceptualized from a private/individual possession to a community tool. Those affective relations are crucial to undocumented immigrants surviving in places where they are not supposed to survive. They may experience legal death — which justifies legal discrimination through the law — but not social death. They separate the legal from the social. Their lives and humanity are not fully dependent on their relations with the state."
Valencia's research has been published in several peer-reviewed journals, and she is in the early stages of co-authoring a book about relational politics. Graduate student support has been critical to Valencia's doctoral work, including a GO-MAP Dissertation Writing Grant, and from the Department of Geography a Sherman-Gerlach Doctoral Fellowship to finish her dissertation, a Howard Martin Research Award for fieldwork, and teaching and research assistantships.
"This support has been crucial, allowing me to dedicate time to fieldwork and writing," Valencia says. "It has allowed me to thrive at the University. It's also been a gift of confidence, a recognition of my work."
In addition to all that research and writing, Valencia has spent many hours in front of classrooms at the UW, teaching undergraduate courses on topics ranging from global inequality to research methods to issues facing Latin America. She looks forward to many more years of teaching as she heads to University of Maryland-Baltimore County, and hopes her presence in academia will inspire her Latinx students and the younger generation in her immigrant community to consider a similar path.
"I feel that I'm doing my best for the next generation, so they can see themselves in this role," says Valencia, who admits that achieving her dream of becoming a professor "still feels unreal" to her. "I know I'm not the only woman of color in academia, but I am one of very few. And we need more."